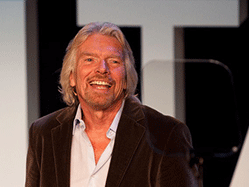 Every entrepreneur needs to focus on PR — as founder you are often at the centre of the PR story.
You have to make sure that as many people out there know about your product/service/company as possible and make this happen as cheaply as possible. PR is the answer. It's cheap and its power immense. But the question is how do we do it? More to the point, what exactly are we "PRing"?
Image: Richard Branson, courtesy of Gulltagen on Flickr.
Technology start-ups
Many technology start-ups rush to appoint a PR bod or an agency to spread the word or to build the profile of the founder. I have heard many an expert tell me that for a start up to be successful the PR has to be great, even better than early revenues or a killer product. Get your company mentioned in Mashable, TechCrunch and VentureBeat and it's job done.
But how? That's the tricky bit. You love your company, in fact you live for it, that is why you are an entrepreneur. Chances are everyone you know will have heard the elevator pitch, even if you are nowhere near a lift. But to get PR your story needs to be different and relevant to your audience. What if you are whizz in developing a product, devising the strategy but don't see yourself as a celebrity entrepreneur — then what?
PR targets
Think carefully. Before you appoint someone, think about payment for results and how you will use the coverage they generate. Exactly who do you want to speak to, and what publications/titles/sites do you want to appear in/on. It's all about the targets.
One final point, you might not think of your story as interesting but the fact that you have the guts to be an entrepreneur is, without bragging, an inspiration to others so always talk to journalists about what you are up to. You never know where it will lead.
Marc Duke is the founder of Marc Duke Consulting.
Further reading: