Public relations (PR) might mean the difference between success and failure when we think about a company as a whole, and not only in terms of its image. Strategic thinking, good media relations, and a handful of skills are the baseline for PR agencies, departments, and professionals.
What does public relations mean?
According to the Public Relations Society of America (PRSA), "public relations is a strategic communication process that builds mutually beneficial relationships between organisations and their publics." It's a good definition, but the general question remains: what does that mean in practice?
The modern era has brought challenges to companies and professionals within each department, from media management to line workers. That being said, the standard definitions for each of those areas don't really explain what those professionals in their respective fields actually do.
The main concept of public relations is pretty straightforward: create, manage, and strategise how a company relates to its audience. It is in that sense that PRSA's definition is valid: PR professionals usually work on creating mutually beneficial relationships between the company and the public, and more than that, on explaining to the audience and convincing them of those benefits.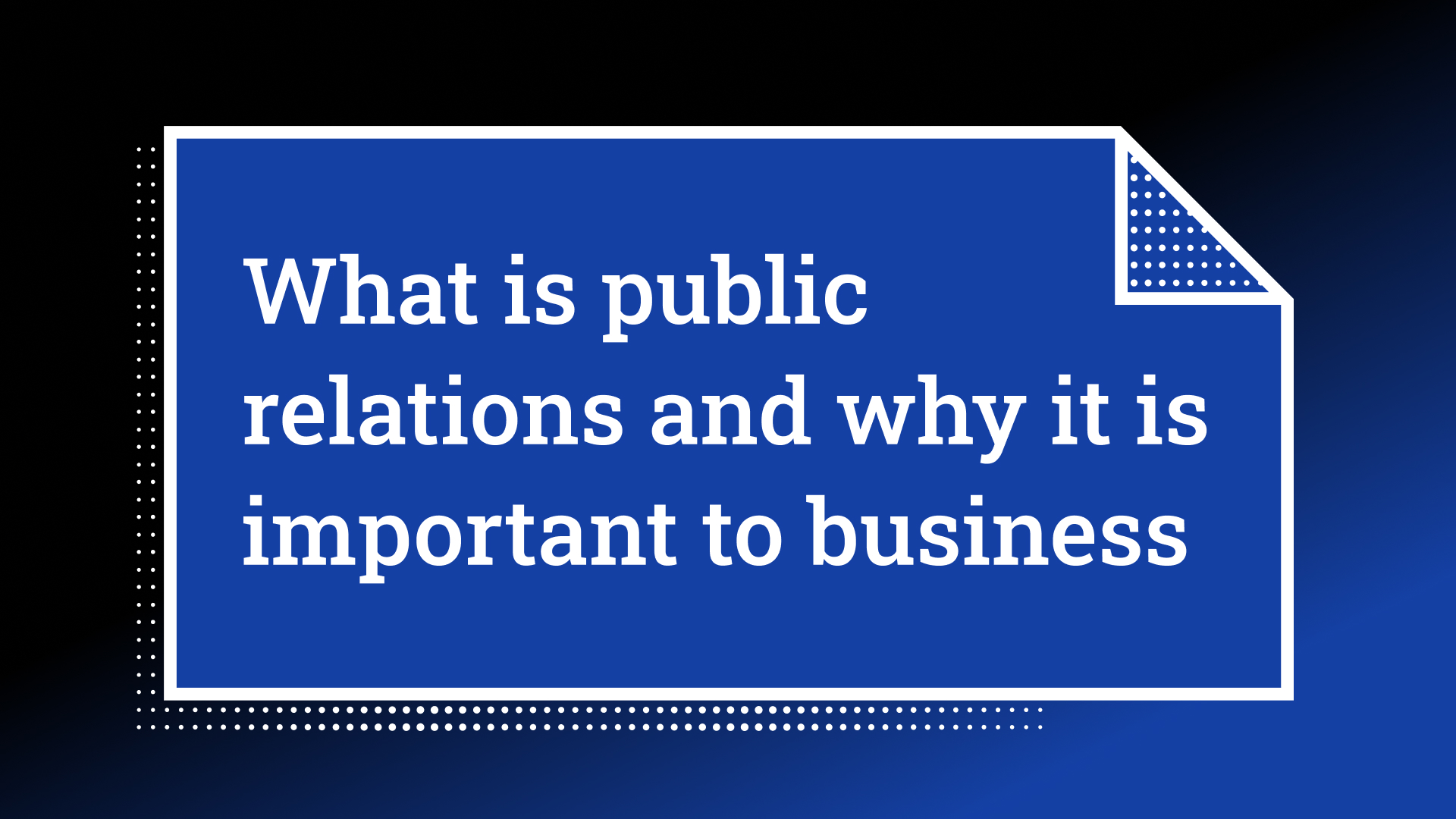 However, public relations per se means much more than that. Understanding each lead, each medium the potential customers might use (including social media platforms), search engine optimisation, general public perception, brand positioning, media relations, and much more, makes public relations professionals the true chameleons of the marketing industry. So, public relations' on-paper definition and its actual field of work might be worlds apart.
PR professionals will be able to reach their goals through knowledge, strategy, adaptation, risk management, and other independent abilities. Methods can vary, but nobody related to the industry will ever say it's easy or only requires some basic skills.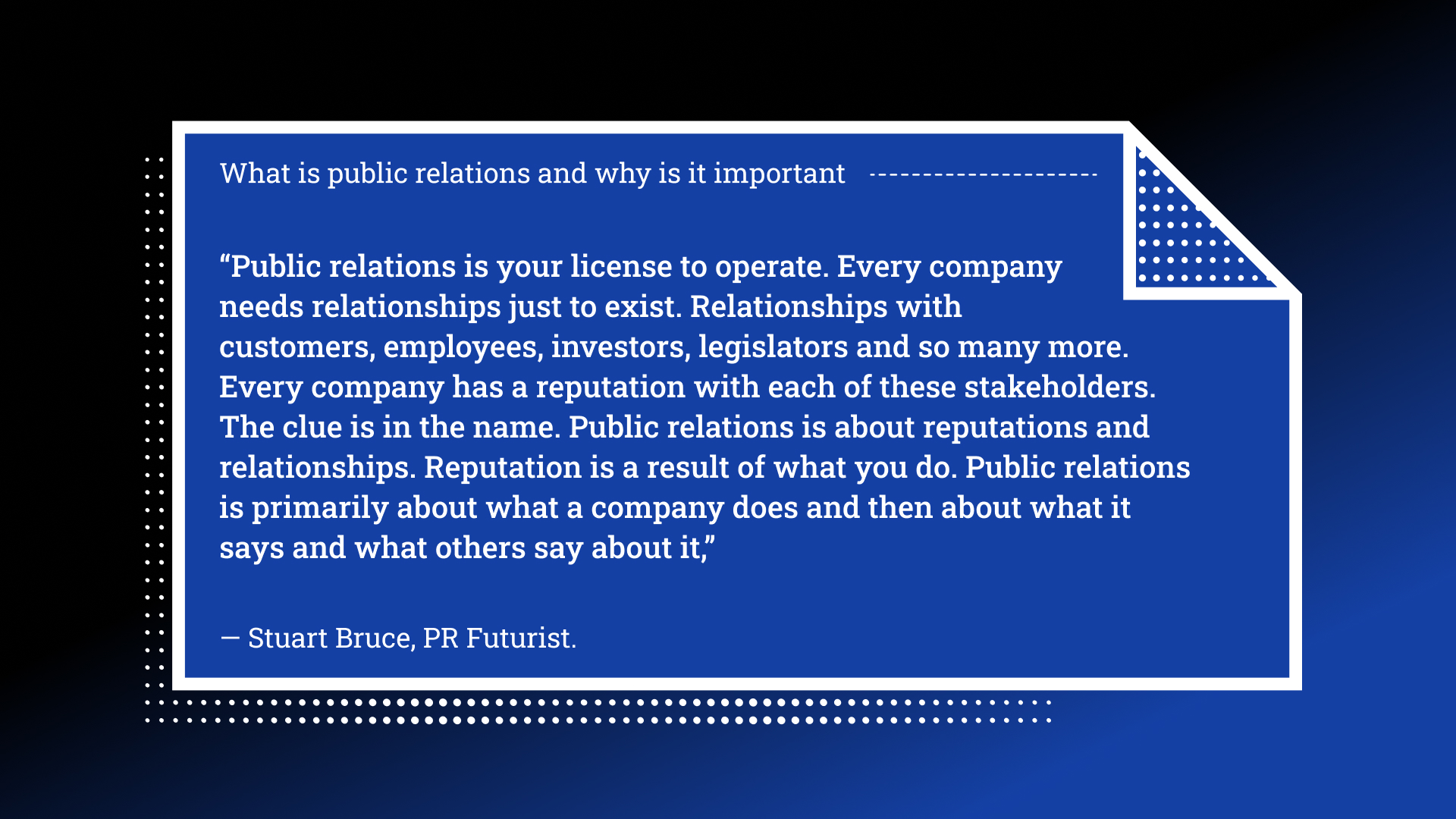 "Public relations is your license to operate. Every company needs relationships just to exist. Relationships with customers, employees, investors, legislators, and so many more. Every company has a reputation with each of these stakeholders. The clue is in the name. Public relations is about reputations and relationships. Reputation is a result of what you do. Public relations is primarily about what a company does and then about what it says and what others say about it," shares Stuart Bruce, PR Futurist.
Ultimately, the amount of work required is massive and needs thoughtful planning, which means the PR industry is extremely strategic - creating, applying, managing, and adapting the communication process to the audience is the bread and butter of any good PR department. 
Nevertheless, the general perception of public relations can be much more limited. It's not unusual to think that PR efforts only result in media exposure and/or media coverage. That is only a tiny slice of a PR department's work. As already mentioned, generating brand awareness, and taking care of the brand's image is much more than sending out a few press releases to a bunch of journalists.
To answer, "what is public relations", we need to understand this diversity of fields and how they are all geared towards the objective of clear, convincing, and smart communications between a company and its public. That's why they're all immensely valuable, and the work of PR professionals will be a significant asset towards the company's success.
What is what: advertising, communications, and public relations
As a study field, marketing is a giant octopus with many tentacles. However, most good PR professionals are at least in touch with each of these tentacles; every one of them concerns the PR department since they all affect the company's image in some sense. Thus, fields such as advertising and internal communications are deeply connected to PR. 
Your advertising ideas could come from the commercial sector (for example) or your internal communications managed by human resources, but in most cases, it falls on PR to map at least the strategic development of such campaigns. Endomarketing relies very much on strategy, and ultimately, it's more connected to PR than HR. Both areas should work together to deliver an experience tailored to each and all of your employee's needs that makes them comfortable and happy in the work environment. 
That kind of "department interoperability" is the standard for modern PR professionals. One of the most common challenges PR faces is building those links; being public relations of the public relations department. It's easier said than done, trust me - and people thinking that PR is just sending off a bunch of annoying emails aren't helping to overcome this challenge.
Therefore, while marketing, advertising, communications, and public relations can be allocated across different company sectors, they are all fed from the same source: in-depth management of the company's public perception. While they can be theoretically thought of as independent fields of work, they're all closely interconnected. Additionally, a PR professional should be able to handle those situations - after all, if you're creating a campaign on Instagram, it's still public relations. You can call yourself a social media expert, but it's likely you'll still report to the PR department - or whatever your company chooses to name it.
What are the roles of a public relations professional?
Marketing goes through many steps, and in public relations, there are many tools to manoeuvre the brand's image and public acceptance. Career prospects usually include the following attributions:
Media relations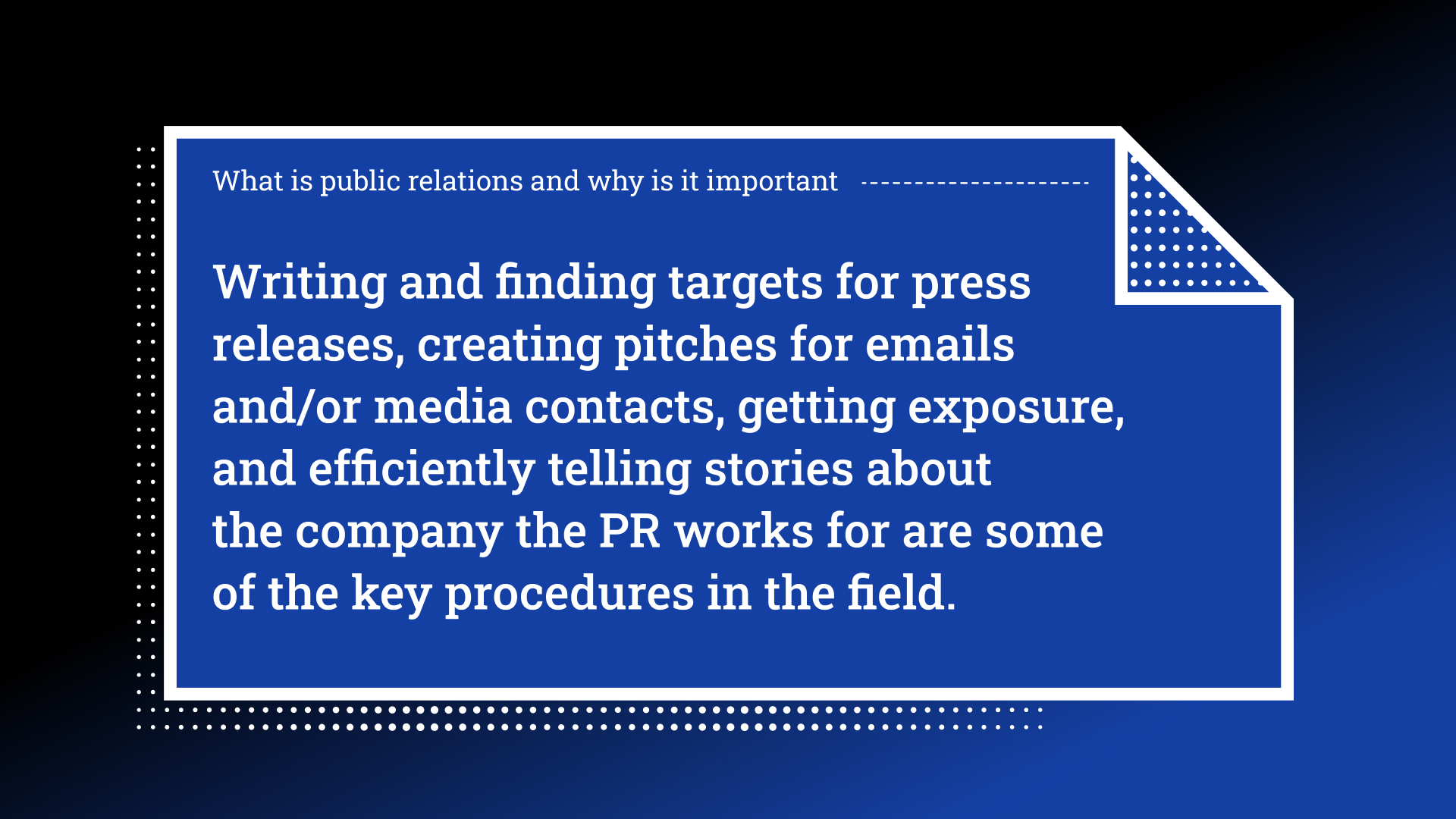 Yes, I know we mentioned that PR is more than media relations, but this field is still relevant. Writing and finding targets for press releases, creating pitches for emails and/or media contacts, getting exposure, and efficiently telling stories about the company the PR works for are some key procedures in the field. 
Those media relations can be called "earned media." They're not paid campaigns: unlike advertisers, the PR department generally tries to maintain relationships through the impact the company can have on its field of activity alone. Effective PR does this through tailored storytelling distributed across the media, aiming not only to preserve the company's great public image, but also to sustain good relationships with the sector.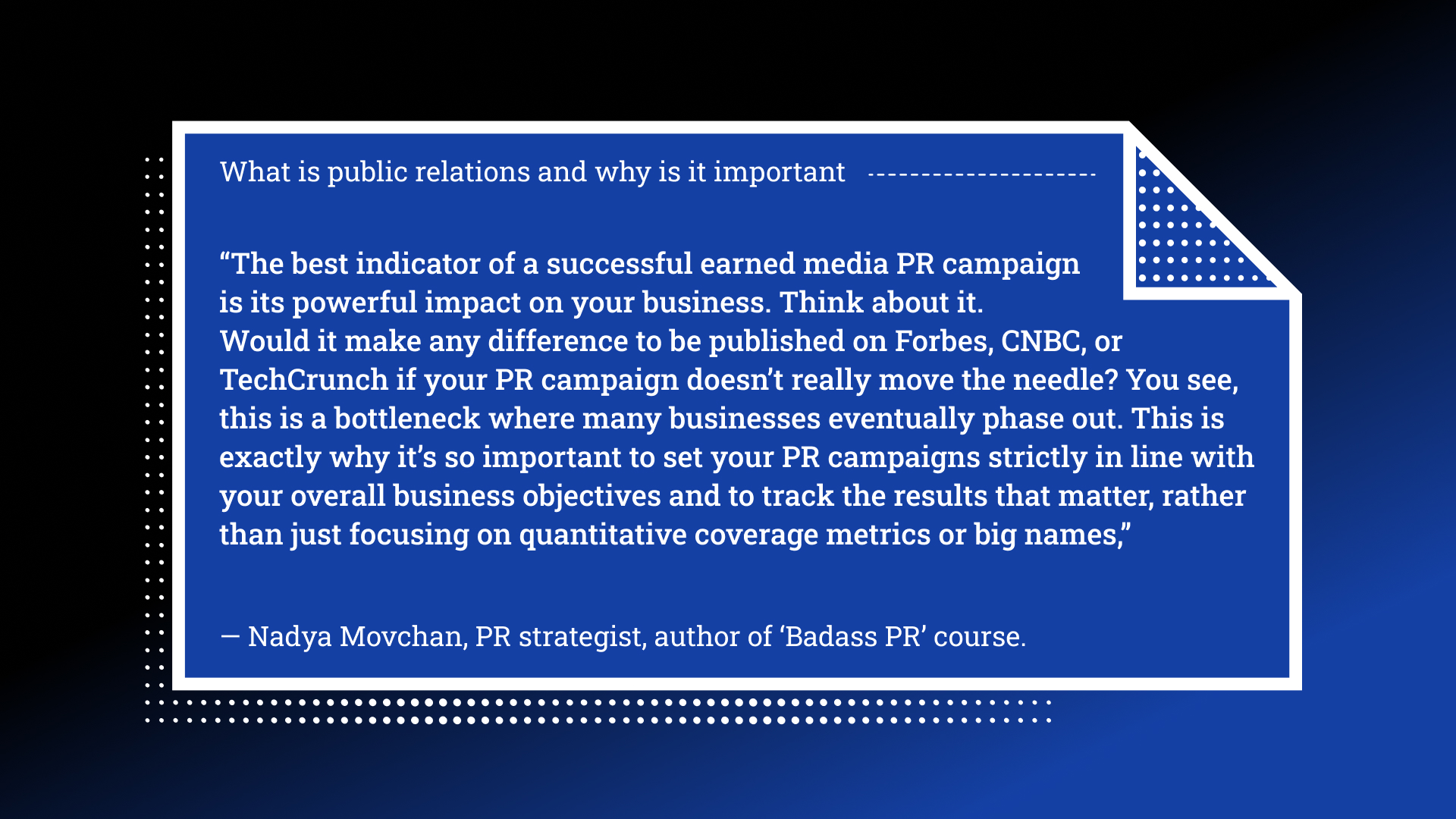 "The best indicator of a successful earned media PR campaign is its powerful impact on your business. Think about it. Would it make any difference to be published on Forbes, CNBC, or TechCrunch if your PR campaign doesn't really move the needle? You see, this is a bottleneck where many businesses eventually phase out. This is exactly why it's so important to set your PR campaigns strictly in line with your overall business objectives and to track the results that matter, rather than just focusing on quantitative coverage metrics or big names," says Nadya Movchan, PR strategist, author of 'Badass PR' course.
There's also shared media, when collaborative vehicles help each other towards a goal, for example, through co-branding, charity events, etc, owned media with SEO, content marketing, customer stories, and even endomarketing.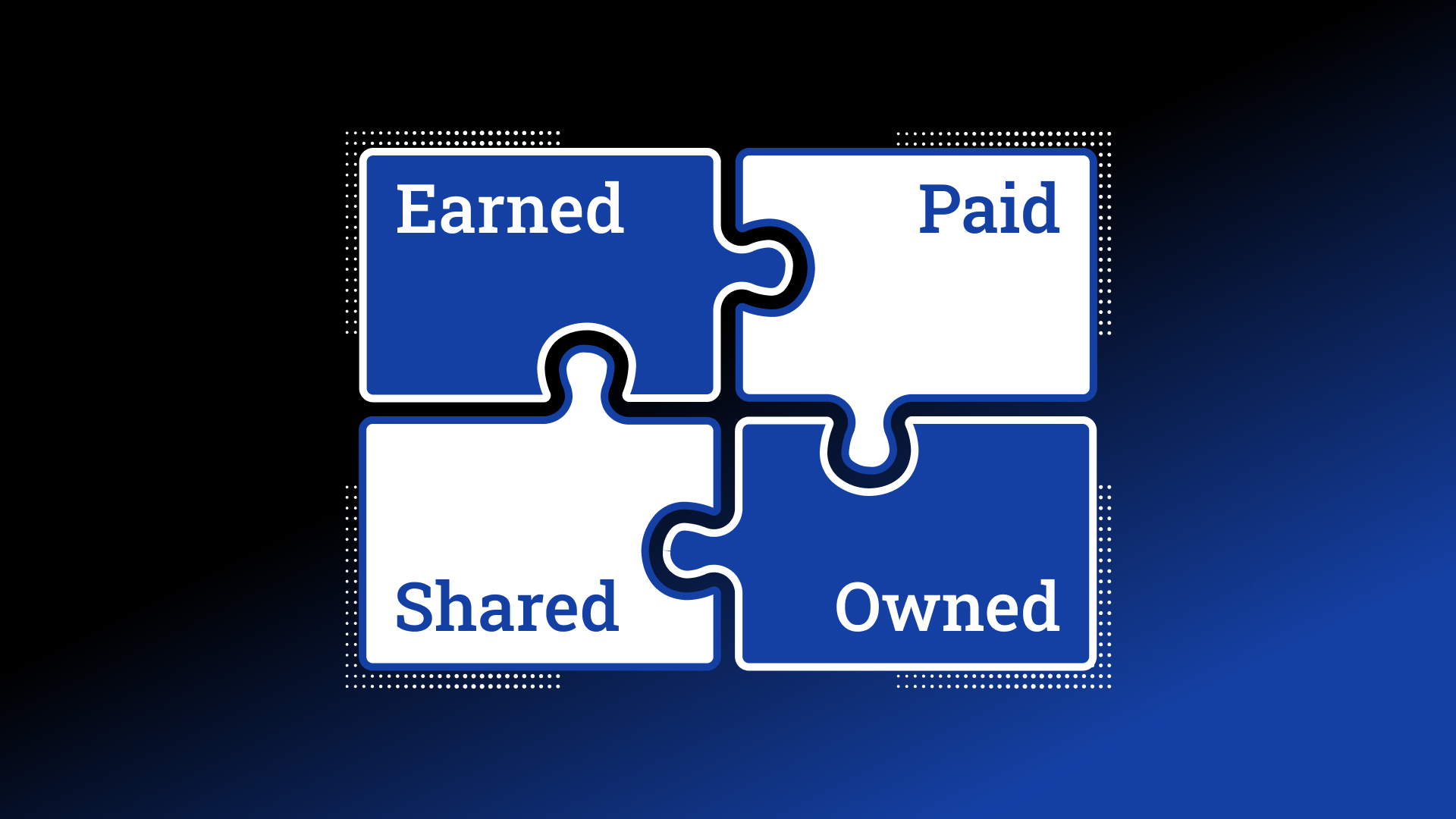 To summarise, public relations is the sum of paid, earned, shared, and owned media relations. All of them have a specific purpose and objectives, and the whole public relations definition goes even further.
Social media management
While being different from "traditional" media, positioning on social media is still the target of analysis and actions by the PR department. General brand perception resulting from social media positioning is largely influenced, if not defined, by the plan previously created by public relations.
Also, these days, engagement opportunities for PR are vastly influenced by social media marketing. PR strategies include campaigns, public approaches, and even sponsored content to activate partner brands.
Crisis management
Not every piece of news shared by a company is good.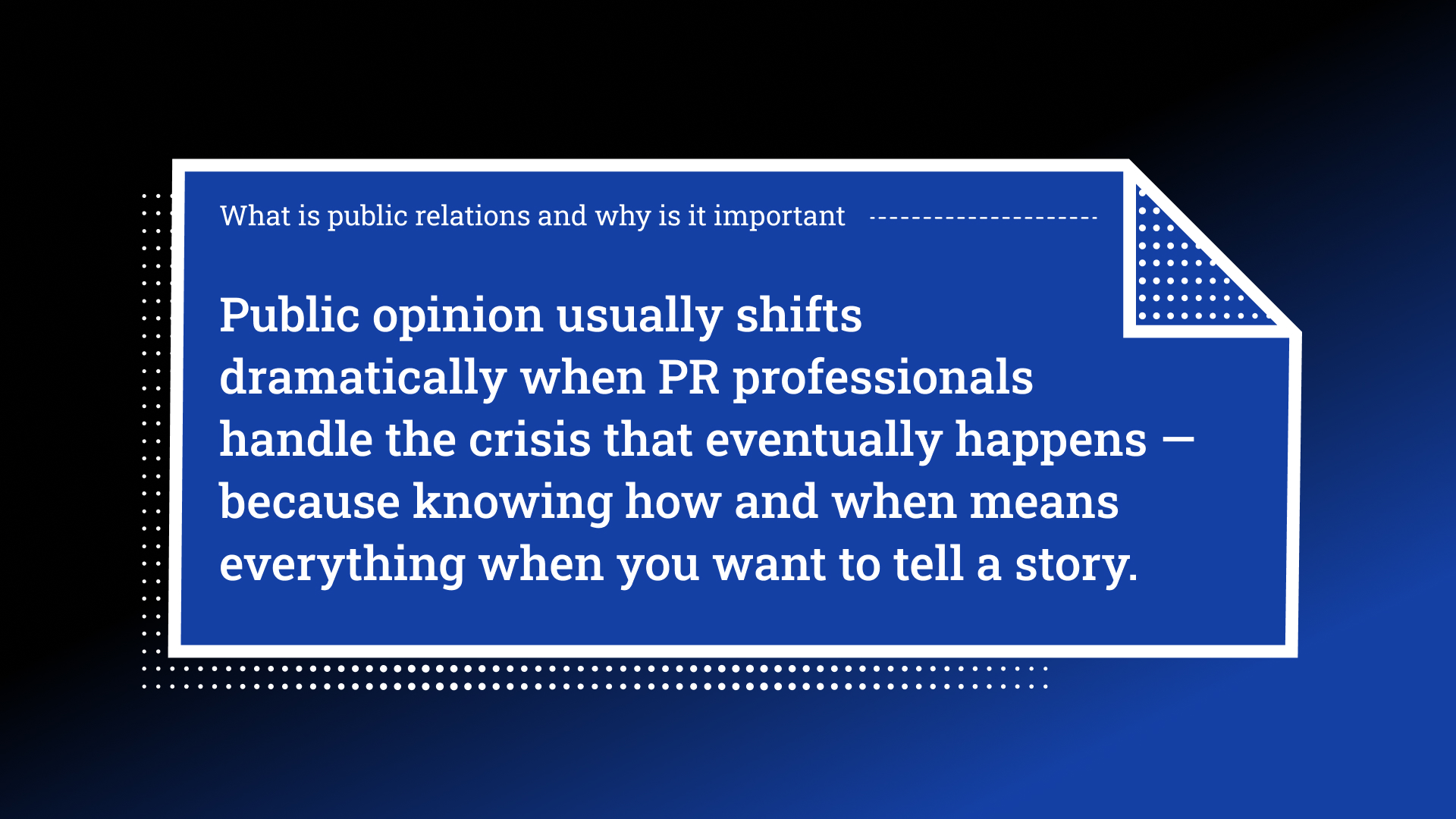 One of the most formidable - and difficult - roles of PR practitioners is having to tell bad news. Sometimes we expect public relations professionals to be magicians who can just make everything go away. However, it's important to understand that the department tries to do quite the opposite. It's about how you tell the truth, without losing sight of "the truth" part. Public opinion can shift dramatically when a good PR professional (or department) handles the crisis that eventually happens - because knowing how and when means everything when you want to tell a story. Reputation management is insanely important.
Conduct research
Market research is also a field that modern-day PR needs to have its eyes on. Understanding your public's demands, tastes, and opinions should be a matter of extreme importance for a company, and someone needs to get those insights.
Some strategies might work well for one target audience and poorly for another - and the company doesn't want to lose sight of either. That's why it's essential to keep evolving, sending the correct key messages, filtering what your audience thinks and expects. 
By the way, the old PRSA motto is "public relations helps an organisation and its publics adapt mutually to each other." Quite insightful, right? Not much meaning in that, but it can leave you thinking.
What about an advertising campaign?
Advertising - or paid media - can be done in addition to other public relations activities, but ideally not as its base. This is grounds for a very common confusion between the fields of PR and marketing; however, your standard advertising agenda usually won't be enough to reflect how your company positions itself.
While advertising is also important and has clear objectives related to the business goals, being part of the public relations department, PR digs deeper, taking care of your image and reputation. That helps not only to enhance the effectiveness of a paid campaign but also to provide general guidelines for it. Strategic PR departments work together with other marketing practitioners and activities.
Other PR responsibilities
Taking care of the public understanding of a brand sometimes takes much more than the previously mentioned skills: to create positive stories that are relevant and interesting, we need to dive deeper. The public relations effort is adaptable, and some PR campaigns go through content creation, partnering with a non-profit organisations, building relationships towards the "earned media" objective, which may come in the form of social network activities, speaking engagements, and other events.
There is also "negative PR", which means trying to mess with a competitor's earned media. However, this kind of campaign is not only outdated but goes completely against the ethics of formal PR practice. Ultimately, managing a brand's image should be done through talking about the brand, not others.
In addition, it's fairly common for PR to maintain the brand's image before investors, sponsors, and other stakeholders: sometimes, the general audience's perception of the proverbial "mutually beneficial relations" is quite different from what stakeholders have in mind. However, it's also usual that a company has an IR (investor relations) department, which tends to be much more focused on the stakeholders' image of the company. In any case, a public relations professional should be prepared to deal with this as well.
PR in a pandemic: how the attributions changed and/or adapted
Due to health and safety protocols forced by COVID-19, every kind of job has had to be reshaped and adapted, and public relations practitioners and agencies weren't an exception. And these challenges have made some brands finally realise that public relations professionals are important.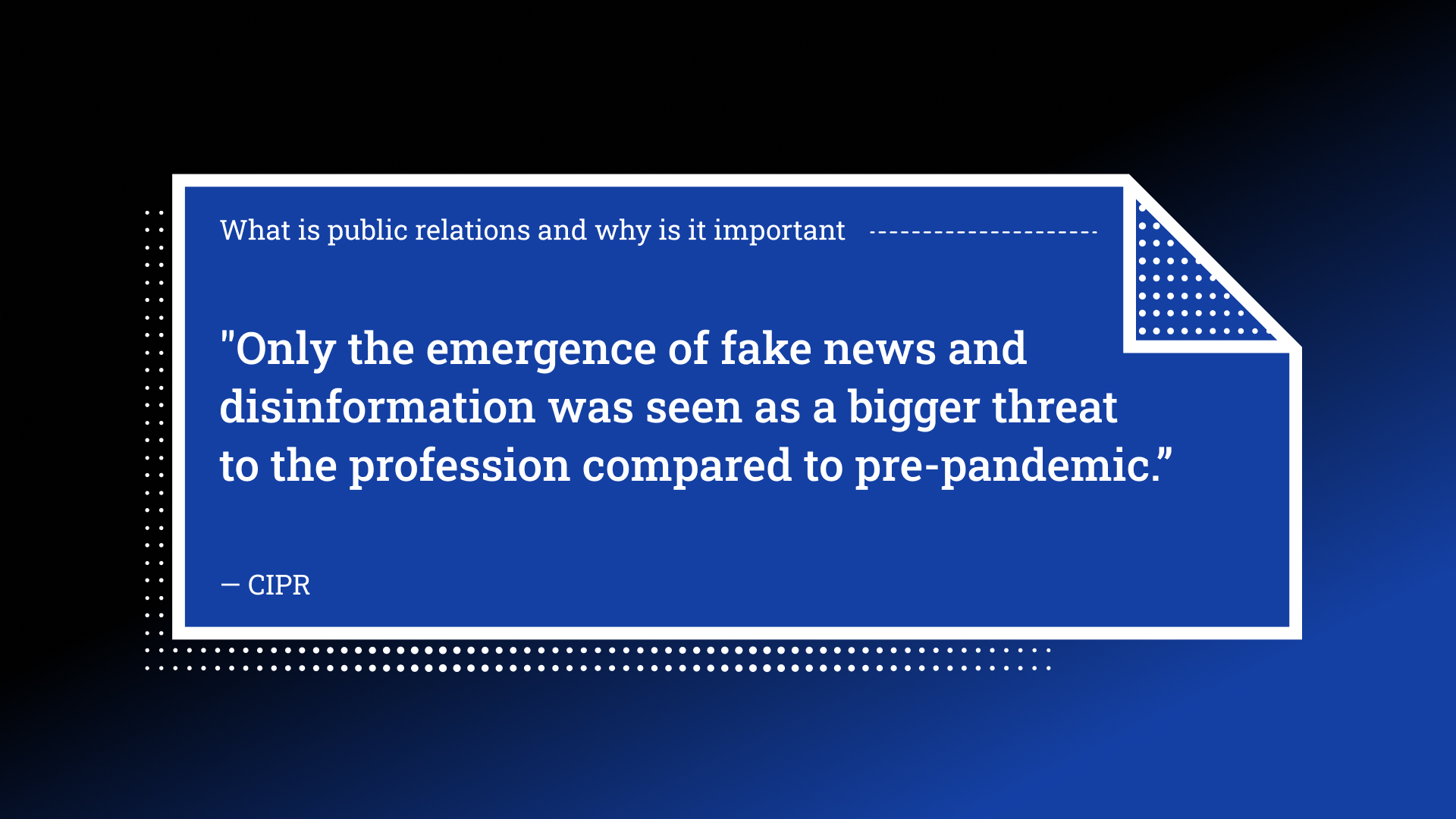 According to a report from the Chartered Institute of Public Relations (CIPR), "there has been a considerable shift in what practitioners consider to be challenges facing the profession compared to pre-pandemic. Almost all the challenges previously identified have been replaced by new ones, with over half of respondents seeing the mental health of practitioners as the biggest challenge with a recession and job losses second. Only the emergence of fake news and disinformation was seen as a bigger threat to the profession compared to pre-pandemic. The challenges of underrepresentation of PR at board level and unethical practice have both fallen considerably in the view of respondents."
That same report starts its Executive Summary with a strong quote: "Predictions as to the future of the profession are strongly shaped by personal experience gained over the past year." That's not big news as of mid-2021 - most professions went through the same challenges, to a smaller or bigger degree. But it helps to explain why the pandemic was such a decisive factor in the work of public relations practitioners. 
Of course, with the spread of fake news and other black hat techniques, this challenging profession slipped into chaos. Add that to the fact that most companies will have to explain why and how their pockets are empty - and why some of them can't keep their employees (or, even worse, choose not to). On top of that, there's the insecurity felt by professionals themselves. How to make your public understand your message, be it commercial or not, when everyone is going through such a dark period? 
That has forced professionals from entry-level to C-level to think, study, and improve - the stakes were way too high. The professional development of an account executive, for instance, had to be accelerated out of necessity; and PR has kept its doors open for those who took the path of quick self-improvement. 
Remember when I mentioned that some brands finally understood the importance of public relations? Well, we can translate that into numbers. CIPR reports cite that in 2020: 
they gained over 1,800 new members
465 professionals became #CIPRqualified
they trained 1,500 people through their workshops
Over 80 members became chartered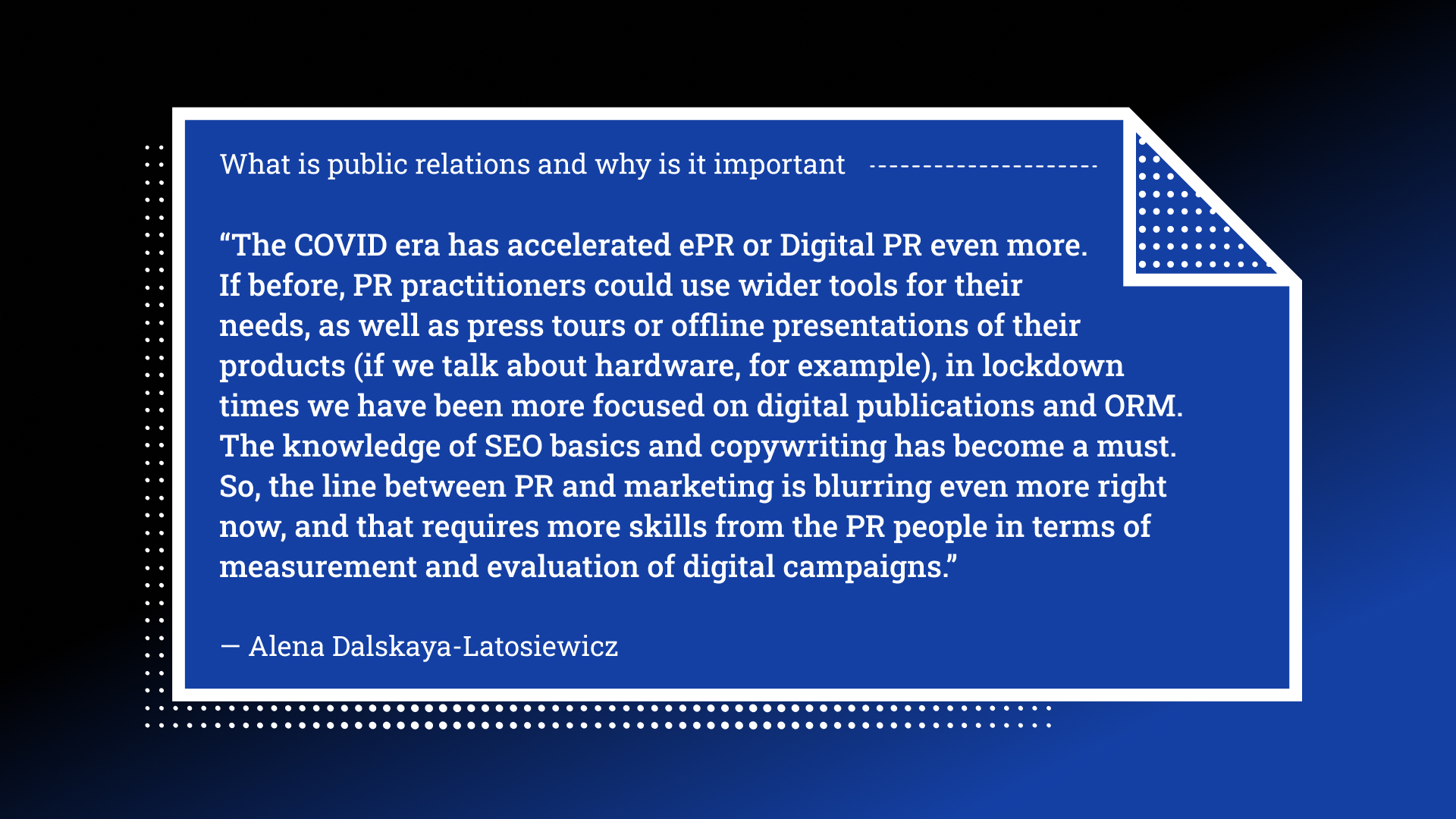 More professionals but many more challenges, and a whole future shaped by the pandemic. Alena Dalskaya-Latosiewicz, CCO at WePlay Holding, says, "The COVID era has accelerated ePR or Digital PR even more. If before, PR practitioners could use wider tools for their needs, as well as press tours or offline presentations of their products (if we talk about hardware, for example), in lockdown times we have been more focused on digital publications and ORM. The knowledge of SEO basics and copywriting has become a must. So, the line between PR and marketing is blurring even more right now, and that requires more skills from the PR people in terms of measurement and evaluation of digital campaigns."
Examples of PR/marketing/communications work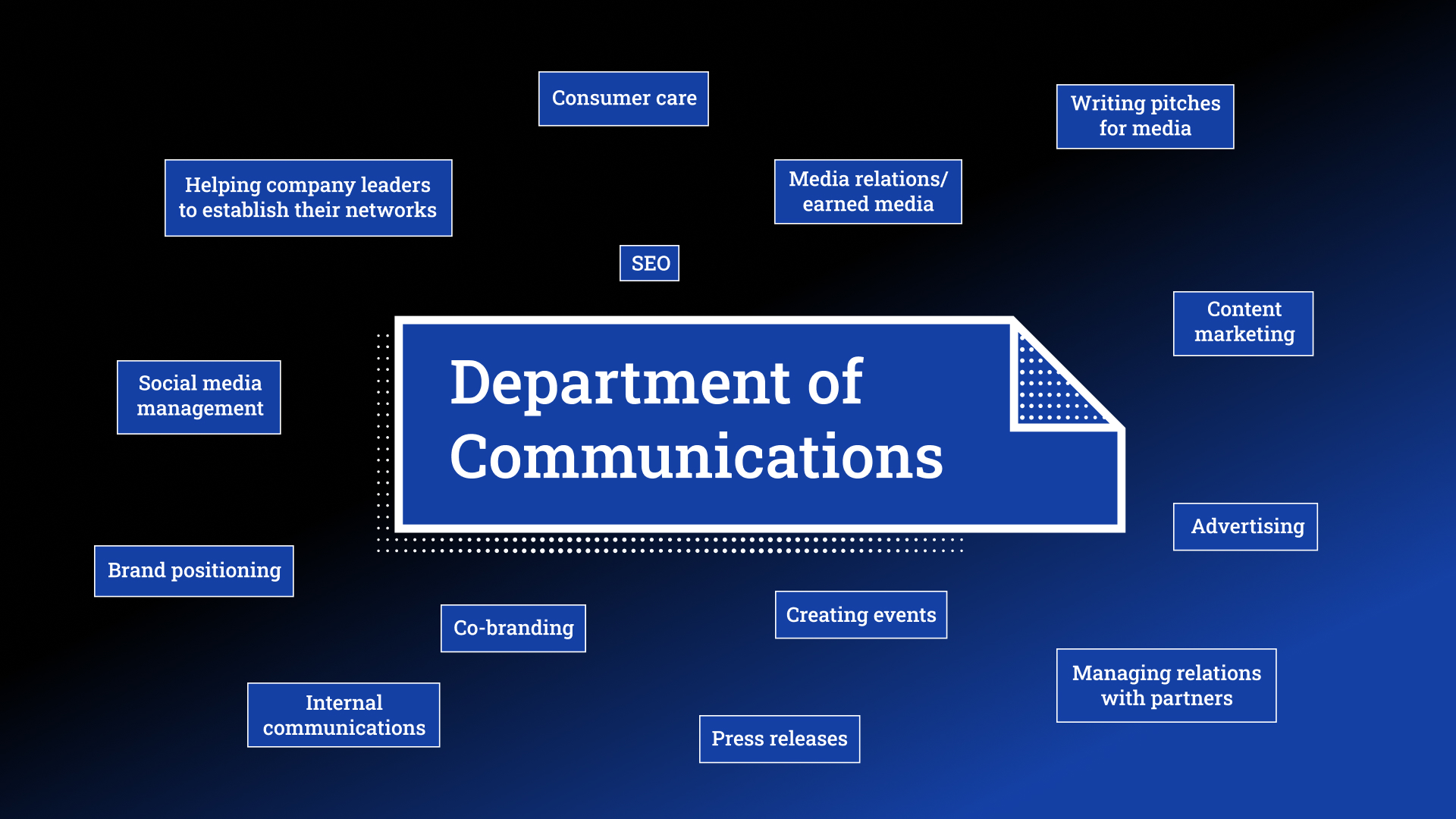 Let's summarise what PR encompasses - beyond plain and simple media relations and/or advertising. The PR industry takes part in the following activities:
Consumer care
Advertising
Writing pitches for media
Content marketing
Managing relations with partners
Creating events
Co-branding
Internal communications
Brand positioning
Helping company leaders to establish their networks
Media relations/earned media
SEO
Social media management
Press releases
And more
Let's say your company donates a certain sum of money to a local charity. Will that earn media attention? It depends on how it's portrayed, how the PR department or PR agency wants to handle it. That also applies to social meetings or events. Another thing that comes to mind is brand positioning relating to social causes. Public relations need to make sure that positioning is natural and supported by the company's actions. Much more than simple propaganda, that changes the customers' perception forever.
Why public relations matters
Now that we've covered the bases, let's focus on why public relations is so important.
Modern communications departments need to keep pace with the technology in their field. From managing social media to the creation of a press release, not only do the tools change and evolve, but the language does as well, and, notoriously, that can have an impact on each business. Understanding how your audience feels about your company is also important to keep up with each step of a customer's (or a potential customer's) experience. 
Public relations help with that. 
Creating a strategic, long-term communications plan while keeping the options open necessitates the dynamism a public relations department or professional can bring. In other words, a professional in this field should be prepared not only to think analytically, but also synthetically: what is the image I want to conjure, and what sort of image am I conjuring now?
The audience's perception is the answer to the most common question made to entrepreneurs: "Why should one be your client?". Because you care about your customers, because you bring a different perspective to the market, etc. But how will those customers know it? 
Exactly, you have to tell them. Convince them. That's public relations, right there. 
This is work that usually takes time and requires cohesion. The many departments within your company's ecosystem should work together like a well-oiled machine. You can't just put up a billboard saying, "Hey, be my customer! I'm a really nice company!" and expect most people to just think "Okay, makes sense". And that's just the tip of the iceberg.  Public relations can have a great impact your company's bottom line; the number of current and prospective customers is largely connected to your public image as a brand. 
Creating events, raising awareness about the causes the company supports, sending out press releases to explain what it's up to, personal networking to get people's attention and sources, interacting with other brands and the public on social media: all of that falls within the definition and responsibilities of public relations. But on top of that, the most important thing is…
…public relations means who your company is in the heads of the public. Not only (potential) customers, but other stakeholders of the industry your company belongs to, your employees, and the Superbowl crowd, for instance. Literally everyone.
From building brand identity to sustaining, changing, or adapting it, public relations is what people think about what you do. Press release to press release, a PR practitioner will enhance it and tell people what's so good about their business.
For more information on business and PR visit https://weplayholding.com/blog/
Copyright 2022. Guest post