Regardless of your line of business, it's essential you market it both online and offline. This is equally true for businesses that operate from an office space as it is for businesses that rent out office and workspaces. Regardless of the type of workspace you have, you need to market them to let customers know where you are, raise awareness of their availability if you rent them out so they aren't left vacant and to represent your brand and business as a whole.
In this article, you'll understand how to market your office effectively. With these tips, you'll hopefully provide more positive experience and create the best first impression for anyone who visits the premises.
Why is it important to market your offices?
It's important to take pride in your business, particularly when it comes to the appearance of your office. You may have both new and existing clients walk through your doors, so a variety of marketing methods can help promote your premises in the best way. Marketing your office can also makes it easier for clients to locate you.
Marketing your premises can also help you attract employees. 37% of job candidates are willing to accept a lower paid job if the company offers an appealing culture, workplace facilities and technology.
The appearance and features you incorporate into your office truly matter and it pays to market your office as part of your overall business branding.
If you're looking to boost the awareness of your office space, whether to promote it to potential tenants or as a space to hire or to attract new clients, here are some strategies that may help.
Update your space
Updating and refurbishing your space is a great excuse for marketing your office. You can use photography and visuals to capture your transformation and share them on your website, social media feeds and other channels of promotion.
Investing money on premises upgrades is not to be taken lightly though. You need to think carefully about your business needs. What will clients, employees and customers expect from the space? What facilities and services do you need to provide? How will you ensure the design remains 'on brand'? What constraints does the building present?
You will need to juggle the answer to all these questions with a budget to come up with a design that meets all these needs.
With that being said, it's worth considering using design software, especially for big projects where whole spaces are being transformed. Interior design software like Foyr is used by both professionals and residential homeowners to make interior accessible to everyone. It offers a 14-day free trial so you can use it for a one-off projects or to test the functionality of the platform before purchasing.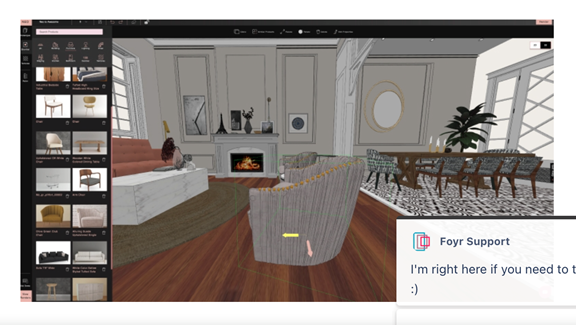 Regardless of your experience, design software can bring your interior design ideas to life in 3D. Software will allow you plan out your space before diving in with the refurbishment.
Where are you?
Let people know where you are. How can you attract customers if they don't know where you are? Add your address (and a map) to your website and any social media profiles along with your opening times. Consider buying a listing in local directories and make sure you have a Google My Business listing. Your aim should be to make it as easy as possible for people to find you.
Think about curb appeal
It's no surprise that humans are drawn to eye-catching and attractive visuals. Think about residential property sales. Homes with a high curb appeal tend to sell for an average of 7% more than those without.
The same is true for your office and the exterior of the building. The more attention you give to curb appeal, the better impression the premises will make as people pass by. There are a few elements of curb appeal that you may want to look at when updating your outdoor space.
Add a bit of nature
Nature is a real mood booster. Incorporating brightly-coloured flowers or eye-catching shrubs in planters outside the entrance will put potential clients, customers and staff who enter the building, in a good mood. It is also a quick and cheap way of giving the premises an instant makeover.
Light up your shop front
For retailers, their shop front is the best way to market and advertise what they have available in-store. The same is true for your office and what you have to offer. Think about lighting up your shop front so it looks that part and so that it can be seen easily from the street. Make sure it is clean, welcoming, and professional-looking if people can look in.
Fix anything that needs fixing
Broken windows, gutters or brickwork should be fixed quickly. This isn't just for appearance's sake. It will also improve insulation and minimise the likelihood of more expensive repairs down the line. If there's anything obvious that needs fixing, then doing this immediately will help maintain your curb appeal.
Curb appeal is an important element in marketing your business, especially as it's a public face of your company.
Copyright 2021. Article was made possible by site supporter SKALE.