The moment you enter the world of digital marketing, you will come up against the concept of competitive research at every turn. Experts extol how important it is to track your rivals, learn their strategies, and get actionable insights. 
But the experts don't explain how analysing the competition can help your business. What problems does this process solve and what benefits does it offer? Let's see how to examine your rivals to address your business' real-world challenges.
This article is meant to help those who have just launched their companies and don't know where to start, as well as those who are already working on their online presence but have yet to reach the desired outcomes.
Demand analysis: learn who might need your business 
When you come up with the idea for a business, you explore the niche and learn as much as you can about it. It might appear that everybody needs what you're offering. Say, you're making educational toys - you start believing that every child needs them. Or you're running an online educational platform. You convince yourself that every other person needs your courses. But it's usually more of a cognitive bias than real-world observation. You can't just guess what the demand will be - you need to fall back on analytics.
Why do you need demand analytics?
Let's say you have an organic dog food company. You can find out how many dog owners there are in your area - but not all of them are part of your target audience. They won't all be interested in organic food, some prefer to cook the food themselves, and some others may have their dog on a specific diet. So, you need search engine data to get an idea of how many people are your potential customers. 
How to analyse the demand 
SEO tools can help you segment your audience: searchers entering the keywords related to your products should be your target.
Here's how popular the search query "organic dog food" appears on Google in the US. This term is being searched 4.4k times per month. Add all the relevant search query volumes to this and you'll get the picture. People might search for organic dog food specifying their pets' breed, age, condition, or other detail. Make sure you collect all relevant keywords across different search engines and locations (if you're targeting several).
Once you know the number of people that need the type of product you're offering, it's time to learn who supplies this demand.
List of competitors: learn who share your niche
Instead of making assumptions, build your business strategy on good judgement. First, learn how much effort you'll need to make to get ahead of competition. To do so, you need to know who your competition is. 
Why do you need to know your rivals? 
There are three major reasons why you have to keep competitors in mind:
It helps assess the financial potential of the niche. If there are just a few companies offering the same product, it's either unique or not very useful. Analyse the search volume of your competitors' keywords to learn if it makes sense to promote such a product.
It helps evaluate the market size. Navigating through the list of keywords your successful competitor is already ranking for, you'll see how much traffic they manage to get and how many different web pages they have covering all searchers' intents.
It helps understand what customers need. Explore the competitor's website from the customer's point of view: how easy it is to find what you need? How straightforward is the process of making an order? Discover the most visited pages, spot weaknesses, and think how your website can be better for customers. 
How to get a list of competitors 
For starters, Google your competitors and do it right. By "right" we mean by considering how search engines work:
Not all websites that appear in the search for your target query are your competitors. Even commercial keywords will bring you to neutral search results such as listings, articles in media, and informational sources. For example, Google's SERPs for "barbershop" include both business pages and non-commercial pages.
Search results vary depending on location. A user from New York searching for "the best barbershop" will have very different results from a user in Yorkshire. So, if you're targeting a specific location, search for competitors operating in the same region as you. Use Google Maps and location-based business listings to find your direct rivals.
Competitive research tools will help you get a quick grasp of the market. Enter a domain name of a competitor and get a full list of websites targeting the same audience. Filter the results by excluding those sources that don't represent a relevant business (listings, online media, social networks, etc).
Thanks to SEO analytics, you can learn how many keywords your rivals target, how much traffic they get, and what pages convert the most traffic for them. Once you have a list of your major competitors, use an SEO tool like SE Ranking (used for illustration here), Semrush, Ahrefs, or other.
Let's find out what else we can get out of competitive analysis.
The most profitable keywords: learn what already works 
Analysing what already works for your competitors will give you an idea of what you should do to grab your share of the market. Learn what keywords bring the most traffic to rival's websites and how those keywords are placed on their popular pages.
Why do you need competitors' semantics?
Since you want to attract people who search for products and services like yours online, you might want to learn how they find existing competitors. For example, if you want to launch a barbershop for kids, you need to analyse how the strongest businesses in this niche build their online presence.
How to learn what keywords work for your competitors
Open a competitive research tool, enter a domain name of one of your major rivals, and dive into the analytics: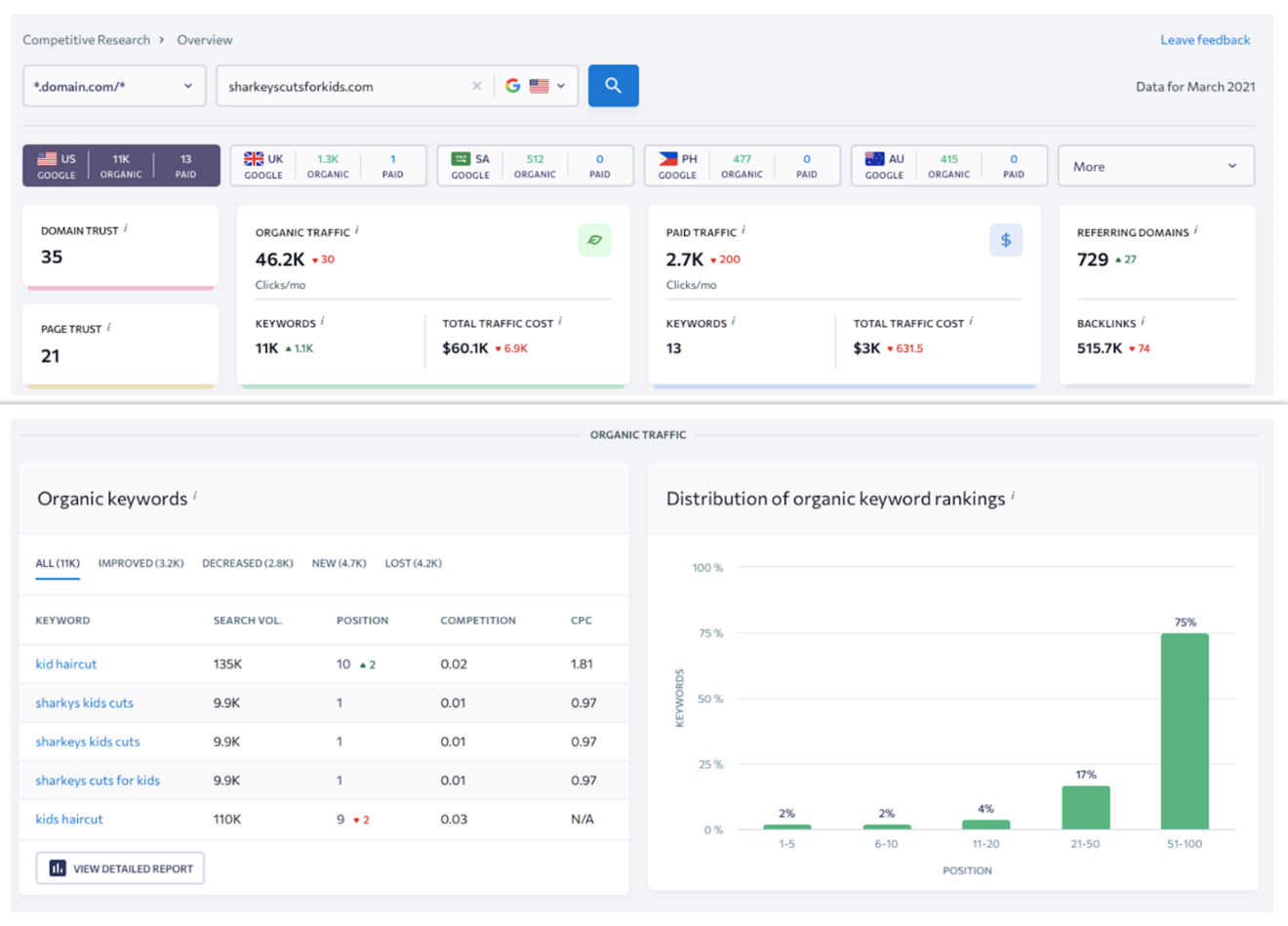 The screenshot above is from SE Ranking's tool where we analysed a big kid barbershop network, Sharkey's Cuts for Kids. What insights can their list of organic keywords give you?
Understanding the scope of services a similar business can provide, or specific features customers need (for example, Sharkey's Cuts for Kids is ranking for a "kids barbie car" that is used as a salon chair).
Understanding different user intents may reveal that people are looking for "family fun cuts", "cool cuts for kids", "barbie hairstyling", "affordable kid haircuts").
When you identify what your competitor is already ranking well for, you can use these queries to your advantage and also incorporate them into your SEO strategy. Analyse what segments of customer needs are covered by rivals and what segments can be improved by your business.
The top visited pages: learn what brings the most traffic
Apart from learning the top-performing keywords targeted by your competitors, you can learn what pages are the most popular.
Why do you need to know top competitor pages?
Business websites receive a lot of traffic to the pages where they focus on solving the biggest customer pain points. Exploring the most visited pages of your competitors will help you understand what customers most interested in. Plus, you'll get valuable content ideas.
Let's illustrate this using an online media example. Say, you're launching a blog focusing on science, targeting people interested in scientific discoveries, historic inventions, and stuff like that. You'll have to compete for attention against giants like BigThink. The bad thing is, there are popular websites already occupying the same niche. On the plus side, you can learn what topics are in high demand from your competitors.
How to learn what pages bring the most traffic
Competitive research tools will provide you with a list of the top pages, their traffic shares, and traffic estimates: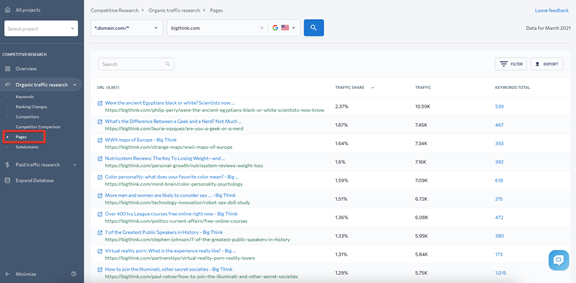 You'll quickly assess what topics are read most frequently. Explore this range of topics and craft your own ideas for compelling content for your target audience. Read the articles to understand what they possibly lack and how your website can be better. You also can see what keywords most visited pages rank for and take them into consideration.
Brand mentions: learn who talks about your rivals 
By this point you should already know a lot about how your competitors optimise their websites. The next thing you need to do is to monitor their external promotion strategies (PR, link building, and social media). You can track their activities by setting brand mention alerts.
Why do you need to track competitor mentions? 
Brand mention monitoring brings the following benefits:
You'll know what blogs, forums, and social media channels your competitors use. Most probably these sources are popular among your target audience.
You'll see the dynamics of brand mentions: when you know how often your rivals are discussed online, you should aim for the same number of mentions.
You'll get a list of websites that are open to mentioning companies from your niche. It will help develop PR and link building relationships.
How to monitor competitor brand mentions
There are plenty of tools designed for monitoring brand mentions and discussions around a given business niche. For instance, Brand24 and Awario help tracking mentions on Twitter, YouTube, articles, podcasts, forums, and blogs.
Here's an example from Brand24. It allows tracking competitor mentions across various channels (but Facebook and Instagram mentions are available only for your own brand):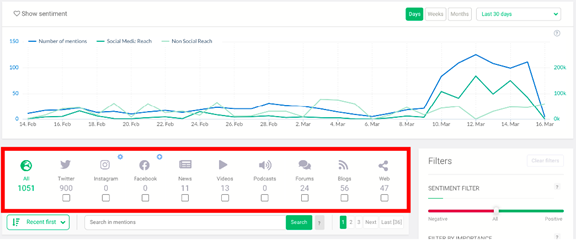 All you have to do is create a project and input different variations of the rival's brand name: for example, Big Think, bigthink, and bigthink.com. Once you do that, the tool starts collecting mentions and giving you valuable insights about the sources you can use for promotion.
Besides building relationships with online media sources that can write about your business and tracking what people are talking about in the context of your business and your competitors, you can write seemingly organic comments mentioning your brand.
Let's get back to the organic dog food example for a moment. You can find articles that mention your major rivals thanks to services like Awario and Brand24. Then, you can visit these articles and leave a comment as if it is written by an actual customer, satisfied with your product ("it's not a healthy food you have to force your dog to eat, my dog loves it!"). If it looks natural and gives some important information, people will notice it.
To sum up
Competitive research is truly one of the most important aspects of analysing your market and building a successful business strategy. But it works only if you know what analytics to pay attention to and how to put the insights into practice. Choose a helpful tool and get the most out of researching your competitors!
Copyright 2021. Featured post made possible by SE Ranking, a cloud-based SEO platform for small and medium business owners, SEO pros, and agencies. An all-in-one SEO software includes a set of tools for website audit, competitive analysis, keyword research and rank tracking, backlink monitoring, and much more.