The job of a link builder is not easy. Consistently acquiring high-quality links requires time, effort and patience.  
If you compare the first ranking page on Google, typically it has 3.8 x more links than the other competing pages.
This is why 41% of marketers consider link building to be the most difficult part of SEO.
If you're a link builder, you already know how difficult it is to manage the task of researching, reaching out, and reporting.
Thankfully, there are several tools that improve your productivity as a link builder.
Here are some of the best tools that every link builder should use:
1. Pitchbox - for guest posting and blogger outreach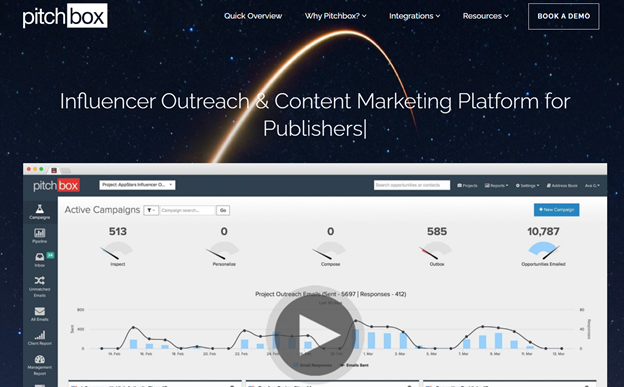 Pitchbox is a link building, influencer outreach, and content promotion platform for SEO agencies, publishers, in-house groups, and brands.
Pitchbox tops the list because it offers advanced targeting and popular link prospecting tactics built into one platform. It helps identify strong link building opportunities in record time.
Top features
With real-time and SERP-based prospecting, you can experience endless opportunities. You can also discover relevant blogs and specific articles in any niche.
There's an option of easy imports. If you have a list of domains in other SEO tools, you can import them to this platform with ease. You can manage the database by setting target filters and creating campaigns from an existing relationship.
You can broaden your database by leveraging data from the top tier industry tools such as Ahrefs, SEMRush, Majestic, Moz, and LinkResearchTools.
2. BuzzStream - to keep link building projects on track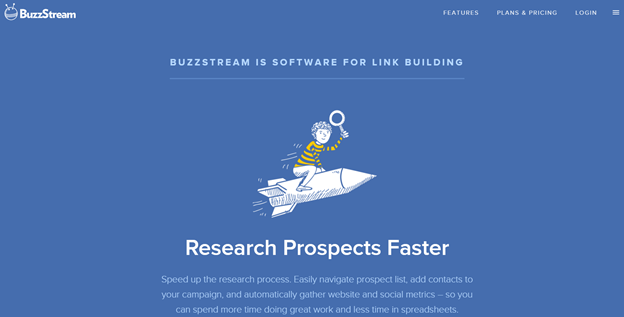 BuzzStream is an excellent link building and digital PR tool. It can research influencers for you, manage your relationships, and also conduct personalised outreach.
The tool helps you with the most time-consuming part of the link-building program, namely finding relevant influencers in your niche.
Top features
There's a dashboard to manage link building, where you can automate the process with ease.
You can also track conversations and manage campaigns effectively across multiple projects through the dashboard.
You can upload a list of sites in your niche that you want to reach out to and BuzzStream will find their contact info.
The Buzzmarker Chrome extension offered by BuzzSumo can easily find contact information for the given list of URLs.
It allows you to set reminders to follow up, track campaign progress, and share tasks with your team.
3. NordPass - to store all your account passwords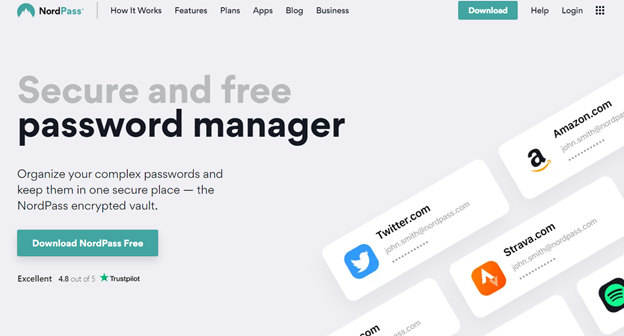 NordPass is a highly secure, free password manager that keeps all your passwords protected at one place. When you're working with many password-protected apps on a daily basis, remembering them all is impossible. 
Keeping them saved on a computer or notepad may not be safe. NordPass provides storage to keep your complex passwords in one place that is accessible from anywhere.
With NordPass you have to remember just one, master password to access all the others. 
Top features
Nordpass is a digital safe that encrypts and stores your logins and credit card details and generates strong passwords and auto-fills them.
Saves login credentials without leaving the browser, as the app prompts to protect your details in a click.
Accessible from desktop, mobile, browser and even when you're offline.
NordPass remembers your favourite websites, and every time you visit them, it offers to autofill your details for you.
4. Ubersuggest Chrome Extension - to get backlink data for the top ranking pages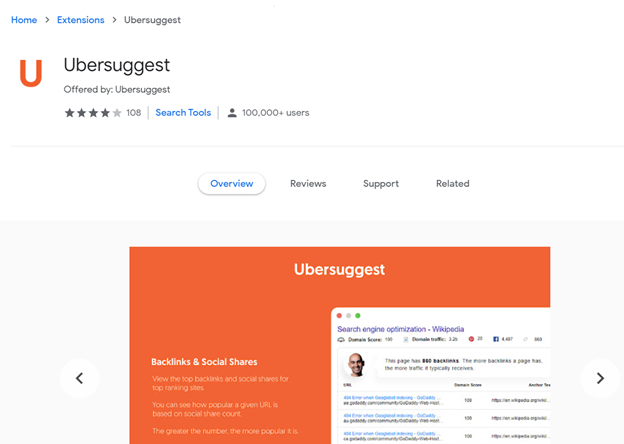 Ubersuggest Chrome Extension is a free tool with lots of new features. The tool is easy to use and offers more backlink data than any other Chrome extension available online.
When you download the extension, you will notice a small "U" shape icon in the browser bar, which stands for Ubersuggest. 
Whenever you visit any site (except Google), you can click on the "U" and see the backlink data.
Top features
When you click on "Backlinks", you will see link data on any given site. It's a new feature.
See the site's domain score, Ubersuggest's version of authority, the number of backlinks, referring domains and organic monthly traffic a website receives.
See a chart of link growth (or decline) over time. 
The Backlink chart breaks down the new and lost links you are getting on a daily basis.
You can export the reports of all links (Follow and No Follow) CSV. 
You get a link list pointing to any given site which allows you to look for a specific link using the search box or use the filtering options.
5. Hunter - to find email addresses in seconds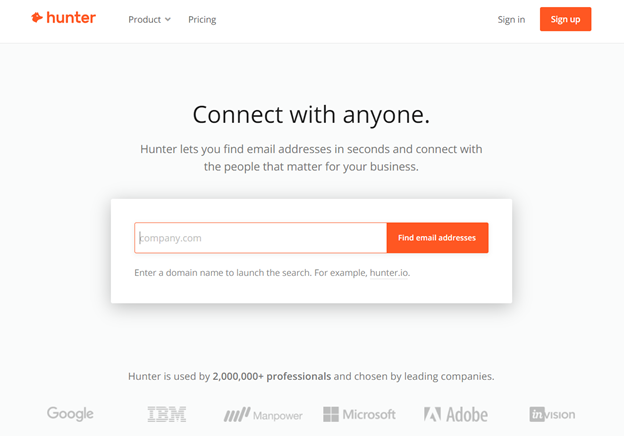 Hunter helps you find the email addresses of those people who matter to your business and build a connection with them. 
Hunter offers different products like Domain search, Email finder, and Email verifier to help you find email addresses for business purposes.
It also offers other products, including Chrome extension, Google Sheet add-on, Bulk Task, Campaigns, and API for developers.
Hunter is accurate and extremely fast. You can access addresses in seconds. For this reason, millions of professionals trust this powerful email finding tool.
Top features
Domain search helps you build a list of all the people working in a company with their name and email address available on the web.
It has 100+ million email addresses indexed and has effective search filters and scoring.
With Email Finder, you can find the email addresses of people you want to contact one by one or in bulk to create an accurate or most probable email address database.
The Email Verifier allows you to thoroughly check the email address so that you can send emails with complete confidence.
Conclusion 
Link building is a highly time-consuming and challenging SEO task. Using tools is a smart solution to reduce the burden of link building. These tools will minimise the time and effort link building requires and makes your work more accurate and efficient.
Copyright 2021. Post by Joydeep Bhattacharya of SEO Sandwitch Blog.