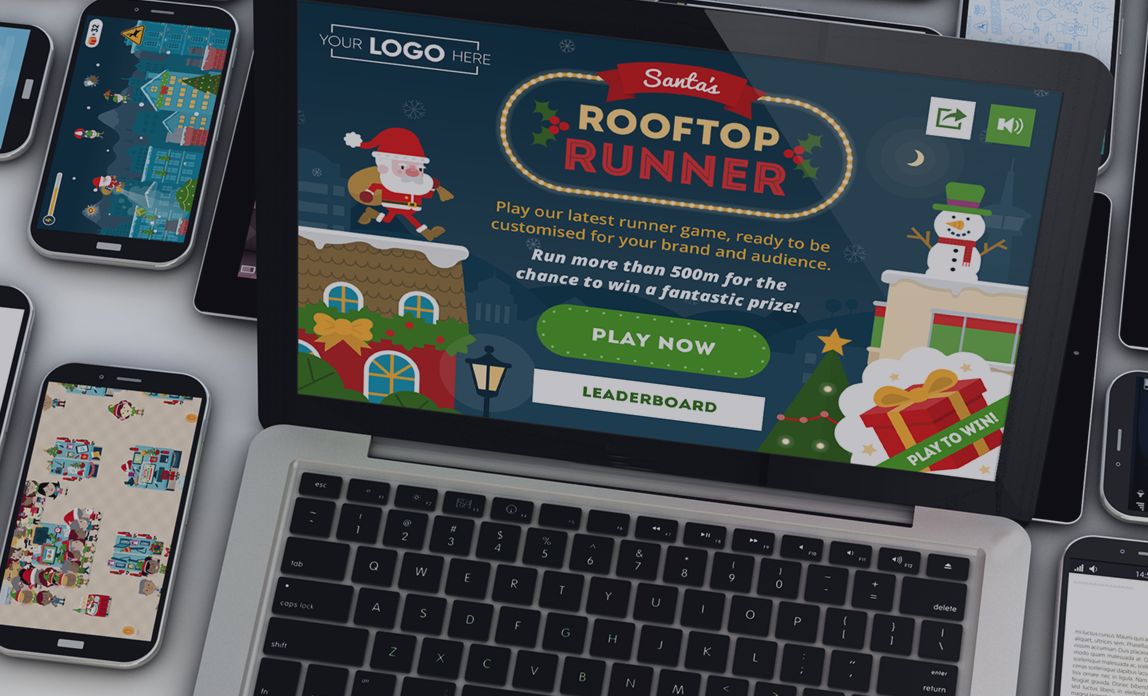 Another year, another e-card featuring the management team drinking sherry in festive jumpers… yawn. I'm sure Margaret in Accounts is lovely, and Dev Ops Tony is always good for a laugh - but, and let's not be too sensitive here, how much do you really think your target audience is going to care?
If you really want to make an impression with your target audience and start laying the groundwork for connections in the New Year, you need to offer them something memorable, - something interactive. Year on year, companies have found that 'something' in our festive online games.
Why should you consider joining them and ordering a branded Christmas game? Well, here at Piknik we can think of six good reasons.
1. Capturing data
It's not very 'season of goodwill', but let's be frank here. New prospects aren't likely to give you their precious data all gift-wrapped with a little festive bow if they cannot see what's in it for them.
By running a branded game in conjunction with a prize competition, you're not only giving them a fun experience - you're also rewarding their engagement with the chance to win some goodies.
To get the best engagement, we'd recommend offering up a prize that's relevant to your target audience, be it some fancy commodity or one of your products or services. If you can, consider running an advent style giveaway with daily draws to give your audience a reason to keep coming back.
You'll find if you're offering something worthwhile to your target audience, they'll be more than happy to give you their contact details in exchange.
You're not going to get that with a cheese hamper, are you?
Play to win and power up your marketing
Competition ends soon!
Games are a great way to engage and entertain your audience. Piknik's range of games can be branded with your message and logo. 
Play Santa's Jingle Jetpack and submit your score by 24 November for a chance to WIN a customised Piknik game worth £850.
2. Measure engagement easily
The Marketing Big One! KPI numero uno. What ROI can you get from a game campaign?
Unlike physical mailings that are lost to the ether the second they go into the post, we can track engagement with branded games. You'll know how many people have played, how long for, whether they submit a score, and a whole host of other useful stats.
When players engage with a branded game, they are subtly reminded of a brand's presence, products and services, all of which goes to building brand affinity.
Branded Christmas games regularly gain engagement of 15–25 minutes. That's pretty compelling, when you consider that the average person gets distracted after 8 seconds!
3. Games show your playful side
Whether your business is small and friendly and huge and corporate, sending out a festive game can add a bit of fun to your brand persona and make your audience smile - especially as the season of giving tends to make people more relaxed and receptive. We're all human, after all!
More than 32 million people play games in the UK, half of which are over 40, with a near-even 50:50 split between men and women. The chances are that a large proportion of your target audience are part of this game-playing group.
It's the nature of games in appealing to such a wide cross-section of people that make them an ever-more popular marketing channel, and a way for brands to show they're approachable.
4. Games boost your reach
Unlike physical gifts or generic e-cards, branded games have the potential to reach further than the initial intended audience and return with more contact data than you had at the start of your campaign.
Being online and sitting on their own webpage, you can keep the reach of your game as limited or as wide as you like. You can email the direct link to a select few clients as part of a direct mail campaign, or use a mailer as a base alongside social media posts and mentions on your website.
Branded games are highly shareable, especially if there's a competition element. When players enjoy a game and feel particularly good at it, they're likely to share the game with friends and colleagues to see if they can do any better!
In sharing on social media and encouraging your players to do the same, you're raising awareness of your brand campaign and reaching new potential leads.
5. It's really cost-effective
White-label games that are pre-built are a fraction of the cost of developing a bespoke one. They're playable on mobile, tablets and desktop computers so players can access them from anywhere.
Compare the cost of this to posting out hundreds of Christmas cards or sending out festive hampers, and you'll see the savings to be had.
6. It's a fast and fuss-free solution
While we're all acutely aware of Christmas, it doesn't half have a habit of sneaking up on us!
The good news about Piknik branded games is that all the hard development work has already been done - so all that's left is to put in the finishing touches. Simply pick the game you want, add your logo, your copy and any other little extras you fancy, and it's done before you can say 'Ho Ho… How quick!?' - giving you more time to focus on wrapping up before the festive break.
And there you have it - six solid reasons to put down the bumper Christmas card pack and do something different this Christmas.
Advertorial. Copyright 2019 Cari Kirby, Marketing Manager at Piknik