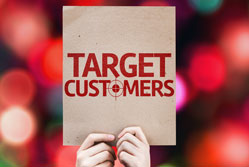 One of the hardest things about running your own business is ensuring that the right people know about you and can be persuaded to part with their cash. Here are seven ways to find and grow your customer base when you are targeting your services at a business audience:
Make a list of the customer groups that your business will appeal to. This could include prospects such as printers, accountants, designers or hoteliers, for example. Four to six segments is usually enough to work with.
Consider geographical restrictions. Are you only looking for folk in a certain postcode area?
Do you want to target businesses of a certain size? As your business grows and changes, the profile of your target audience may change too. Business prospects that initially seemed daunting could become more realistic as your experience and expertise grows.
For each group, compose a list of the compelling reasons why you are relevant to them. What are their deep underlying needs? To what extent can you satisfy these needs? If, on reflection, you realise that you would actually struggle to satisfy the requirements of one particular group, move on and focus on the groups you can target with ease.
What are their present arrangements likely to be? If you pitch your business as a main provider when they're perfectly happy or even tied up in an agreement with a competitor, you'll get short shrift. If you position yourself as a backup source for when their provider can't deliver, it could open the door. I have generated significant sales for clients with this approach.
Can you also market through potential partners or introducers? For example, a marketer aiming at small businesses could also benefit from targeting designers and web developers.
Research done, use the internet to find the details of 15 to 20 businesses in each group you'd like to target. Pick up the phone and do a little research. Find out who buys. How do they arrive at the decision to buy? What are their existing arrangements? How likely is it you'll be able to move them away from their current providers? Building a detailed picture enables you to create timely campaigns packed with enticing messages.
If the thought of the phone terrifies you, use social media and business networking to reach out.
And don't forget your existing customers. Create some simple categories such as VIPs, those that have the potential to buy more and lapsed customers. VIP customers warrant your extra care and attention; a customer that buys irregularly warrants some extra marketing nudges to encourage them to buy more; and a lapsed customer is not necessarily a lost customer.
In short, targeting saves time and it generates cost effective sales, so don't short-change your business with a scattergun approach.
Copyright © 2015 Dee Blick, Fellow of The Chartered Institute of Marketing and an Amazon #1 bestselling author of The Ultimate Small Business Marketing Book and The 15 Essential Marketing Masterclasses for your Small Business.