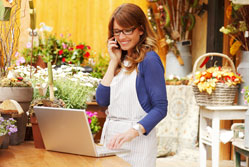 When you are setting up a new business, one of the biggest challenges is finding your target audience and making them aware of what you have to offer. This can be daunting but, by following this step-by-step guide, you can identify and target the perfect potential clientele for your business.
Define your ideal client
It's vital to understand who you think will want to buy what you are offering - based on everything from gender and age to geographical location. Are your products or services only available in one location, or can they be distributed on a larger scale? It's often worth brainstorming with a few close friends and family to build up a picture of who is most likely to become a valued customer.
You should then delve deeper into your audience segmentation, as there may be a psychographic (values, attitudes and personality traits) aspect to your audience insight. Is there a potential market among people with a particular lifestyle or demographic, such as high-earners or young professionals?
Think of this process as a funnel; at the top you have the broader segments, such as gender and age. Each segment thereafter is more detailed and focused, such as where they live, their values and personal attitudes. This will help you to build up a detailed picture of who you are targeting and give an idea of how to reach them.
For example, if you are an IT contractor your target audience is likely to be businesses that have a knowledge gap in their workforce. According to the Nixon Williams Contractor Survey, 85% of contractors in the UK are male, so your advertising efforts are more likely to be male-focused.
Now think about the kind of businesses that might require your services; what do you offer that is most in demand? For IT contractors, this could be website and online support or back-end system development.
Consider channels, routes and reach
Once you have a target clientele in mind, the next step is to think about how you are going to reach them. With any client communication, it's important to think about what type of client they are, whether they are existing customers, new prospects or a previous client. By segmenting your customers this way you can target your offers appropriately, whether you are trying to lure back lapsed customers or attract brand new ones.
There are a host of channels you can use in order to reach your audience, from social media to email marketing. You simply need to find out which channels your prospects use the most.
Have a clear and concise message
When it comes to marketing copy, you need to show the client what your services can do to solve a problem they have. This is where you can often tailor your message to different customer segments, including business and consumer clients.
Your marketing messages should be in line with your branding strategy; they need to be direct and easy to remember. A great example is Apple's "Think Different" tagline; it's short, concise, to the point and, most of all, memorable.
Implementation
If you are an IT contractor, there are lots of other ways to ensure that you are marketing yourself effectively. For example:
Ensure that your LinkedIn profile is always up to date. Connecting with previous contacts is advantageous, as these can be revisited at a later date. Another useful tip is to post an update on future availability when nearing the end of your contract. This could lead to repeat business and build your reputation.
Job boards can be the simplest way to find out about a contract. There are many different websites where contracts can be found; and some agencies also specialise in contract workers.
Networking events and industry meet-ups allow you to get your name out there and build new professional relationships; they can also be a great way to build confidence, connections and improve your skillset.
Direct contact (via email) with targeted companies is also a good way to drum up business. Explain who you are and what you can offer to solve a problem of theirs; and don't forget to follow-up.
Practice makes perfect; keep refining this process until you have a strategy that works for you. Above all, keep gathering knowledge on your clients' preferences, including how they receive their news.
On-going research on your target market will help you determine who is more likely to buy as well as the type of marketing methods they will respond to.
Copyright © 2016 Rachel Smith, technical writer at Nixon Williams' Vantage Online Accounting.
More on this topic: