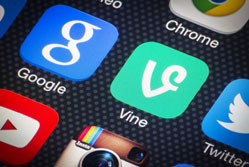 When Erik Qualman — social media magic man and author of the hugely successful book Socialnomics — released his latest stat-packed YouTube video he did a great job of highlighting the power of social media in the modern age.
This three-minute clip is a shining example of clever video marketing. Considering that it's a sequence of facts and figures strewn across the screen, the video drives home its point in a compelling way.
It just goes to show how a smart design combined with eye-catching infographics and a Daft Punk backing tune can hold a viewer's attention for 180 seconds.
It's even more impressive if you take into account one of the video's stand-out statistics — the average person has an attention span of seven seconds.
It sounds extreme but I'm inclined to agree with that — mainly because as soon as I'd read it I immediately started wondering what I should have for lunch. But also because we, as consumers, are being so overloaded with advertisements that we tend to disregard anything that doesn't appeal to us within the first few seconds.
This sort of consumer behaviour has shifted the way content marketers approach advertising — and that's where Vine comes in.
The influence of Vine on advertising
In his video, Qualman describes the six-second Vine as the new 30-second commercial. This makes a lot of sense. Apart from anything, no-one's buying into traditional marketing anymore — just 14% of consumers trust advertisements, according to Qualman.
With Vine, viewers are getting are short, snappy, engaging clips primarily intended to entertain while hinting at a brand or business — it's the gentle approach to advertising.
On the grapevine
One big business that is using Vine cleverly for content marketing is Ford. Ford has only been using the platform since early 2014 yet it has managed to accrue a substantial following by recruiting the help of more established Viners. It has asked these influencers to produce Vines in which Ford cars play a part — but this is more like product placement than traditional advertising and it's better for it. Re-Vining the clips using the influencer's handle, as opposed to Ford's, also encourages more user engagement.
In addition, the playful and irreverent humour in its clips attracts the attention, trust and respect of a younger audience that would typically be less interested in corporate commercials.
Given that Qualman says 50% of the world's population is under 30 years old, then gen Y is the largest and most social media-dependent demographic out there.
So, if you want to tap into this pool of potential customers, it would be worth taking a page out of Ford's book and start harnessing the power of Vine in your content marketing strategy.
Copyright © 2014 Shelley Hoppe, managing director at Southerly.