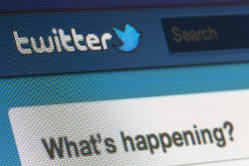 With over 255 million monthly active users sending an average of 500 million tweets a day, it's no wonder Twitter is the first place many people turn to receive up to date news.
There are over 2.1 billion searches on the site everyday — which means it's hot on the heels of Google and YouTube. However, unlike the other search engines, Twitter allows any individual to post news that will be immediately positioned in the public eye.
Twitter is often called the "information network" to distinguish it from other traditional social networking sites. And according to Twitter CEO, Dick Costolo, the new Twitter Search site "is complementary to traditional forms like television, because it adds the kind of real-time discussion we associate with the town square". In other words, Twitter wants to become the ultimate breaking news platform.
Breaking news
It is not just Twitter that can see these benefits — journalists have been using Twitter for years to find breaking news. Now, they are turning to the site to post the news before they have even written the article. Twitter has heightened the competition between media sources to be the first ones to report news.
Twitter allows users to personalise the type of news they receive. By following certain accounts, users can pick and choose what they see in their newsfeed. We've all opened a newspaper and had to flick through to find the articles that really interest us. The Twitter List is great for collating news, allowing users to separate the accounts they follow into categories such as sports news or celebrities.
The value of hashtag
In addition to Lists, the almighty hashtag has allowed us to group together tweets from a specific subject, so we can view millions of first hand accounts and traditional news reports on just about any subject. The hashtag allows us to see and share everyone's opinions. 
Not only can you filter the news you receive but you can also receive it from a variety of sources. By following multiple Twitter accounts you can get a less biased take on a breaking news story.
Citizen journalism
Perhaps the greatest feature that Twitter brings to news reporting is citizen journalism. These 140 characters have given everyone a voice, allowing first hand accounts to be posted as well as traditional news reports. 
The problem with Twitter as a newspaper, however, is that it is a huge rumour mill. Not everything that is tweeted is true. In order to find great nuggets of news on the platform we have to sift through thousands of false accounts and spam.
But can the same not be said for traditional media? As confidence in newspapers wavers, are people increasingly turning to social media for the real first hand accounts from the average Joe?
In an age where the media is grappling for the best headlines and as confidence in newspapers beings to falter, will Twitter becomes the ultimate 21st Century newspaper?