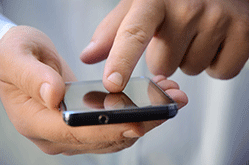 It's almost impossible to succeed as a business today without having a website. But just having a website is no longer enough — SMEs in the UK are missing out on up to £77bn in annual revenues as a result of not having mobile-optimised websites, according to research commissioned by Hibu.
Despite the growing popularity of mobile browsing — fast becoming the main way that we access the internet — the Hibu research found that just 10% of UK SMEs have optimised their websites for mobile.
This is despite the fact that research by Google in 2012 found that two-thirds of smartphone users believe a mobile-friendly site would make them more likely to buy or use that business's service.
Are you giving your competitors an advantage?
By not having a mobile site you are not only losing out on potential business, you are giving your competitors a distinct advantage. It's like opening a shop that you can only enter by way of a series of ropes, pulleys and ladders.
Luckily, creating a mobile website need not cost the earth.
Off-the-shelf options
A large budget isn't necessary for a smart and elegant mobile site, but it's important not to attempt to go all out. We recommend using a pre-existing theme for a content management system like Wordpress. There are plenty of systems to choose from, but Wordpress suits simplicity and a lower budget.
Using pre-existing themes will give you out-of-the-box mobile functionality with minimal fuss or start-up delays. It doesn't mean that you're short of options either — there are thousands of themes available. Sites like Theme Forest have many different options to choose from and all are relatively inexpensive. With so many on offer, you're sure to find something you like, but it is important to be selective.
Once you've made a choice on what sort of plugins, features and themes you want to use, you then need to make sure that they are the right fit for your business, that they are installed properly and that they are optimised. This is the process that you may need help with. The end result will be a smart, functional and simple mobile website that will offer all basic features to mobile visitors.
Tailor-made optimisation
With a higher budget, you have space to make your mobile responsive website more dynamic, more reactive, and more likely to convert visitors into customers.
With a higher budget you can work with complex, but highly beneficial tools that allow you to test for a multitude of browsers and mobile devices visiting your site. That way you can optimise your website for all possible mobiles. It will also give your site a personalised feel — it won't look like any other mobile website out there.
Being selective is even more important with a bigger budget, simply because you'll have more to play with. Set objectives for your site and then evaluate which features and options will best help you achieve this. You need to think about what your user will be looking for, and what features they might want on a mobile site.
In short, you need to take a thorough look at your user experience (UX). This way your end result will be an entirely user-focused site that keeps visitors on the site because every aspect is geared toward delivering smooth, easy and attractive usability.
With your mobile site sorted, you can rest easy in the knowledge that those who visit it will be happy that they've arrived.
Rudi Hoppe is chief technology officer at content marketing agency Southerly.