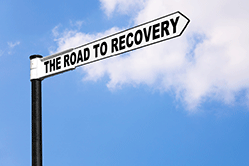 It's funny how coming out of the recession hasn't got nearly as much media coverage as when we went into it. Right now, savvy salespeople and companies are taking advantage of the upturn. But are you fully prepared?
1. Write a sales plan
If you're a salesperson, you need to have a written sales plan of how you're going to exceed your sales target. If you're a sales manager, you need to have a written sales plan. If you're a sales director, you need to have a written sales plan. If you're a business owner, you need to have a written sales plan. There is no excuse for not having a written sales plan.
2. Focus, focus, focus
The next step is to make sure you're focused. Most firms have had to be more focused than ever during the recession as they have faced a drop-off in enquiries and sales leads. This forced their sales team to concentrate harder on new opportunities and focus on how they were going to get it to convert into business.
If the market is starting to pick up, make sure you don't fall into the trap of taking those enquiries for granted — as some companies had done before the recession really hit them. If you're starting to get lots more enquiries, your sales plan will help you focus on the best opportunities, and the ones you and your team are most likely to convert.
3. Work to your strengths
This is an important point and one that's often missed. The important thing is to be aware of your energy levels. Back when I was a sales manager, I had one rep that truly was a morning person — jumping around at 8.30 in the morning, yet when 3pm came he was almost asleep!
We decided to play to his strengths and arranged his diary to take advantage of his energy levels. We made his new business activity (cold calls, new business appointments) in the morning, and existing client calls and paperwork in the afternoon. Month on month his sales went up 50%. Amazing.
Are you playing to the strengths of your team? Think about how to best use your resources right now and play to the strengths of your staff.
4. Block out time for prospecting
I've lost count of the times people have said to me, "We don't have time for prospecting/cold calling" or "I know I should have made some calls today, but things just got in the way".
There is no excuse for not prospecting. Sales managers continually get frustrated with salespeople who "ride the sales rollercoaster" — a good month, followed by a bad month, followed by a good month, followed by a bad month.
This is usually because the salesperson has become so busy dealing with their leads that they haven't had time for prospecting, which means less leads the following month — and that leads to a lack of sales.
Everyone should make time for prospecting. It should be the most important thing in your day. Too many salespeople don't prospect because it's easier to deal with existing customers but then they complain when they miss targets the following month.
5. Get motivated
Already this year, lots of companies have asked me to come in and help motivate their sales team. Companies that want to steal a march on their competitors are looking to get better results from their teams.
Motivation is vital to your success. Many firms make the mistake of assuming that their salespeople are already motivated. Yet in my experience, most salespeople generally work between 30-50% of their potential.
If you're a manager or a director, what steps are you taking right now to work on the motivation of your team? If you're the salesperson, what would it take for you to feel more motivated right now? And don't say "more money". That's known as commission!
Andy Preston is an expert contributor to Marketing Donut and a leading expert on sales. His website is at www.andypreston.com.