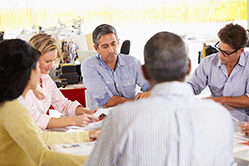 When you are looking for a marketing agency, you may feel apprehensive about handing over such an important part of your business to a third party. However, there are some things to look for when choosing an agency that should ease your concerns.

Here are five simple things that you should expect an agency to be using to give you the best service and earn your trust in those vital early stages.
Managing social media with HootSuite
HootSuite is a well-known tool for social media management. It allows your agency to schedule updates for social media pages across multiple channels, to monitor their reach and engagement and ensure your social media activity runs smoothly. As a client, you can become a "super admin" on HootSuite, which means all updates go through you before publishing.
HootSuite Pro includes a range of reporting tools and can be integrated with Google Analytics, so definitely look for an agency that takes this approach to get the most out of social media.
Using Call Tracking in analytics
As a small firm, you'll be looking for an agency that reports a full picture of your return on investment. You don't want to be investing in marketing services that are not cost effective — so your agency should be advising you on where to shift your budget.
For a full ROI picture, your agency should be offering call tracking. It's an affordable option for businesses of any size. By placing trackable phone numbers across your different marketing campaigns, you're able to track enquiries and conversions that result from online and offline media, and analyse them alongside clicks — giving a truer picture of your marketing success.
Simplifying Google Analytics with dashboards
The marketing world is full of data, most of which you probably don't need to know. Your agency should understand that not everyone is an analytics expert, so they need to deliver results in a clear and digestible way.
Ask about Google Analytics dashboards. These are fully customisable reports, so they don't swamp you with unnecessary data. They display only the information that is relevant to your goals, whether that's clicks, time on site, conversions or simply profit.
Keeping you in the loop
CRM (Customer Relationship Management) software should be at the heart of every project. We use Basecamp, which gives transparency to a project every step of the way. It allows the agency to lay out the process beforehand, set up tasks and assign them to team members, establish milestones and keep a paper trail of communication with you.
Don't let your content go unnoticed
If you have an audience, turn that into a readership. Every marketing agency should offer an email strategy for sending out regular newsletters with links back to your content. They say that great content shares itself, but go with an agency that gives it that extra push.
MailChimp makes it easy to import your existing contacts to a mailing list and push your content to the right people. It's capable of split testing designs, and sending follow up emails to those that engage. The reports give clear insights into how the campaigns are performing and help you keep track of conversations, so you don't miss out on capturing customers.
Every agency should be using these industry-standard tools to build a long and profitable agency-client relationship.
Rob Newhouse is writing on behalf of Mediahawk. It has produced a downloadable guide to call tracking.