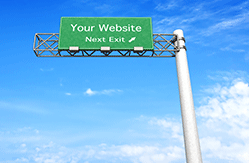 It's nothing new and it's not a revelation, so why are so many smaller organisations still shying away from doing business online?
A good website only has positive effects on your customers and your business. But if you're still not convinced your business needs to get online, here are a few good reasons to change your mind.
Everyone can see you
Let's start strong with some facts and figures:
87% of the UK population are now online;
Approximately 80% of consumers research brands before purchasing;
The average desktop or laptop user spends four hours every day online.
Without a good website, you could be missing out on thousands or even millions of new customers. The first step in the buying process for many potential customers is to look you up online. Your website is your online shop and your customers are waiting to walk in.
Open all hours
Your online business is open 24/7. So there's another advantage to a quality online presence; you'll be attracting customers, creating buzz, providing information and making money ... literally as you sleep. Selling your products and your brand has never been so flexible, as customers can choose where and when they want to buy.
Getting to know you
Picture the scenario a "few" years back. Mr Smith walks into his favourite local store, the owner knows Mr Smith very well, knows what he usually buys, what he does for a living and what he thinks of the shop overall. Things haven't actually changed that much.
With some basic online tricks and tools you can also get to know your customers very well indeed. Through your website and social media pages you can get feedback, find out what people usually buy from you, how they use your website and what they think of your business.
All this helps you tailor your online shop window, improve your services and gain and retain customers.
So what are you waiting for?
There are loads more reasons to set up a website. And the best thing? It's easy to do and it's not expensive. Use simple web design software and you'll find out just how easy it is to create a professional website without any training or experience.
Quite simply, a decent website will help improve your business, give your customers greater access to your products, services and location, while helping you build a stronger base, where you can attract more customers every day.
Dale Cook is the technical product manager at Serif.