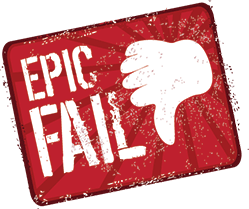 Okay ­— maybe rubbish is a little harsh. But if you're not getting the results you need from your inbound marketing strategy, then you could be making some common errors. Do any of these apply to you?
 1. Lack of segmentation
Sending the same sort of marketing to your entire customer base may well give you a few leads every time, but will more often than not end up annoying people for whom it has no relevance. Segment your customer base as far as you're able, so marketing materials can be strategically targeted — the number of leads should increase and the quality of them certainly will.
2. Not putting yourself out there
Instead of hanging around and waiting for people to find you either through a search engine or your social media profiles, go and seek them out. Find out where your customers meet online and develop a presence there. Let people know who you are, what you do and how you can solve their problems.
3. Mis-timing
Do your competitors tend to blitz the market at certain times of the week/month/year? If you're a smaller company with less marketing resources then it can be difficult to get noticed in the tumult. Break the mould, and focus your inbound marketing at times when your competitors are quieter and you can be heard.
4. Your content isn't up to scratch
There could be all kinds of reasons for this — are you writing in a style unattractive to your target market? Is your content unimaginative or disconnected from what the company actually does? Are you failing to adequately explain to people how your product can help them?
Good tips include: looking for new content angles; encouraging colleagues from across the business to provide content; Inviting external guest bloggers to contribute; brainstorming ideas; and planning in advance.
5. You haven't learned to share
Where is all this content you produce being placed? On your company blog? Or as downloadable white papers that are rarely opened? You need to ensure you have a well-developed social media presence. When you blog, you need to post or Tweet a link; when you announce news, aim for as many Likes, Shares and Retweets as you can.
6. Resistance to change
Inbound marketing can only be successful, when everyone in the business is on board. It requires a company-wide culture change that can be unsettling for the old guard. But a willingness to open up about your company's operations is now expected by consumers searching for authenticity in brands.
If you don't embrace change, it could look like you've got something to hide.
Sophie Gradon is search marketing executive at Silverbean.