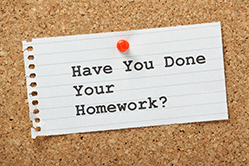 Preparation is one of the keys to sales success, especially for face to face appointments. It should be one of the main focuses when it comes to winning new business. However, more often than not, I find that lots of people are still doing the wrong sort of preparation.
Mistake number 1: Are you too worried about yourself?
In my experience when training businesses and salespeople, people often reveal that they are more concerned about their own preparation, such as: Have I got enough business cards? Are my Power Point slides done right? Or, have I got my product samples in my case?
This is a big mistake — surely you should be more worried about your client than yourself?
Mistake number 2: Are you doing enough client preparation?
The best preparation is client preparation, such as looking at and printing out pages from their website. You'd be surprised how many people do not even visit a prospect's website before meeting them face to face, only to be left faced with awkward situations that involve them asking questions such as: "tell me a little about your business".
Mistake number 3: Not using Google!
There is no excuse for not even carrying out basic preparation — after all, anyone can use Google.
Google the company name (to see what else comes up, not just checking out their website); Google the name of the person you are meeting; check out their competition and see who you've worked with in a similar industry or situation.
Instead of asking questions like "tell me a little about your business", ask questions like, "I was looking on your website and noticed that...." or "I noticed on your website that you worked with...and I wanted to know a little more about it...".
Do you think these have a different impact on the person you're meeting? Do you think they would perceive you differently than your competitors who ask the same tired old questions, time after time? Absolutely.
If you do the right kind of research, do you think it might have a big impact on the results from your sales calls and appointments? You can bet on it.
Andy Preston is an expert contributor to Marketing Donut and a leading expert on sales. His website is at www.andypreston.com.