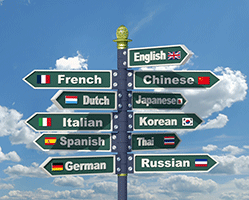 If you're involved in websites, SEO, ecommerce or any other element of online business, without doubt you would have heard the drum of internationalisation beating louder and louder over the past few years.
New emerging markets are on the up as internet penetration increases. As a result, businesses are looking abroad for more customers, more sales and more exposure.
Website translation is, without doubt, top of the to do list when targeting a country, region or even the world online. However, many firms are being hoodwinked into believing a website translation is the goal — and yet it can be a complete waste of money.
International expansion
Having a website translated as part of an international sales or business development drive is not the end game. It is the end game for the translation company and/or website design agency. Their focus, most of the time, is on getting that website into the languages agreed upon. Full stop.
However, businesses need to understand that a website on its own is never going to ramp up sales in China, Brazil or Germany. A website, most of the time, is the first stop on a journey. It educates the reader on what you do or sell with the intention that they then go on to buy.
Some websites have the capacity to sell online but most of the time, simply having your website translated will not be enough. It usually takes a few more steps between the education and the sale. These steps can form a canyon in terms of being able to convert enquiries into sales. This is where the gap exists; and where money is wasted.
A real life cautionary tale
Take this example. "Company A" sees the potential to sell their services into Germany. Convinced by the reams of data about online buying behaviour and keyword search volumes, they invest in getting their website translated into German. The brand-spanking-new website is released, complete with an SEO budget and a PPC campaign and then … traffic comes in.
When the company receives its first email in German, it can't respond. When a potential client from Berlin calls the office, nobody can speak with them. When a business magazine contacts them about a PR piece, they lose interest when realising the company has no German presence. When Analytics illustrates people exiting the website at a certain key pages, what do they do?
All these are real life examples of the poor planning of businesses going into a new country without a) understanding the market and b) having the ability to deal with enquiries in the language.
Money well spent
Website translation is a waste of money if it becomes the end goal. It needs to be part of a clear sales or business development strategy with a plan of action on how to support sales. It needs to take place after careful research as well as organising back office functions to be able to handle requests, place orders or close deals.
In order to ensure your new multilingual website offers ROI, make sure everything around the website is ready to support it and the business. Here are some things to consider:
Outsource. Having a local partner, distributor or sales agent is a simple way of dealing with local enquiries. The responsibility and functions are externalised. However a lack of control can put off some companies.
Hire in-house. If you are going for a specific country and you have the budget, hire someone in-house who can speak to customers and generally help the business. They will also be able to bring local knowledge and know-how.
Try it out. If you want to test out a market, look at using a multilingual virtual assistant. Acting as your representative in the country, they deal with all enquiries according to parameters you set. This allows you to save on costs but still provide a good service.
Localise. Don't just get your website "translated" from English. Ask for advice on localising your site so it looks, reads, feels and works as it should for that target location. This will reduce the number of questions you may have to deal with.
Automate. Consider automating as much of your communication as possible through pre-translated emails, FAQ guides, videos, voice messages and the like. Identify the main areas you need to consistently talk about. This may not deal with 100% of communication but it's an economical, practical and functional way of overcoming the language barrier.
Through appreciating the limits of your website and understanding how to support it, the chances of success are dramatically increased. The result will be a more holistic approach to your website and the sales cycle.
Neil Payne is the managing director of Kwintessential.