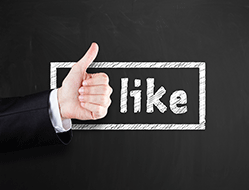 Social media is the driving force behind a wave of start-up companies. Finally, a platform exists which allows access to a huge market without traditional barriers to entry. Simply put, the benefits of involving your business with social media will be — you will still exist in five years' time.
Although you might know this, your boss or colleagues might not. Getting them involved with social media sites can be challenging. However, follow these simple steps and it will be impossible for your boss to say no!
Measure and analyse
One of the simplest ways to convince your boss that social media is the future is showing how much profit they can make. Show them how your competitors are using social content to attract potential clients, showing the strengths and weaknesses of their campaigns. Use your website analytics to monitor the flow of visitors to your website from Facebook, Twitter or organically, and how many convert to leads or sales.
Remember, this is a way to win over your boss. Start with something like, "currently we convert 6% of our online leads. With a social content campaign, we could increase conversion rates by 4% in the first six months". Back this up with facts and don't be tempted to oversell, this will come back and get you when you don't deliver.
Competitors are already in your online space
Your competition is already in your online space, and they will continue to grow and become harder to beat. You need to be establishing yourselves as leaders in your field. You may supply anything from radiators to a new digital service — don't think your industry is too boring. Becoming established in your niche is important and social media is one of the easiest ways to do this.
SEO benefits of social content
SEO plays a huge part in boosting organic traffic and that is obviously a huge factor in being found online. And social signals are playing an increasingly important role in giving some websites more authority — and that affects where you come in Google rankings.
Save money with FAQs
By creating content that answers the questions your potential customers have means you can save your employees valuable time and spent answering phone calls. With the right content on your website, the only phone calls you should be getting should be warm or hot leads looking to find out more about prices and details before making a purchase. As customers ring and enquire about certain issues, encourage colleagues to share what they were asked. This could give you inspiration for your next great piece of content, in the knowledge you will be answering the issues people see as most important.
Show returns
A well-executed social campaign will show returns. However, examine your resources carefully and create a strategy that plays to your strengths. It's well worth having a blog, for instance, as great content is the driving force behind any social media campaign. Not only will you get the SEO benefits and get long-tail organic traffic, you can use analytics to show directly how much traffic it has driven to your website, and how many conversions have come from it.
Once you can show the blog is successful, you may get more budget or resources to push a Twitter account. And before you know it, you will be in charge of an entirely measurable social media campaign, and your boss will give you a pay rise — we can always dream!
Takeaway benefits of social media:
It is fully measurable so you can calculate ROI
Competition is already in your online space
There are significant social and organic SEO benefits.
Jonathan Dempster is writing on behalf of ResponseTap.