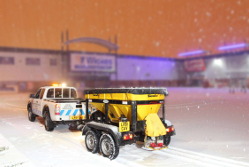 Exceptional customer service is a badge that everyone wants to wear, but few people get right. In my opinion, it isn't difficult to provide a service that customers find exceptional.  The answer is easy — put your customers at the heart of everything you do. 
Satisfied customers are the Holy Grail for any business. With high levels of support, customer churn is minimised and existing customers not only buy more from you, they recommend you to others.  
The service we provide (gritting and snow clearance) is critical as it keeps organisations operating in the worst weather but, by its nature, is delivered in the toughest conditions. Yet, last winter, our annual end-of-season survey of clients revealed 99.2% satisfaction with the service they received. 
This satisfaction led to us being listed as the 37th fastest growing business in the Sunday Times Virgin Fast Track 100 in December 2011, on the back of an 83% increase in sales.
The secret is simple — build your business around your customers' requirements and continually listen to them so you understand the challenges they face and can respond with innovative ideas to help them.
After happy customers, your second biggest asset is your staff. Having motivated and passionate people representing your business will mean they're always doing the best job they can for you and your customers and they'll often go the extra mile.
The importance of ASK
We select everyone we work with based on their attitude, skills and knowledge (ASK) — in that order. Having a can do attitude is essential for us. We believe it's easier to teach people the skills needed for the job, than it is to change a person's work ethic and the team continually prove to us that this is the best approach. 
Our staff go above and beyond the call of duty for our customers. Last winter, one of our guys was clearing snow from walkways in the middle of a freezing night and noticed that someone had piled snow up against a fire escape door as a prank, preventing it from being opened. It wasn't part of the contract to clear snow from that part of the site but his conscience couldn't let him leave it as it was, so he spent additional time clearing it, much to the customer's delight.
It's not just customer-facing staff who should be relied on to react to customers' needs, everyone in the business should be focused on it. There needs to be an internal culture that promotes and rewards innovative thinking.
No more computer says "no"
It's also vital to have robust systems and processes in place, which enable every member of the team to do the best job whilst being as flexible as possible with customer needs.  As technology improves, the possibilities become endless – so never again should staff need to say "computer says no".
We are extremely proud of the partnership we have with our customers and it's all down to putting them at the centre of everything we do. And of course it's not all about the bottom line; there is nothing more satisfying for you and your staff than a customer being delighted with the work you've done.
With the recession leaving a legacy of consumers and businesses demanding more value for their money, customer service has never been more important. Those who will thrive will not just make customer service one of the things they do, they will ensure their service delivery is based entirely around the customer.
Alastair Kight is managing director of GRITIT, winter risk management specialists.