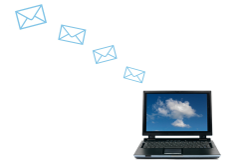 If I had a penny for every time I've spoken to an MD or sales/marketing manager at a small business that has said to me - "Yep, email marketing - an expensive waste of time" - I'd probably be able to cover my sales team's weekly contribution to the company profit.
So why do email marketing?
Simple - how big would your call centre have to be to be able to talk directly to 20,000 senior decision-makers within 30 seconds of each other? I would suggest there isn't a building big enough. So what else makes email marketing worthwhile over the other forms of direct marketing?
Email marketing is a repeatable, predictable process and it can be measured.
It's repeatable
Email marketing is a long-term plan. Not many companies will get rich on one email campaign. Campaigns need to be run over a minimum of six months. Ideally, you should repeat your message to the same group of people once a month, over 12 months.
Let's face it, every company moves in and out of its buying cycle for products - it's not that your product is rubbish or everyone hates it, it's just the wrong time for the majority of your prospects.
So repeat not just the target group but also your message - build real brand awareness and also cater your message for those who want your product now rather than the ones that don't.
To illustrate the point, everyone has a mobile phone that's on some form of contract that will end at some time, but different times. Does that stop the mobile phone companies marketing their services? Not at all - you can take the same approach to your email marketing.
It's predictable
Email campaigns are reassuringly predictable. For example, experience has taught us that on average, email campaigns will accrue open rates of ten per cent and click throughs onto their websites of ten per cent of the opens.
It's measureable
And finally you can measure it - by producing a report on exactly who has opened the email and who has clicked through.
Direct mail and fax marketing can't do this - you'll never know if someone has actually opened the expensive letter/brochure you sent to them.
With email marketing, you can identify who is interested in your product and target them with sales calls. We know, for instance, that on average, a sales person can convert 1 in 15 of the "click throughs" and 1 in 30 of the "opens" and turn them into new customers.
Repeatable, predictable, measureable - that's the power of email marketing.
Alex Hurst is an expert contributor to Marketing Donut and senior data manager at Meridian Delta.