While it might seem that everything has gone digital, from our books and shopping lists to how we organise our day, it's not the only way marketers communicate with their audience.
In this digital age, it's essential businesses communicate digitally and via social media, but they should not overlook custom branding and physical marketing tactics. Even today, the most effective campaigns are those that use a mix of integrated and digital marketing.
Physical marketing is likely to stick with the viewer, and print material is excellent way for an online business to drive traffic to their website. For companies with a physical presence, physical marketing tactics such flyers and posters can attract people to your premises.
How do you focus on custom branding tactics in an industry dominated by digital marketing players?
In this article, we list some custom branding players in the UK to help you reach your target audience.
Here are the top five physical marketing or custom branding players in the UK:
1. Helloprint
Stickers are bang on trend right now. They are an excellent way to demonstrate your brand's personality, from decorating your business premises to freebies sent out with online orders.
You can use stickers containing your company logo or eye-catching artwork that describes your product or service. 
Today, with the advent of technology, you no longer have to spend ages printing stickers. Companies like Helloprint can do it for you.

Helloprint's custom stickers let you design stickers and labels for every format and surface. With custom stickers, you can create stickers for your floors and windows.
By printing custom stickers, you can spread the word about your business creatively. It can create a lasting impression in a cost-efficient and innovative way. For example, by using them in brochures or flyers during an event. Using customised stickers can create a personal relationship between your company and customers.
2. Instaprint
If you're a small business looking to generate buzz in your local community, it's probably time to go 'old-skool' and use flyers and leaflets.
Contrary to popular belief, these flyers increase your business' visibility in your local area. They're an incredible promotional tool that allows your business to interact with potential customers while setting the right tone for your business.
For printing flyers and leaflets, companies often turn to flyer and leaflet printing like Instaprint.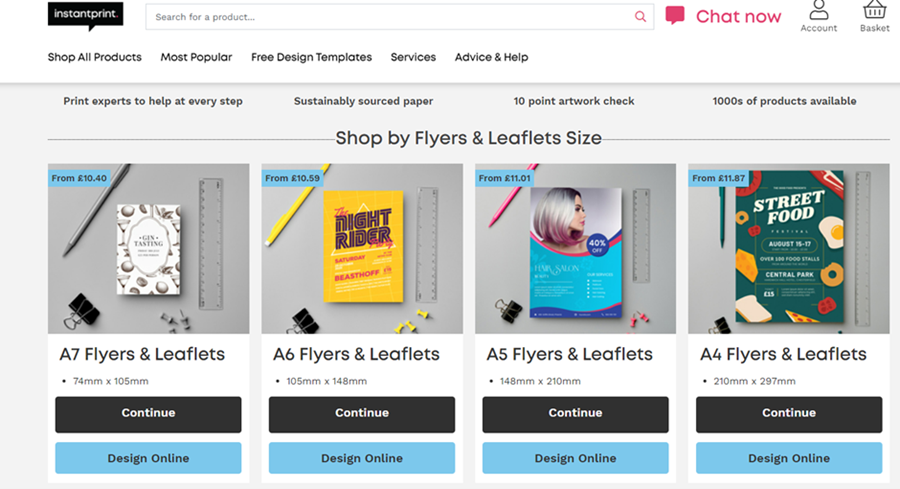 Using Instaprint's leaflet printing, allows you to choose from 12 different styles and sizes. What's more interesting is that you can create your flyers and leaflets online using their intuitive tool.
Another noteworthy feature of Instaprint is that it allows you to choose a paper type and gives you an option of 15 quality stocks. You can select the quantity and decide whether you want to add lamination to your leaflets and flyers.
3. 75 media
Who said billboards were a thing of the past? Think again! Billboards are very much alive and working.

Today, digital billboards are the go-to medium for many local and national brands. They can help you reach your desired audience. Digital billboards help advertise your business and can take it to another level.
These digital billboards use the latest technology to deliver timely messages.
These billboards are located on highways and streets so more people can see your advertisement. Marketers can use marketing companies like 75 Media to create digital billboards.
According to research, 65% of viewers engage in potential action after seeing a digital billboard, such as searching for an advertiser or visiting a store or restaurant. Companies like 75 Media can help you build brand recognition and generate high ad recall. You can use classic or digital billboards available in prime locations across various towns and cities and achieve results similar to digital marketing.
4. Peach Design
Point-of-sale displays are a great way to get your product in front of your target market at a time when they can act immediately and purchase your products.
Did you know that despite the rise in online shopping, nearly 85% of purchases worldwide still occur at a physical retail store? This means POS displays remain an integral aspect of your custom branding efforts.
A POS display draws attention to your product in any retail setting and is a great way to generate excitement and demand for your product. Companies can rely on marketing firms like Peach Design to create POS displays that make a difference.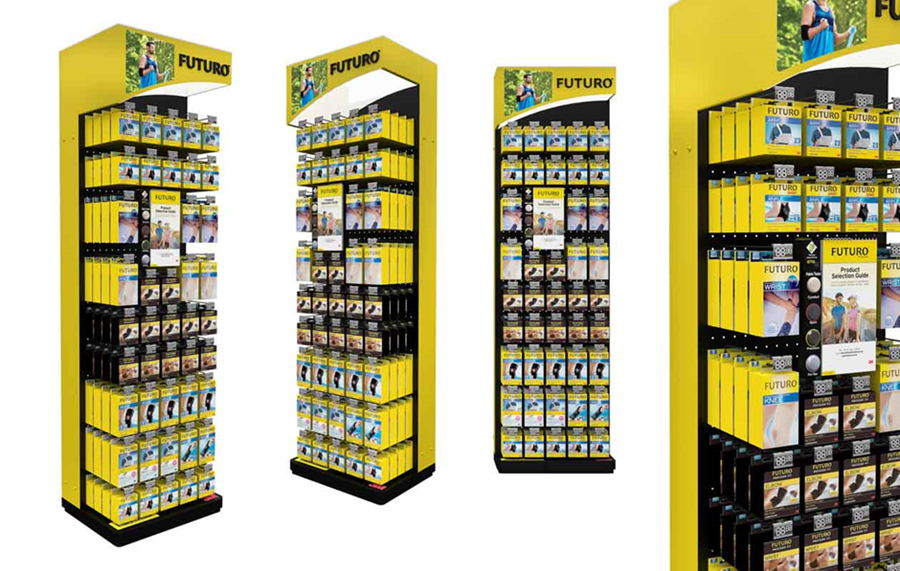 Using the capabilities of a company like Peach Design, you can create an eye-catching display that ensures you attract more customers. What's more, you can create high-impact promotional graphics that resonate with your target audience and get your marketing message across.
5. StreetPR
Another physical branding tactic is guerrilla marketing, which primarily leans on the elements of surprise and bombardment to convey your message. This marketing tactic can make your brand the talk of the town because it puts your brand in front of your customers in an imaginative way.
For companies that appreciate the value of innovation and boldness, there is no other marketing tactic than guerrilla advertising.

If guerrilla marketing sounds up your street, you can use agencies like StreetPR. They primarily focuses on creativity and original thinking to deliver dazzling and sometimes headline results.
StreetPR uses strategies like stencil Graffiti, reverse graffiti, stealth marketing, stickers, posters, treasure hunts, and publicity stunts to reach your target audience.
Examples of effective custom branding
Here are a few examples of why custom branding is effective:
1. Broken Apple store window
Way back when Apple wanted to show the world how powerful their new iPod Hi-Fi was, they created custom stickers and stuck them across their storefront windows. It made the store customers feel that the store's glass was shattered.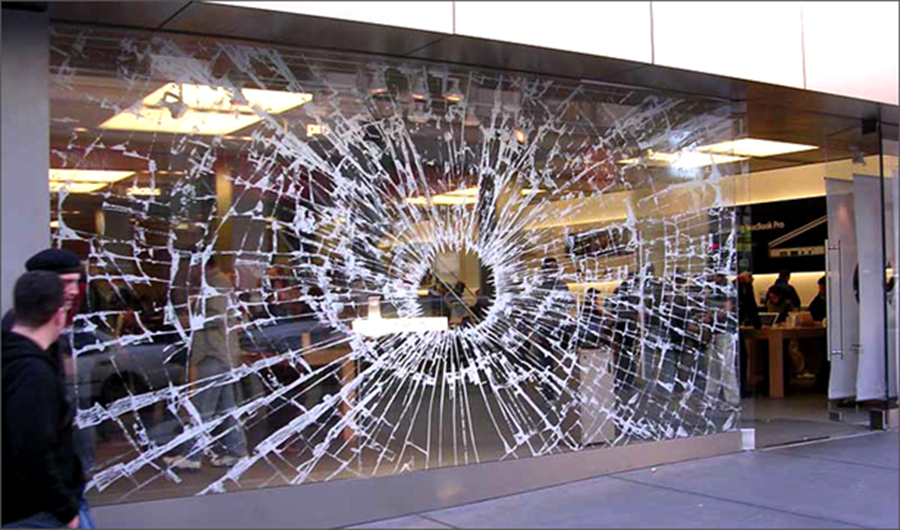 If brands like Apple can use stickers as a part of their marketing strategy, you can improve your marketing efforts and reach your desired target audience.
2. Allstate car insurance         
Allstate car insurance came up with a brilliant idea to highlight the importance of car insurance and why Allstate car insurance is the best.
On their billboard, the company placed an actual car at the edge of the parking lot at a prominent location in downtown Chicago.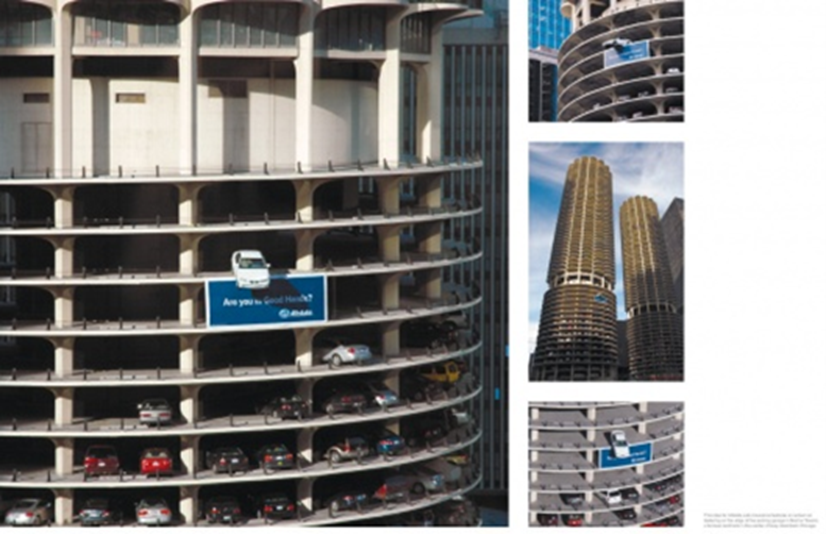 3. Oldtimer restaurant
Oldtimer restaurant, a leading Austrian chain of motorway restuarants, created a billboard on entrance to a tunnel that gave drivers the impression that vehicles were disappearing into the woman's mouth.
The advertisement aimed to convey to customers that they could eat everything they wanted at the Oldtimer restaurant.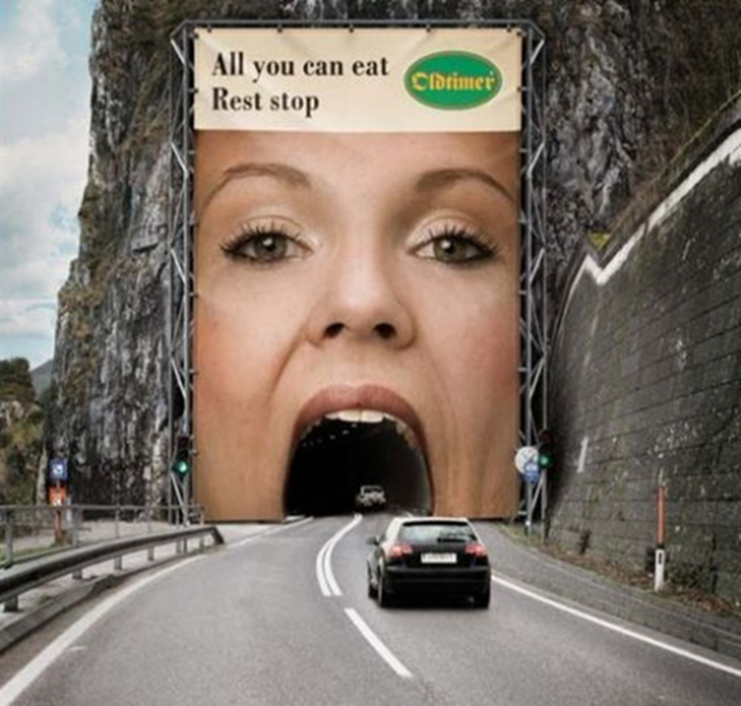 4. Panasonic
For advertising their new nose hair trimmer, Panasonic Indonesia used a creative advertisement to attract the attention of their potential customers. The company placed their billboards directly behind power lines.
The cables passed through the nose of the man's picture and showed customers how desperately that man needed to trim his nose hair.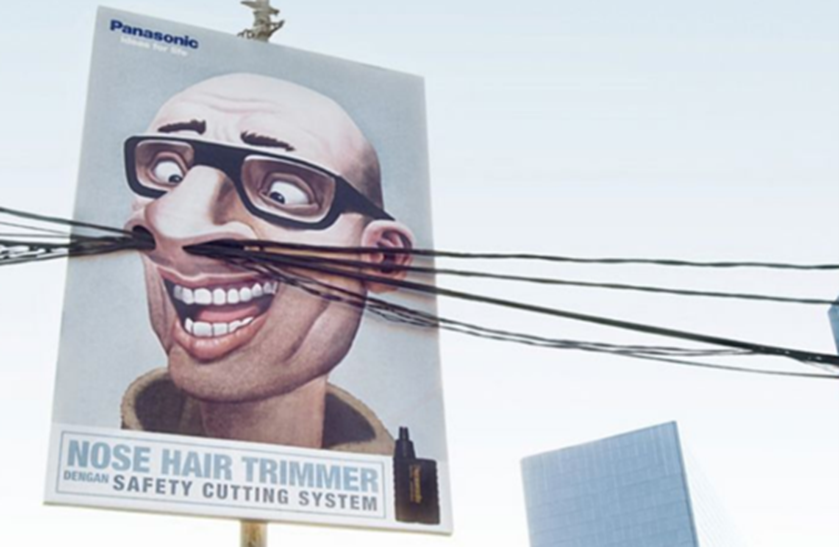 Apart from adding comic value, the advertisement garnered a lot of customer interaction.
5. The Economist
The Economist in the United Kingdom did another attractive billboard advertisement. The company placed a billboard with a huge lightbulb. Whenever a person passed the lightbulb, the bulb turned on, suggesting that reading the Economist can expose you to great ideas and content.
The billboard was unique, classy, and innovative, attracting the customer's attention.
These are just a few examples of how companies can use custom branding and physical marketing tactics to connect with customers and effectively reach their target audience.
Key takeaways
Though you might feel that digital mediums have the upper hand, businesses cannot afford to ignore the importance of physical marketing.
The appeal of a physical prompt remains as strong as ever, and digital pictures cannot overshadow this appeal. Using billboards, stickers, posters, and flyers gives your potential customers a tangible connection with your brand and something they can refer back to.
So, the next time you feel that technology is taking over, remember that there is plenty of room for physical marketing too. So, unleash your creative horses and drive customers to your physical store or website with physical marketing.
Copyright 2022. Article made possible by Priya Jain. Priya is a professional copywriter working with Skale. She has an MBA and engineering degree. When she is not writing, you will find her teaching math, spending her day running behind her toddler, and trying new recipes.