Each month, people receive about 1,700 banner ads, but only half of them are viewed. 650 million people use Ad Blockers to prevent online ads. These statistics prove one thing: consumers are becoming more resistant to online ads. This is why it's important to cut through the noise and grab your audience's attention through advertising flyers. 
Advertising flyers are more effective at sustaining your readers' interest and getting them to consume your advertising content so that you can reach your marketing goals. 
This article will explain why advertising flyers are effective in 2021 and why you should add them to your marketing mix to achieve better results with your marketing efforts. 
Why do advertising flyers work in 2021
Flyer advertising is one of the oldest forms of advertising. It was delivering a high return on investment for brands long before the popularity of digital advertising. It's still effective at helping brands get great results from their marketing strategy. 
1. It's a more effective way to reach your target audience
The secret to effective marketing is promoting your product or service to people who need it. However, it is becoming increasingly difficult to target your ideal customers online because half of online campaigns fail to reach their target audience. For this reason, many brands don't achieve the expected outcomes when they advertise online. 
By advertising with flyers, it is easier to target your audience because it is a direct form of advertising. You know the people who need your product and services, and you can go to them directly with your flyers. This eliminates the guesswork of wondering if your ad is reaching your target audience. As a result, you will get the desired outcome from your marketing efforts because your ideal audience will be consuming your content. 
2. Flyers are easy to make
Unlike online ads, which require the help of marketing experts to run successfully, you don't need technical experience in flyer printing when you have access to an intuitive printing tool like HelloPrint. It makes printing easier for all types of businesses.
You only have to customise existing flyers to suit your brand's needs, select your desired thickness and size. The experts will get your flyers printed and delivered to your desired location. 
So, printing your flyers can be quick, easy and affordable when you have access to the right printing software. You will save time and effort while achieving beautifully designed flyers that grab your audience's interests.
3. People are familiar with flyers
Pre-pandemic people spent most of their time commuting, working, or travelling around in their daily lives. Thanks to COVID-19, most people now prefer to stay at home, whether for work or to spend time with their loved ones. With more time spent at home, people have the time to go through emails, newspapers, and flyers that pique their interest. 
You can deliver flyers to your ideal customers in the comfort of their homes and be sure they will consume its content. This increases your chances of winning your prospects. Customers are less likely to be distracted at home as they would be when commuting to work or scrolling through the endless ads on social media. 
4. Your customers want physical interactions
Despite the pandemic, customers still want to enjoy the connection and trust physical interaction with brands provides. This is because physical interaction allows customers to engage with your brand directly, thereby fostering trust. With flyers, your audience can hold and feel your brand's message.
You have the opportunity to reveal your brand's personality and interact directly with your audience and demonstrate how you deliver on your promises. 
5. It builds trust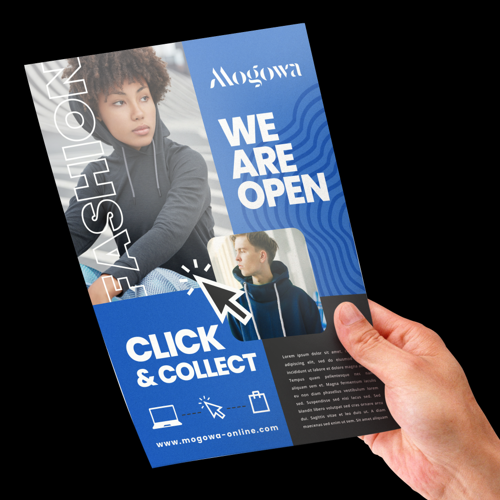 With the increasing volume of online fraud, customers are becoming skeptical about making purchases online.
The latest online fraud report from uSwitch reveals that losses to online fraud in the UK is estimated to cost £190 billion each year.
However, when your audience connects with you physically, they have proof your brand actually exists and is not a "make believe".
This helps increase trust and the likelihood of them taking you seriously and much more likely to act on your calls to action. 
6. Flyers are more memorable
Today's audience doesn't recall every advertising email, or social media advert they encounter because it is overwhelming. There's a constant stream of online ads, so it's hard to keep up. It also means online ads are easily discarded and forgotten. 
However, flyers advertising are more memorable due to the physical interaction involved between a brand and its customers. In addition, print flyers can be in your prospective homes for months, making them a constant reminder to your audience about your brand. 
7. Advertising through flyers grow your brand awareness 
Flyer advertising is a good way to reinforce your brand's image. It allows you to go door-to-door to distribute your flyers to your prospective customers. You can also organise shows and events to attract local customers and distribute your flyers in the process.  
This helps increase brand awareness in your local community and ensures that those who need to know about your business get to hear about it. 
8. Flyers are affordable 
Flyers are good way to maximise return on your marketing investment as they are cost-effective and can be customised to fit your budget. For example, flyers tend to be cheaper when printed in bulk. You can also produce a specific number of flyers for a specific audience or campaign to avoid wastage. 
What's more, you have to pay every time a person views your flyer as you would with online advertising. For example, you can place flyers in a strategic location where people can see them without having to distribute them individually. Your ideal customers can view your flyers many times at no extra cost, which helps you save money on advertising. 
How to make the most of flyer advertising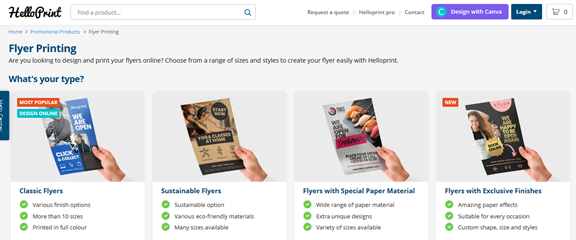 There are certain tactics you need to adopt when advertising with flyers to get optimal results. Check them out below:
1. Use an attention-grabbing headline
Headlines are a powerful way to grab your audience's attention. So, create headlines that make your audience want to read the rest of your flyer. Then, state the benefit your brand offers prospective customers to hook their interest. What problems will your product or current promotion solve? Highlight them in your headline so your audience knows they are in for a valuable experience. 
2. Make it readable 
Pay attention to readability when designing your flyers. Focus on how legible the font type and font size are. Avoid stuffing too much information on your flyers without proper organisation. Use bullet points and create space between sentences to allow your readers to navigate each paragraph easily. 
3. Use an effective CTA
Your flyers should include a call-to-action (CTA) that states exactly what you want your readers to do. An effective CTA is clear and direct: it's not a long list of information without a clear direction of what customers should do after reading your flyer.
Don't assume the information in your flyers tells your audience what to do without stating it clearly. Figure out the purpose of your flyers and convert it to a sentence that compels your audience to fulfil that purpose. For example, if you want readers to visit your store, tell them to come in to buy their favourite items. Make it clear where your store is: include your location and a way of contacting you in case they lose their way. 
You can also make it more compelling by highlighting a benefit for acting. For example, will they be the first to see your latest product, get access to quality items at affordable prices or a discount if they bring the flyer with them? If so, include it in your CTA. 
Conclusion 
Advertising flyers remain an excellent way of reaching your audience and increasing your sales. Introduce flyer advertising to your marketing strategy to experience an instant increase in your brand awareness and sales.
Copyright 2021. Article was made possible by site supporter SKALE.