Currently, half of all global organisations are using marketing tools and they are driving a massive 14.5% increase in overall sales.
This tells us that by using marketing software you can increase leads and sales. This alone should be enough to convince you that you should be using marketing automation tools for your business.
From customer support to live chat and from email marketing to lead generation, I have listed the five best marketing software options for small businesses that can be used to run any business more efficiently.
Here's my list: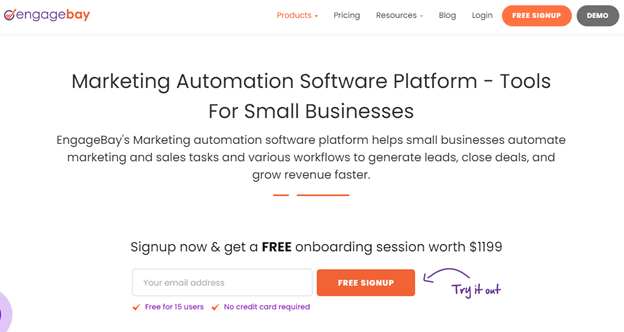 EngageBay is an all-in-one software package that provides marketing, sales, and customer support services. It is trusted by over 29,000 brands including Webnovo, Tommy Davidovic, Cyber Sprout, Storm Chasers Digital, and Needham Solutions.
It offers one of the most robust marketing automation tools for small businesses that helps them automate complex marketing tasks, saving time and generating more leads and revenue.
Top features
EngageBay comes with different app integrations like Zapier, Mailgun, Mandrill, Sendgrid, and PieSync.
It comes with a drag and drop "Visual Designer" that you can use to design sales and marketing workflows with ease.
To help you engage web visitors, EngageBay allows you to set up and show web forms at the right time to the right customer. You can also customise these forms as per your website theme.
With the "Track Prospects" feature, you can track the actions of the prospect such as their browsing patterns, link clicks and email opens. Use these actions to set up workflows and convert leads into conversions.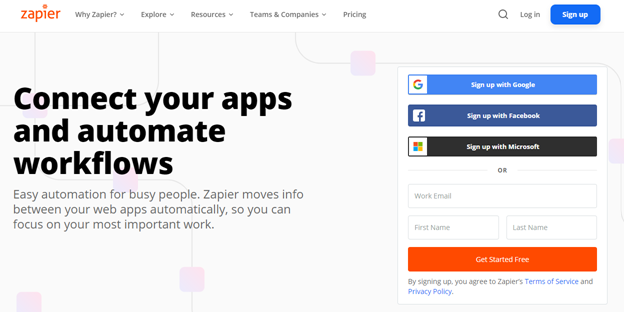 Zapier is well known in the field of marketing automation tools. It allows you to connect various apps and automate workflows so that your team can focus on other essential work. It is trusted by big brands like FOX, Adobe, InVision, Spotify, and BuzzFeed.
Zapier calls workflows "Zaps". You can create Zaps in line with your specific needs and can connect your apps with these Zaps to share crucial information. From marketing to communication and sales, Zapier offers apps for all your business needs.
Top features
Zapier offers over 3,000 app integrations including Slack, Google Sheets, Trello, Google Drive, and ActiveCampaign.
By using Zapier's visual editor, you can create workflow automation in a few clicks without any help from a developer.
It offers in-built, ready-to-use workflow templates for marketing, CRM, and triggered email marketing. Actions are already set up, so it's very easy for you to get started with your first automated task.
It lets you assign multiple automation tasks on a single trigger.
The JotForm Survey Maker is a free tool to conduct research and gather marketing insights. You can power up your marketing strategy by creating your own questions and setting up conditional logic.
Top features
The tool lets you create different types of surveys from technology surveys to employee motivation surveys.
With easy customisation, you can quickly embed surveys in your website.
You can easily set up conditional logic to personalise the experience to your users.
The analytics report lets you view questionnaire responses to reveal significant insights about your customers.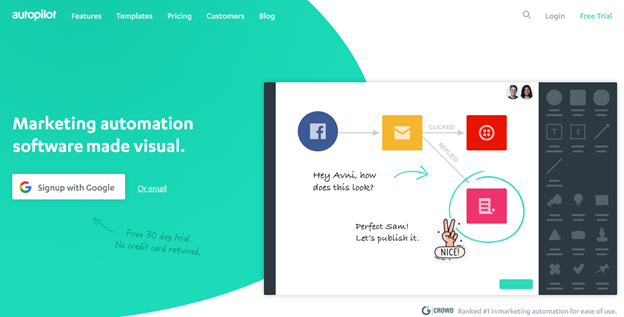 Autopilot is a visual marketing automation software that allows you to create automation visually. It is similar to software such as Zapier, and it is trusted by big organisations including Samsung, Atlassian, Typeform, Microsoft, and Patreon.
It helps you convert captured leads by automating tasks like booking appointments, assigning leads, and educating new subscribers. Whether marketing, CRM, SMS marketing or email marketing, Autopilot helps you with everything.
Top features
With "Autopilot's Canvas", you can simply drag and drop images, stickers, texts, and emojis to create great customer journeys.
You can integrate Autopilot with apps like Slack, Facebook, Typeform, Google, and Trello to help you improve your marketing.
By using "Automated Engagement", you can send personalised newsletters to customers and reduce shopping cart abandonment.
You can easily automate manual tasks saving lots of time across various channels like email and mobile apps.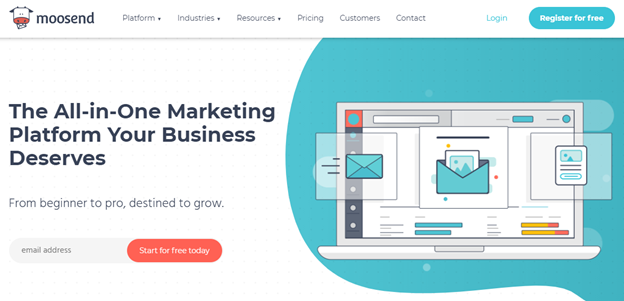 Moosend is email marketing automation software. Well-known brands like TEDx, Gucci, Dominos, Vogue, and Dixons are already using Moosend to improve their email marketing efforts.
With the "Marketing Automation" tool, you can create different email automation workflows to power your email marketing campaigns without using a single line of code. Whether it's for ecommerce, travel, publishing, or SaaS, Moosend provides solutions for every industry.
Top features
Moosend allows you to create an automated email campaign for reminders, abandoned cart, lead scoring, VIP offers, and user onboarding.
You can add multiple triggers in your workflows to start automated actions.
You can share your workflows with team members so that they can recreate them automatically.
You can also add personal notes on every workflow to help your team understand different workflow steps.
Conclusion
In every business, there are many time consuming manual marketing tasks. You can use the power of marketing automation tools to simplify complex tasks, saving tons of time. As they say, 'time is money'. You can use the time you save to better serve your customers or build better products that will defeat your competitors. Using any of the five marketing automation tools listed above will allow you to benefit from brilliant automation features that can to handle the complex marketing tasks any business can throw at them.
Copyright 2021. Post by Joydeep Bhattacharya of SEO Sandwitch Blog.