Good customer service is crucial for keeping your clients happy. Good customer service will make clients want to come back, which is as important as attracting new customers. Why? It will give you more profit. Loyal customers are likely to spend 67% more money if they used a company's product and their experience was satisfying. 
Firstly, a happy client will tell their friends and family about you or might even mention you on social media. It's a great way to gain new fans without putting additional effort into marketing.
Secondly, good customer service make it less likely customers will consider your competitors. Markets are often full of products that are quite similar in function, appearance, and quality. Consequently, you have to be better at something else. Provide a better customer service than your competitor and you will already have a unique advantage over them. If a client finds your customer service good, why would they look elsewhere?
Importance of measuring your customer service
We all agree that it's much more satisfying to buy from businesses with good customer service. You are far more likely to use the business again in the future. And we have all experienced poor customer service. Chances are you never used that company again.
So, good customer service is much more profitable than bad or non-existent customer service. However, how do you know whether your customer service is good?
You know whether the customer service is good or bad if you are a customer, but it is much more difficult if you're the owner of the brand.
In this post, we are going to discuss what the main customer service KPIs are and the ways how you can measure those KPIs. 
Five crucial customer service metrics
#1 Customer satisfaction score
This KPI does what it says on the tin. Basically, you ask your customers how happy they are with your product, brand and service. After measuring customer satisfaction with the most important aspects of your business, you can develop a better service strategy.
Customer satisfaction score is, however, not that easy to measure. You need to encourage customers to give you their feedback. Otherwise, they won't find the time to fill out the form. Time plays an important role here. If the questionnaire is too long, customers will just skip it. If you want them to answer open questions, give them something valuable in return: a coupon or a promo code. 
Channels for collecting customer feedback
There are lots of ways to ask your customer for feedback.
Live chat - If you're in a conversation with your customer via live chat, the most natural thing to do is to ask for their feedback once you have dealt with their query. This kind of feedback is the most honest. 
Questionnaire after transaction - You can also ask them for their opinion after a completed transaction. It can be a small questionnaire or smiley face evaluation.
Social Media - Social media is a great place to collect positive and negative feedback. The comment section or stories can be used to gather feedback from your customers. It's also important to create well-written social media posts. Use professional help from an essay writing service to ensure the high quality of your content.
#2 Net promoter score
Not all customers will tell you how unsatisfactory your customer service really is. For example, Japanese customers will rank it as "not bad" when in reality it was really bad. When you ask a customer if they would recommend your brand to friends and family, it's more likely you will get a straightforward and sincere answer.
You can give customers two options: "yes" and "no". However, usually, you would ask customers to rank it from 1 to 10. How do you measure NPS then?
There are three types of customers, based on how they answer the question "Would you recommend our brand to others?" They are detractors, passives, and promoters. The illustration below will explain who they are and what they are likely to bring to your business.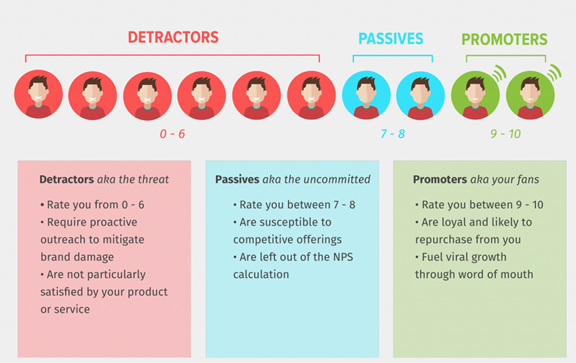 Source: negotiate.com
#3 First response time
Customers do not like to wait. Especially if they know they can get the answer much quicker elsewhere. 
If your employees manage to respond immediately (less than one minute is perfect), it means that they are eager to help and customers are more likely to come back to your brand later. A quick response makes customers feel that dealing with their problems is a priority for your business and you do not lack enthusiastic human resources. 
Chatbots can reduce your first response time drastically and you will not need as many employees. So, it is a good option to consider if you are looking to improve your first response time.
#4 Customer retention rate
You know that your customers are satisfied when they purchase from you again and again. It means that you have won their trust and created a positive brand image. 
If you still doubt whether you need to put effort into retaining your customers, consider this: a 1% increase in CRR increases your profits by 5%. 
Formula for measuring customer retention rate
Customer Retention Rate = ((E-N)/S)*100
E stands for customers at the end of the given period.
N stands for new customers in the given period.
S stands for the customers at the start of the given period. 
#5 Conversation abandonment rate
No matter if it's a live chat, a phone call, or an email, if your customers leave before they get the answer to their questions is a clear sign of poor customer service. 
There can be a many reasons why customers abandon a call. For example, they are tired of waiting, they experience unhelpful or angry employees or employees with poor communication skills or who lack the authority to resolve an issue. It's a bit more difficult issue to fix but it is manageable. You need to make the necessary investments (be it training or more staff) to make your first response rate better. Regardless of the reason for the issue, CAR is an important KPI that you do not want to overlook.
Conclusion
The five KPIs above will help you to measure how good or bad your customer service is. The prospect of measuring all five KPIs at once may be daunting. However, once this measurement has been done you will be well on your way to improving your customer service. And as we have discussed, excellent customer service I an excellent way to keep your customers satisfied, your profits rising and your brand flourishing! 
Copyright 2021. Article made possible by Alyse Falk, a writer working for Ivory Research writing service. Alyse is passionate about developments in technology and AI and has extensive experience writing about data-driven analytics, cloud computing, cybersecurity, machine learning, and IoT devices.