TikTok is, without question, the platform of the year. Everyone, including your grandma (seriously, there are a lot of grandmas on TikTok) is using the platform to fuel growth, make sales, and increase their online reach. They're also having a lot of fun while they're doing it too.
TikTok is different from the other social platforms because it's so engaging. I mean that in the literal sense – it had with the highest engagement rates, compared to  the other social apps Instagram and Twitter, across all follower count levels.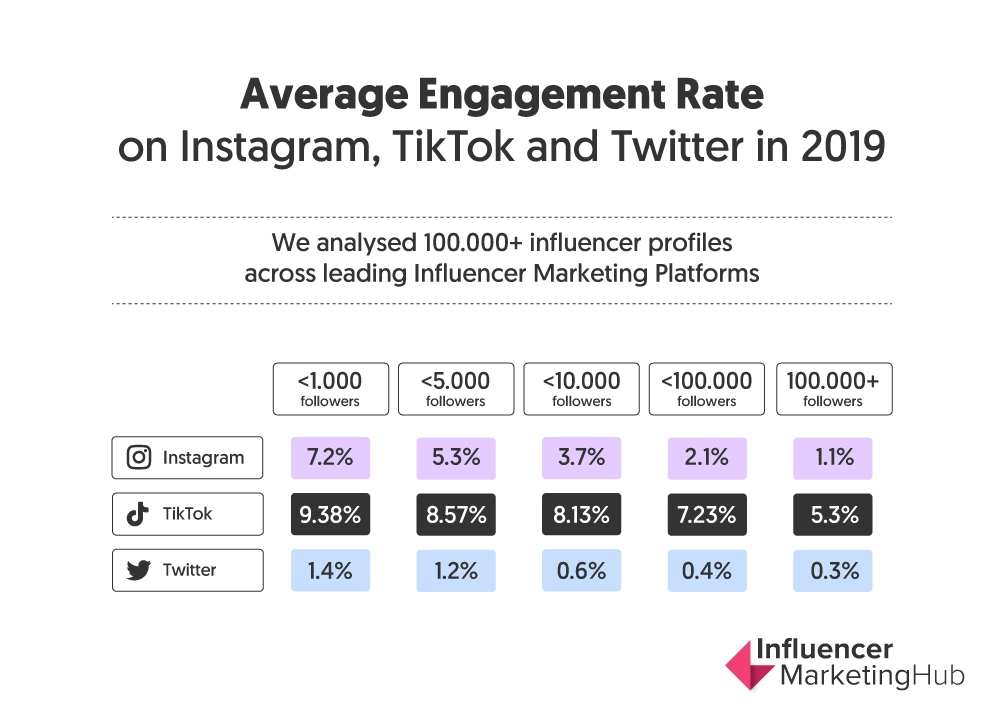 Part of the reason TikTok is so successful is because it's completely different from the others. The format, the algorithm, the content – it's all brand new. Consequently, everything is still quite experimental. That makes it the perfect place to find your own creative style and get to know your audience better.
Those who were the quickest off the mark are making the most of it, racking up millions of followers and money in very little time. Those who view TikTok as "the next Instagram" are falling behind. If anything, Instagram is trying to catch up and become the next TikTok.
This guide will talk you through the five steps to getting your first 10,000 TikTok followers and will help you access and leverage the audience and engagement you'll find there.
1. Get set up for success
 As I said above, everyone is on TikTok. This means that while it's possible to rocket to your first 10,000 followers without much effort, it's a lot easier if you set yourself up properly in the first place. Claim your username, optimise your bio using key hashtags, and consider getting yourself a ring light.
Unlike Instagram, Twitter, and Facebook, on TikTok, the focus isn't primarily on who you follow – it's on the "For You" feed. Most people split their time browsing the profiles they follow and this algorithm driven feed of recommended posts. People are perfectly happy scrolling there for hours.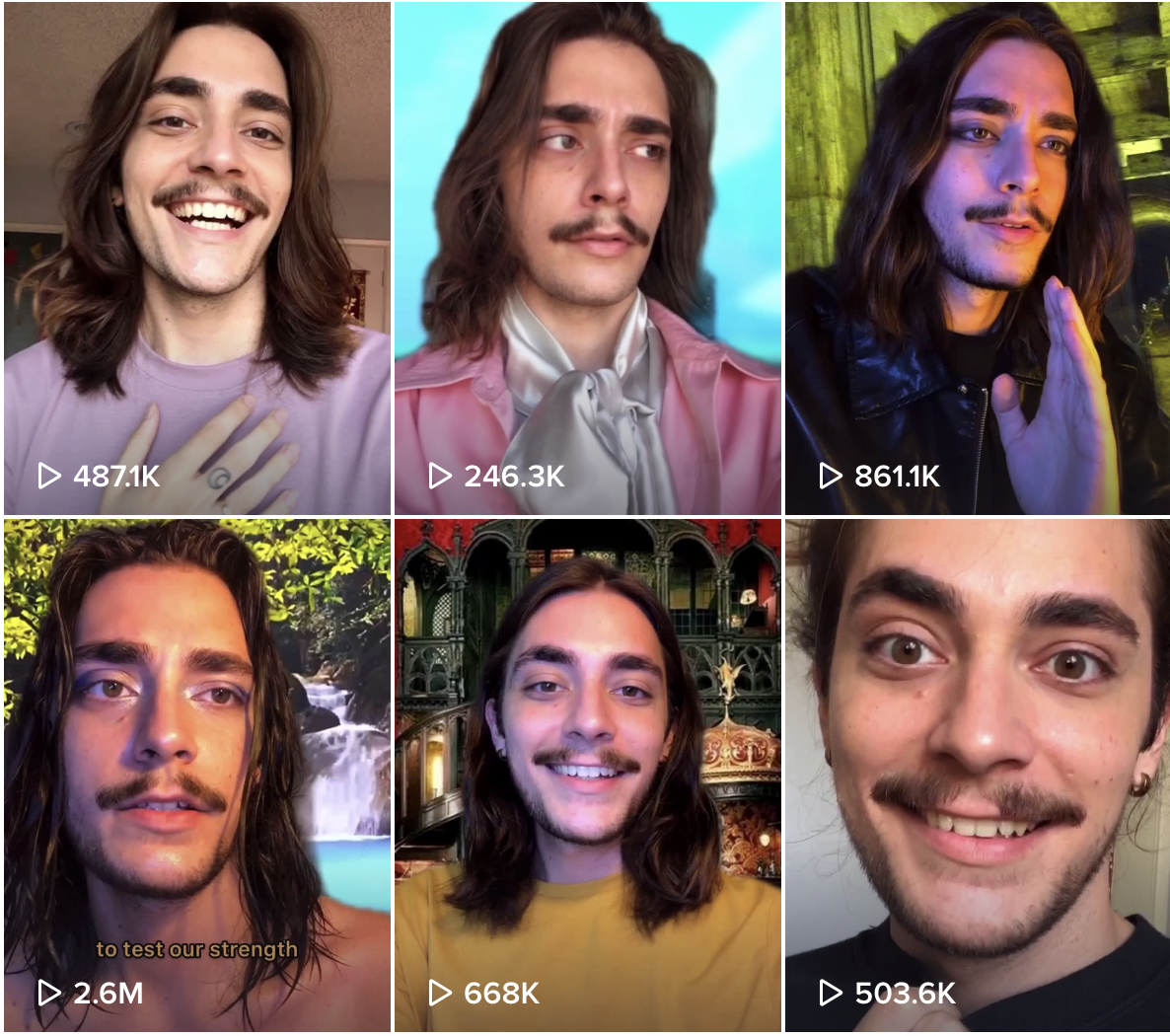 To stand out and claim those followers, make quality part of your brand. This can be as simple as making sure you've got a plain background, a well-lit face, and adding closed captioning to your videos.
For example, @Ghosthoney has 1.3 million Tik Tok followers. His videos are funny, short, and simple. You can see from his profile that most of the clips are just of him talking, mostly against a simple background, but always framed nicely, with strong contrast and colours.
2. Find your own twist on trends
The best viral TikTok videos are all about the combination of trends plus originality. This just means you keep your finger on the pulse of what's happening, and when you can, try to put your own spin on things.
Trends can include using songs or audio, or even dances. One of the quirkiest, most distinctive aspects of TikTok is how you can re-use another user's audio. For instance, the "I'm the main character" has nearly 6,000 variations on TikTok to date, all using the original audio but with everyone posting their own take on the meme.
When creating multi-cut clips like these, it can be hard to trim and paste the separate chunks of video. I recommend that you record each segment from within the app and edit to the length you want there, rather than recording externally and uploading.
This makes it possible for you to accurately record and sync to the audio, music, or dance, helping you to get discovered and gain followers.
3. Create truly memorable videos
In addition to getting on board with the latest trends, it's important that your videos are eye-catching and ear-catching. People scroll quickly on TikTok so you need to ensure the first few seconds of video catch their attention and that you create something worth watching.
The most popular videos on TikTok (and therefore, the ones that earn the most followers) are synced to music and come with special effects that work together. TikTok is a combination of visuals and audio media so make sure you're using both cohesively.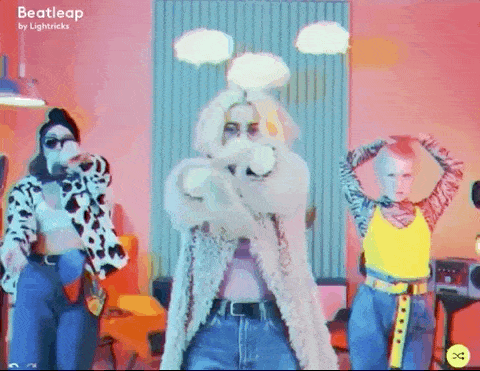 It can be tricky to sync yourself up with the audio you've chosen, which is why using external tools can be helpful. If you're going for a slick and professional sound and look (but don't want to spend too much time and energy on it), using a tool like Beatleap can help you create neat, visually and aurally appealing videos that net you those followers.
With Beatleap, you choose the audio, upload your footage, select the visual affects you want, and the app cuts it all together to the rhythm of the music.
4. Don't delete your flops
Unlike Instagram, where it's pretty much over for your content if you don't see signs of life after 24 hours, old videos can sometimes go viral on TikTok. Additionally, unlike Instagram where you're judged on the look of your feed, your potential TikTok audience may decide to follow you without even looking at your profile. This is because so much of the content is consumed via the For You feed.
To make sure you're maximising the opportunity to acquire followers, don't delete any content. You don't have to worry about whether it matches the overall vibes of your feed or worry that it makes you look like a failure who posts bad content. There's always the chance that your content will make a comeback, gaining you additional followers when you least expect it.
On TikTok, you're best off ignoring the trajectory of your video-by-video success. Just try posting different things to see what works best for you. Have fun, enjoy the videos, and explore your creativity without worrying about the first hour's statistics.
5. Optimise posting times
Rather than just posting and hoping you reach the optimal audience, spend some time investigating your audience and when they're likely to be on TikTok. For instance, if you're trying to reach the German market, work out when your audience will be waking up, taking their lunch break, or finishing dinner and post then.
This is the same as any other social media strategy, though it's worth noting that timings aren't as important on TikTok as they are on Instagram, for instance. Even if you post at off-peak times, if you're posting high-quality content, you'll still see results. This tip just helps your account go that extra mile.
I recommend accessing the TikTok native analytics tool that will help you know where your followers are, which will help you know when to post, rather than having to guess. To do this, all you have to do is switch to a "Pro" account type in your settings.
I recommend accessing the TikTok native analytics tool that will help you know where your followers are and when to post, rather than guessing. To do this, all you have to do is switch to a "Pro" account type in your settings.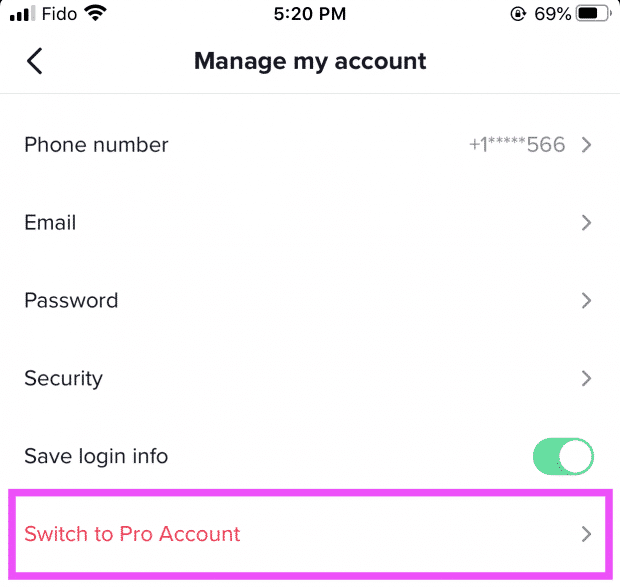 Your TikTok followers are just a few steps away
TikTok is a popular and creative platform and is home to the best content on the web today.
It's a great platform for creators because your videos don't have to be to be perfect. It's easy to get creative and let loose your wildest ideas. If you want to stand out in the crowd, you need to get inventive. Treat your account like a professional from day one, spending time on internal and external tools to make your account and videos eye-catching. Ride the trends and make them your own. And finally, just have fun. Never let a poor-performing video get you down – just let it teach you something and move on to the next.
If you keep these five steps in mind when you create your TikTok content, you'll have your first 10,000 followers in no time.
Copyright 2020. Featured post made possible by Dvora Goldstein