The ecommerce industry is extremely crowded, and the focus always seems to be on website optimization. But a pretty website won't generate sales, the content will.
The content marketing strategy adopted by one business may not work for the next. Each product and service you produce will determine the style of content you design and potentially market.
500 million people use Instagram every day and there are many other social media platforms out there. So, it's important that your content stands out and is relevant to your audience and your business.
What is content marketing?
"A type of marketing that involves the creation and sharing of online material (such as videos, blogs, and social media posts) that does not explicitly promote a brand but is intended to stimulate interest in its products or services."
The bulk of businesses somehow manage to miss this. It might feel logical to approach content marketing by copying your competitors. However, this isn't the right approach! You aren't the same as your competitors, so stop trying to imitate them. You need to show the world what makes you shine.
Step #1: Establish your objectives
As an ecommerce marketing agency, we know it can be tempting to dive into creating the content, but like any challenge or goal you are trying to achieve, you need to identify your objectives first. For example:
brand awareness
transparency
website traffic
lead generation
conversions
sales
Your content marketing objectives can also help you decide which social media platforms are most suitable. Although Facebook, Instagram, and Twitter have millions of users, it doesn't mean that your content will perform well on all of them.
Look at your previous content engagement and your followings on the various social media channels. It can be a key component in your decision-making process. Reading blogs and industry news is another effective way to stay on top of the latest trends and marketing practices.
I would advise choosing one objective per piece of content at the beginning. Although brand awareness and transparency could work hand in hand, channelling your energy into one objective increases your chance of success.
Step #2: Find your market
Finding your market and identifying your 'customer persona' will control the content you create. Exercising detailed market research will allow you to target a higher percentage of relevant people, which will increase your chances of fulfilling your content marketing objective.
First, look at your current customers, and understand why they buy your products or services and the characteristics that they share. This could give you an idea of which niche and demographic to target.
Second, analyse your product or service to pinpoint the benefits that they generate. Yes, a product or service has a primary use, which is the factor often marketed, but every individual will derive a different level of satisfaction from the benefits it brings.
Your target market can be broken down into as many variables as you want, but the more detailed, the better. Here are some key demographic and psychographic points that you can build on.
Demographic:
age
location
gender
income level
education
marital status
occupation
ethnicity
Psychographic:
personality
values
interests
hobbies
beliefs
lifestyle 
These are the basic criteria you should follow to identify your target audience and customer persona. Try to be as specific as possible and spend time understanding who you are going to market your content to - it will generate better results.
Step #3: Create and distribute
Content comes in many forms both written and visual. And different types of content match certain objectives better. For example, blog posts can boost brand awareness but are not effective for driving conversions, a better match would be a webinar.
In this section, I will discuss four of the most common types of content, Image, Video, Blogs, and Interactive content.
Image content
Although video content performs far better on social media, there will be time's that you post images. If it is being uploaded to your website, you can customise the dimensions, but other platforms have fixed image sizes.
Facebook: 1,200 x 628
Twitter: 1,024 x 512
LinkedIn: 800 x 800
Google+: 800 x 1,200
Pinterest: 735 x 1,102
Instagram: 1,200 x 1,200
The image must be eye-catching to stand out in someone's feed or it will be easily forgotten, and your time and effort will have gone to waste. Match any text on the image to your business tone of voice.
Your image should consist of bold keywords, so your audience can consume the image fast, or a person to represent transparency and loyalty. Other methods can be effective, but the two above are strong tactics to start using.
Follow this checklist when creating your next piece of image content:
Does your image fit the dimensions of the given platform?
Does it follow the tone of voice used by your business?
Is it eye-catching enough to stand out in someone's feed?
Does it contain either bold words or a person?
Is it consistent with the content style of your social media platforms?
Video content
Consumers absolutely love video! Video marketing spend is expected to escalate dramatically over the coming months. In fact, 99% of video marketers said they are going to continue to use video in 2020, and 95% plan to increase or maintain their spending.
Making an engaging piece of video content is all about creativity. It could tell a compelling story or be filled with humour to make your audience laugh. The biggest mistake most businesses is using their video to explain their product/service - but no one wants to hear about it.
Your video, alongside any piece of content you distribute, must consider the user first. Providing value in the form of humour or education can encourage your audience to investigate your business deeper until they are ready to make a purchase.
Really, a piece of video content is the perfect opportunity to provide viewers with value, whilst 'very' subtly promoting your business or its products/services.
DollarShaveClub does this extremely effectively.
Blog posts
Starting a blog is your opportunity to be dynamic and educate your website visitor so they return to your site.
Copywriting (the art of written communication) is your best friend when writing a blog. It allows you to effectively communicate information to your visitors, and persuade them to fulfill a certain action, all in an informal and personable manner.
Your content must be original, or people will click off it in seconds because they are bored. Understanding your target market, as explained above, can help determine what content your audience will find interesting.
A blog shouldn't be rushed (it will stand out a mile). The quality of your blogs is more important than the quantity.
The structure of your blog is also more important than you think. Avoid large blocks of text and make sure you include clear headings. Break your text up into short paragraphs and the occasional one-liner, with clear headings and vibrant images that relate to your text.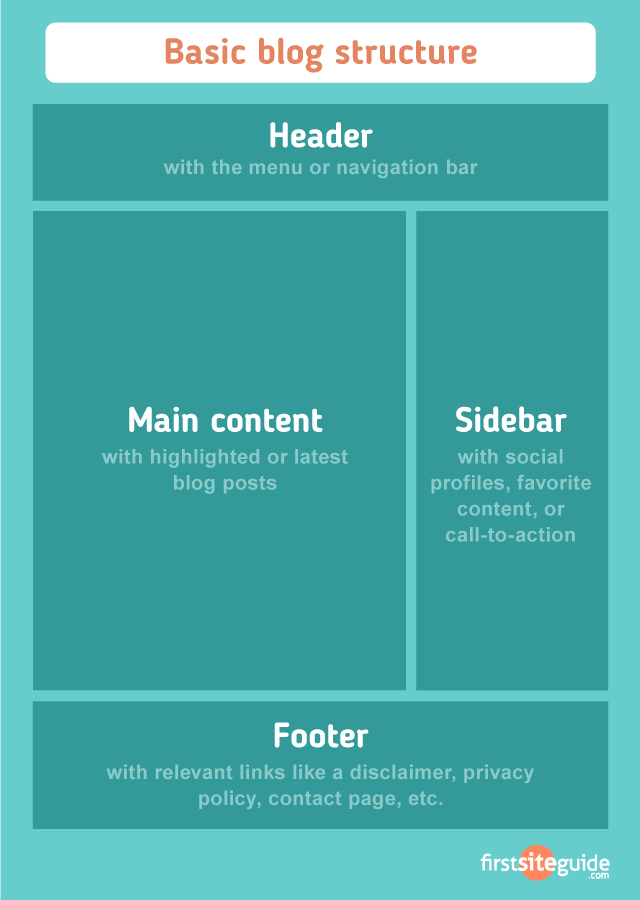 (Source: First Site Guide)
Interactive content
Introducing interactive content to your website and social media platforms can boost engagement tenfold. It also allows your audience to feel a closer connection to your business - a vital component when building your customer base.
There are many variations of interactive content, some of which you may already use:
quizzes
polls and surveys
interactive video
interactive infographics
assessments
One of the most common forms of interactive content is polls and surveys, especially on social media. Instagram polls are a popular way to engage with your following and ask questions or answer some yourself.
Say you run an online store that sells doughnuts, posting an Instagram story with a poll asking your audience whether they prefer plain or sprinkled doughnuts will let them know you are still alive and open for business.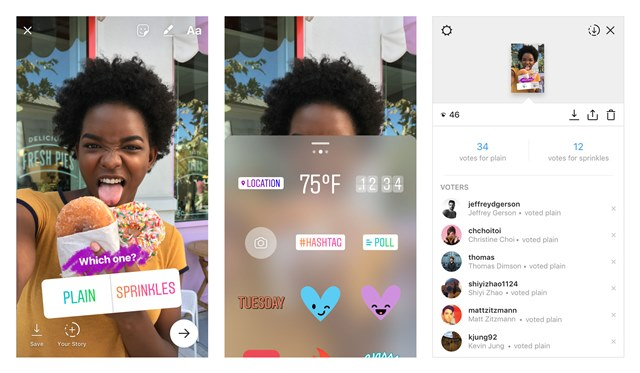 (Source: glean.info)
Conclusion
Even though it's pretty easy to set up an ecommerce store and start selling online, there is no guarantee you're going to generate sales, increase brand awareness or achieve your business objectives.
Starting out with clear objectives and understanding who can help you achieve them is a great place to start.
Research your target market and break down your customer persona into as much detail as possible. Create content that is relevant to your audience. At the end of the day, the more your audience can relate to your content, the more likely they are to purchase your product/service, or follow you on social media, etc.
When it comes to creating content, spend time designing something that your audience will love and appreciate. Blurry images, rushed blog posts and videos that tirelessly promote your business will send customers packing - so spend time doing it right the first time.
Copyright 2020. Featured post made possible by Tom Welbourne of The Good Marketer, a marketing agency in London which drives more traffic, generates conversions and increases sales for small- to medium-sized businesses