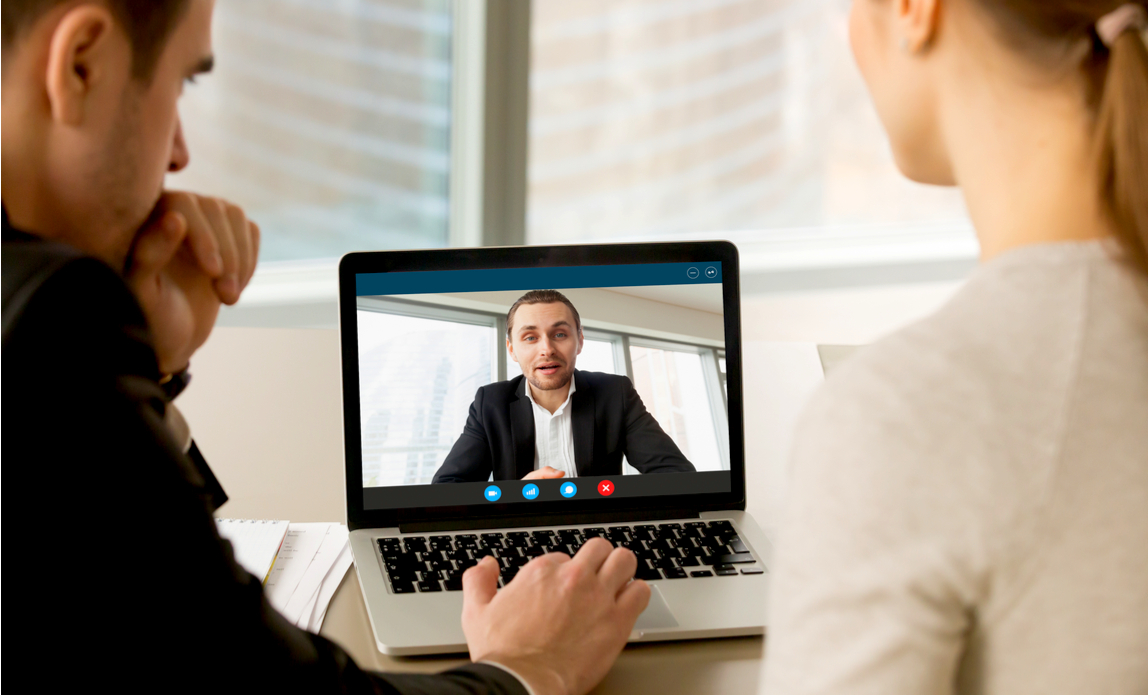 Video is becoming an increasingly dominant aspect of business communication. As a result, it's essential for you and your team to develop your presentation skills and ensure you put yourself across well when you appear on the small screen.
Whether you are hosting a virtual meeting, leading a webinar, or conducting an online interview, here are the issues you need to consider.
Test everything
It's good to have a run-through of any online presentation you're preparing to deliver. If you'll be handling the technical side, knowing how it all works will give you confidence. Check out online tutorials in advance if you are using video software for the first time.
Record your run-through if you can - this will give you a back-up to send out to attendees afterwards if you have technical problems on the day.
How do I look?
Your appearance matters. Being well groomed will help you and your confidence. Clothes, hair, beard etc should be neat, tidy and professional.
Consider how to remove shine from your forehead, take out redness from the face or conceal dark circles under the eyes. Use makeup if you need to!
Preparing to go live
Before you start broadcasting, check the following:
Think about the camera position. If you lean forward towards your camera, the audience will receive an unexpected close-up.
A mic or headset may be required, and if you are waving your hands about, you may knock this. Endeavour to keep your hands out of shot. Sit on them if necessary!
If your office has glass walls, you'll need to position yourself careful to avoid having people visible walking behind you. A clean background is best if possible.
You need good lighting for your face, particularly if your background is very bright or if the room is dingy. Does any of the lighting cast shadows on the wall behind you? If it does, adjust it.
You may be there for a while, so good back support is vital.
Action!
Start at the scheduled time. Greet your audience with a smile. All the skills that you've developed presenting in person apply here.
You have to engage your audience to ensure they receive your message. Be aware of non-verbal communications, your eye contact, body language and facial expressions; they all have impact.
Adjust the volume
When you go live, first of all check with your audience that they can hear you. You don't want to be fiddling with the volume settings when you're speaking.
With virtual meetings there can be a surprising amount of background noise. If possible, mute all attendees from the outset and encourage them to unmute themselves only when they need to speak.
There may be times when the signal just isn't good enough and your points are missed. Be prepared to redeliver key points when you recap.
Introductions
Providing a brief introduction about you and the purpose of your broadcast helps settle the attendees and get everyone into the swing of things.
If you have a lot of people attending, there may not be time for each person to introduce themselves. However, if it is a business meeting or an interview, it's definitely worth you and the audience knowing who is there.
Allow time for simple introductions: name, position, company. This will help you understand if all key stakeholders have joined, or if they've sent a representative instead.
Prompts
If you use notes during your presentation, the danger is that you will look down, revealing a great shot of the top of your head. If your notes are on screen, the movement of your eyes will look odd. The best tactic is to know your presentation inside out, so that you appear natural.
Having prompt cards, with key words on that you can glance at, can help if you feel you need some additional reminders. Post-it notes on the side of your screen might work for you.
Managing questions
Get ready for questions. Many video conferencing systems allow attendees to send you written messages while you're talking, which you can either address straight away or save for the end.
It's often helpful to group similar questions - having someone there to do this task can be useful. If you are managing by yourself, pause after key points and check with the audience that they are following you. This is a good time to ask if anything needs to be clarified.
Put these points into practice, and you'll be able to say with confidence: "I'm ready for my close-up".
Sponsored post. Copyright © 2018 Helena Brewer, Toastmasters International