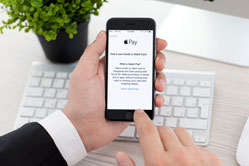 The launch of Apple Pay in the UK is making the headlines this week. But what does it mean for small retailers?
Apple Pay is a contactless payment app aimed at anyone who has an iPhone 6, an iPhone 6 Plus or an Apple watch paired with an iPhone 5 and above. Apple has announced a number of retail partners that will be offering Apple Pay but, as TechRadar points out, it actually works with any contactless terminal at the checkout.
Jeremy Nicholds, executive director of mobile at Visa Europe told TechRadar: "All retailers that currently offer their customers the option to pay using contactless can accept Apple Pay. In the UK this includes household names such as Boots, Tesco, Nandos, Café Nero, the Co-operative Food and Morrisons."
Secure and easy to use
It's certainly simple for shoppers to set up Apple Pay. They just have to enter their debit or credit card details within Passbook on their iPhone. Once they are set up, they can tap their phone or Apple watch on any contactless terminal. They'll also need to use TouchID (fingerprint) to confirm their identity.
Most of the high street banks have pledged to support the service although it may be a few weeks before they are all ready. Even so, Apple Pay has a clear appeal for banks, as well as for consumers and retailers, because of its high level of security and ease of use.
But just how big an impact will Apple Pay have on small retailers in the UK?
One thing's for sure, contactless payment has already proved popular in the UK, especially on public transport and in cafes and supermarkets. Of course, not everyone has the latest Apple kit but those that do will undoubtedly want to be able to use it wherever they go.
Will Apple Pay take off?
Apple Pay has, however, been somewhat slow to get established in the States. But in many ways, the UK is far more open to this kind of technology and with 250,000 sites reportedly ready to go, Apple Pay in the UK is more widely available than it was at launch in the US in 2014.
Danielle Levitas, svp research and analysis at App Annie, says: "Compared to the rest of Europe, the UK is a leader in mobile banking. In Q1 2015 downloads of the top ten retail banking apps in the UK were almost twice as high as those in France and three times as high as Germany. This success and proliferation in the UK shows there is an appetite for change in how people pay for goods and the increasingly important role of mobile."
Raj Sond, general manager at First Data Merchant Solutions, describes Apple Pay as a "fantastic opportunity for SMEs" because they will be able to "reap the benefits of this new payment method without the usual cost barriers associated with adopting new technology."
He says: "Consumers – particularly the younger, more tech savvy audience – are much more likely to forget their wallet than their iPhone, which may open doors for SMEs to do businesses with a whole new customer segment. An increase in contactless transactions will also reduce the burden of cash management for small businesses, and the time SME owners and their staff must dedicate to behind the scenes admin."
The view from small retailers
However, research by Shopkeep has found that while most smaller consumer-facing businesses are positive about Apple Pay they don't believe it will have a material impact on how they operate.
Jason Richelson, ceo and founder of Shopkeep, says: "Our experience in the US says this thinking is flawed. Business owners in the US that have been quick to embrace mobile payments are growing three times faster than the national average, and going out of business much less often (5% fail within one year vs the 25% national average)."
Richelson says he expects rapid early adoption for many reasons – not least because Chip and Pin has been so successful in the UK and because British shoppers now spend more using cards than cash.
"Put it this way, any business that wants to exist in the future has to prepare for it," he says. "People will expect cashless transactions wherever they go and if smaller business in particular want to prosper, they must embrace the technology. These systems have become readily available and inexpensive over the last few years and implementing them will assist in delivering an improved customer experience."
Small businesses that are already offering contactless payment are certainly positive about the experience.
Tom Reaney of Burger Bear says: "To compete with bigger businesses it is important that SMEs and sole traders can accept all payment types and move with innovation - so accepting Apple Pay is going to be vital."
Copyright © 2015 Rachel Miller, editor of Marketing Donut.
Image: Bloomua / Shutterstock.com
Related articles and resources
You may find the following articles and resources useful: