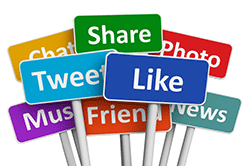 If you know what you're doing, social media can be an easy and cost-effective way to improve your customer service, especially for small firms. As your company grows, you need to make sure that you are also developing a loyal customer base. The great thing about social media is that a satisfied customer will recommend your products and services to their family and friends.
If you are unsure how to approach social media, take a look at your competitors to get an idea of how other businesses do it. Then aim to do it better. Here are five tips to help you improve your social media customer service:
1. Start from the inside
The best way to ensure your customer service remains consistent throughout your company and social media platforms is by developing clear company values and social media policies. Ensure your employees are properly trained and that they have the ability to deal with issues as they arise. This way you can guarantee your online presence is consistent.
2. Engage with your customers
By maintaining active social media profiles, you will have a platform on which to connect and interact with your customers. Be a person, not a faceless brand. Your customers want to talk to real people — and this is often where small businesses have the edge over bigger competitors. By really engaging with your customers you can get a better understanding of the people who use your products. Use this to provide a personalised service that will exceed your customers' expectations.
3. Deal with it
If you receive a complaint, make sure that it is dealt with quickly and professionally. When dealing with the customer, be polite. It is important that you genuinely and openly apologise for the error. After this is done, move the conversation to a private message or email. The best way to exceed expectations is to reach a mutual resolution, but provide more than what the customer was expecting. This is your opportunity to turn a customer's negative experience into a positive one.
4. Act on feedback
Complaints are not only a chance to showcase your customer service skills; they are also an opportunity to learn and develop your products and services. You should encourage your customers to give feedback and take on board any suggestions that they have to offer. You can use this feedback to provide your customers with a product or service that is tailored to their requirements.
5. Become a thought leader
Give advice and share your expertise and experience. Produce interesting and useful content that you can use for your company's blog. If you do start a blog, make sure that you update it consistently and frequently. Your posts can then be promoted on your social media channels and used to kick-start meaningful conversations.
Sara Parker runs the social media for Face for Business.