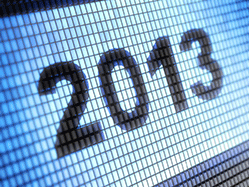 Here are my predictions for four of the key trends that businesses will see in 2013:
Marketers as publishers
2012 proved to be the year marketers took a big step forward as content creators and publishers. Forward-looking marketing departments have established newsroom-style editorial teams tasked with creating engaging, relevant content that can be used across multiple channels.
As we look ahead, 2013 will be the year marketers refine how they distribute content outside their owned properties. The platform and solution providers who can provide compelling distribution options will be successful in the new year.   
Native advertising
Native advertising will become a common practice in 2013 as marketers develop content they can use across a number of channels and advertising platforms become more context-aware. Native ads don't interrupt the user experience by popping up or getting in the way, they are part of the content and include everything from advertorials to product placement. Native ads will prove useful in reaching prospective buyers during the most critical times in the purchase decision process and content will create a richer brand experience for audiences. On an extreme level, specialty applications and useful tools will be developed for social networks and communities that blur the boundaries between advertising and business applications.
Big data goes deeper
In 2013, big data will migrate from broad-based use, such as retail and general online behavior, to more vertical-specific applications. In a vertical setting, marketers can use specific user data to go deeper, and understand purchasing behavior and the marketing tactics and programs that can drive sales and higher levels of engagement with the brand. Marketers will crave more vertical expertise and specialty tools to learn more about a specific, highly-targeted audience.
Social networks go niche
Marketing on horizontal, B2C-designed social networks will take a back seat in 2013 while niche, vertical networks and communities rise in popularity. Online communities tailored to specific sectors, such as Wave (for accountancy), SumZero (for investment) and Spiceworks (for IT) will continue to emerge and prove effective for marketers looking to engage with a specific set of buyers.
Communities will also drive much higher engagement levels by developing their own cultures based on passionate members with shared professional goals. This shift will give marketers a unique place to reach qualified professionals with significant buying power. Measurement and engagement tools will emerge to help marketers tap into these groups. 
Adam Weinroth is the executive director of Spiceworks.