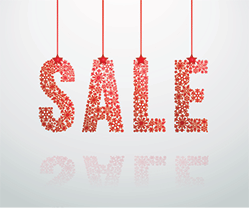 This Christmas will be another feast of discounts and offers for shoppers. Consumers expect them — so if you don't offer any then you're going to miss out on sales.
There are seven factors that will ensure your Christmas promotion is a winner and you should be able to answer all of these questions before you embark on a promotion:
1. What are the margins (the profit you'll make)?
2. Is the promotion easy to understand?
3. What you want the customer to do?
4. What is the end date?
5. Which channels will you use?
6. Which customers will you target?
7. What are the spend barriers?
The first two are pretty obvious — make the promotion is easy to understand, and run the numbers to make sure you're not losing money.
The third is about what you want them to buy or do. Some promotions are about collecting data, some about selling specific products, and others about pushing the customer up the ladder (first time buyer to multi-buyer for example). So you need to be clear on what you want the outcome to be.
Always include an end date. You don't want two generous offers overlapping!
Target your promotions through the marketing channels and to the customer segments that will help you achieve what you want from the promotion. If it's all about getting new customers, then don't send the offer via direct mail to your best buyers!
Finally consider spend barriers. This is a highly effective way to make it look like you're playing the Christmas discounts game, but without giving too much away. So it's not 20% off everything — it's 20% off Christmas decorations, flagged up to new customers only.
By considering these seven factors you should be able to create some really powerful promotions that keep the customers buying and mean you get what you need out of the Christmas period. And yes, this is more difficult than just slapping a "Free Gift" message on the homepage and emailing to the whole list — but it's worth the extra effort.
There's more than one type of promotion
As well as considering the above factors, you can also be a bit creative with what your promotions are, because free gifts and discounts aren't the only options:
Free delivery
is powerful and usually less expensive than a discount;
A sale
allows you to control your margins;
Category offers;
Voucher codes
 — always useful if you want to track response;
Multi-buys
— a great alternative to a spend barrier, you're making them buy lots to get the offer. It works best on complementary or consumable products;
Free gifts — this only works if you've got the right freebie. It should be something lots of your customers will want or can give as a gift;
Half price with purchase
— a great way to increase spend;
Prize draw
— a good way to gather new data;
A gift to charity
— make sure the charity fits with your business and is appealing enough to prompt action;
Last chance to buy — hugely powerful at Christmas time — do promote your last order dates heavily. Especially with the way Christmas falls this year;
Preview — a preview of your January Sale can do well.
There's still time to up sales for Christmas – so think through the seven factors, and be creative!