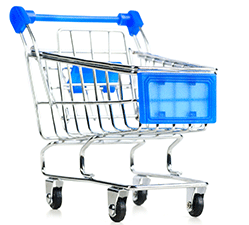 Using an abandoned basket email to recapture lost sales and improve website conversion is becoming increasingly popular with website owners keen to optimise conversion in their basket or cart process. For those of you who are unclear on how these emails work, here is a quick explanation.
Your customer visits your website and starts the process of purchasing something from you. However, at some point, before the sale is complete, the customer leaves. An email is then sent to the customer, encouraging them to return and complete their purchase.
Quick wins
These abandonment programs can range from a single email sent shortly after the basket was abandoned, to multi-stage programs spanning several days. Websites that use them, find they improve conversion, so they are becoming a "quick win" conversion tool.
One of the most common questions from ecommerce businesses is: "when is the optimum time to send an abandon basket email?" It's one of those "how long is a piece of string" questions. It could depend on the type of business you are in, and the products or services you are selling. If you are selling small low value consumables, people might make up their mind within hours, but if you are selling larger value items such as investments and holidays, you might need to give your customers a little longer.
To discover the optimal time to send your emails, start by looking at your response data. This will give you an initial guidance as to the length of the conversion window (in time). Look at the customers who abandon their baskets, and track the delay between abandonment and subsequent re-visits and purchase. This type of response curve analysis will give you a good idea of when most people return (is it hours, days, weeks) and it is around this time that your first email should be set up.
Data and testing
I say "start" with response data, as this isn't all you should rely on to indicate the optimal send time. Abandonment emails are no different from any other type of email marketing, especially in regard to testing. Your data analysis will give you the initial guidance on timing but it will be your testing that will give you the greatest insight for improvement.
Once you have established a benchmark for your first email (based on analysis or your customer knowledge) it is important you try sending emails at different time points after abandonment. These can be in addition to your benchmark email, and although earlier emails will inevitably pull some revenue from the benchmark email, it will give you a good idea when the ideal times are likely to be.
So, in short, here are my "must do's" for basket abandonment emails:
Analyse your data
Choose your benchmark
Test to optimise the process
Most importantly, never stop testing! It is easy to think the process is as optimised as it's going to get, but the environment changes around you. Customers change, the economy changes as do the actions of your competitors. The only way to stay on top of all of that is to test, test, test.
Tim Roe is director of data and deliverability for RedEye. This post originally appeared on the DMA Email Marketing Council blog.