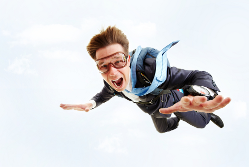 There is a group of professional service firms (PSFs) that grow nine times faster than the average. They are 50 per cent more profitable than the average.

Doing the research for the new Grow Your Service Firm book, it was easy to see that high-performing service firms are the ones that have clients that believe in the business.

High performers have always had a particular profile; they have always been identified as being different from the average.

Frederiksen and Taylor in their book Spiraling Up, point out that the high performers do not spend proportionately the most on marketing and sales because they are already very good at it. They are simply more effective so don't need to compete by spending the most.

The high performers actually spend (slightly) less than average firms on their sales and marketing activities.

Every firm says pretty much the same boring thing. The high performers, meanwhile, focus on client needs and priorities. They are not preoccupied with their own capabilities and expertise. They are not mesmerised by the reflection of themselves like some Greek myth. They focus their limited budgets on specific target customer groups and use a clear and easy to understand message.
Robert Craven is an expert contributor to Marketing Donut. He runs The Directors' Centre and is the author of business best-sellers Kick-Start Your Business and Bright Marketing.