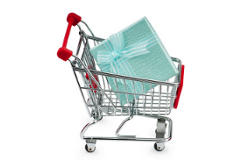 I'm a real sucker for a car boot sale. You see the thing is I love old, worn-out stuff almost as much as I love a bargain. And I will happily haggle over something that's 50p because that's what you do. You see at a car boot sale you never pay full price, you get yourself a bargain, you feel good and you take something home that's going to be recycled. Everyone's happy.
At the same time I have incredibly expensive tastes. I love Liberty - the shop, the brand, the prints, the fabric - the whole blooming experience. And I won't baulk at spending £10 on a notebook (OK, well I might, but I'll do it anyway…) or £20 on a metre of fabric. The whole brand, experience, proposition just captures me and makes me feel great. I love to buy from Liberty and looking at their products makes me smile.
Why is it that I'd haggle over a notebook for 50p at a car boot sale but I'll pay twenty times that for a tissue wrapped, expensively bagged notebook in an Arts and Crafts building in Central London? I can't be alone in experiencing this conditioned response.
How can a premium retailer like Liberty of London charge, well, a premium for their products whilst you put the same customer in a different environment and they'll respond in a totally different way?
The fact is that we all form an impression about a business when we walk through its doors, meet a representative in person (be it at a networking event or an exhibition) or visit its website. As small business owners we need to take this seriously - particularly when it comes to ecommerce websites - if we are to reach the full potential of our businesses.
If your website looks down-market, lacking in attention to detail or like you're all about the commodity, well, then you're going to attract people who are motivated by price. You'll struggle to communicate the value in what you're offering and you won't convert as effectively as you could.
If you can create an experience that makes your visitor feel good, ache to work with you and really conveys the value in what you're offering then you're on to a winner.
How do you do that? In a nutshell - think about your proposition: what makes you different? What does your customer value about what you do? How are they feeling right now? How can you make them feel great about buying from you? What value can you add to your proposition?
In terms of the experience: great design must be at the core but also consider photography, the journey through the site, tone of voice, styling, typography, content and email communications. Think about the whole experience - from the homepage to the checkout and everything in between. Don't let your experience fall apart at the "add to bag" pages. Think about how you make your customers feel good - from start to finish.
Fiona Humberstone is an expert contributor to Marketing Donut and runs her own creative consultancy.