If you've got a website, you need to make sure it is optimised for search engines using SEO (search engine optimisation). It's as simple as that. SEO can help your website to feature prominently on search engines like Google.
So, if you have a flower shop in Wigan, it's about optimising your website so that when someone types in "flower shop in Wigan" on Google (or simply "flower shop" when they are in or near Wigan), your website is at or near the top of the results list. Without SEO, you may not appear at all.
SEO is a fast-moving discipline and there's a lot of competition for the pole positions online. So, SEO is an on-going exercise and is something that needs to be reviewed regularly. It pays to keep up with the latest SEO tools and techniques.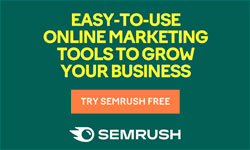 Get measurable results from your online marketing with more than 50 tools and reports from Semrush.
Get recommendations that will improve your content and search ranking. Track and analyse your competitors' campaigns and create winning PPC campaigns.
Find your keywords
It starts with optimising your website with keywords and phrases. You may already have a good idea which words people use to find your business but it's important to keep an open mind and do your research. The results may surprise you. Google's keyword planner can help you find the most popular words and phrases but it's also worth trying tools like AlsoAsked.
Once you've got your keywords and phrases, you need to make sure they are used in your web content and in meta tags, page descriptions, image "alt text", internal links and so on. This job is all about discipline, but it really helps Google to find you when people search for those words or phrases.
Google is incredibly sophisticated, however, and it can spot a cynical attempt to stuff a website full of keywords. It's important to use your keywords within good quality authored content - including blogs, articles, web copy and social media - that also includes plenty of related content and topics. In our "flower shop" example you would expect to find plenty of content on bouquets, wreaths, birthdays, anniversaries etc. Posting fresh, unique content regularly will improve your search results even more.
Link building
Link building is the other important aspect of SEO. The more links to your site from high-quality, relevant sites, the higher you'll rank. But tread carefully - links should never be bought, forced or acquired by unethical means. Take time to build links naturally by providing quality content that people want to read on your website and also via a process of outreach and collaboration to encourage other relevant businesses to link to your website.
Local SEO
The internet may be global, but most small firms cast their net in their local area. The SEO strategy for a small business should reflect this. Using tools like Google Business Profile can help you rank well in local searches.
Can I do my own SEO?
If you understand the basics, it's possible to do SEO yourself. If you're short on time or unsure where to start, there are plenty of companies out there who can help you optimise your site. Just make sure you do your due diligence to make sure they're not using unethical tactics that could do you more harm than good.
Reviewed by Michelle Symonds, managing director of Ditto Digital