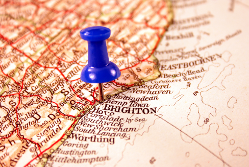 Getting found in search isn't just about climbing the national rankings - local rankings and reviews can make or break your business. Emma Allen looks at how Google My Business can help you capture customers on your doorstep
As many as one in five online searches are local, according to Google - so one of the best ways to boost sales for a small local business is to make it visible to those living or working nearby.
One essential tool to achieve this is Google My Business, according to James Gurd, ecommerce and marketing consultant. A listing is "free, easy to use and a must for any small firm wishing to promote its services to a local market".
What is Google My Business?
So what is Google My Business, and how does it work? "Basically, it's a local search tool that organises results around specific locations. Business owners submit a profile, and when a potential customer looks for, say, a plumber in their area, a list of local businesses comes up," he explains.
Businesses must have a free Google account to register, but once a profile is submitted and verified, a listing is typically up and running within a few days.
Google My Business puts your business information on Search and Maps, so that customers can find you when they look for a provider in their area. It works across multiple devices, too.
Creating an effective Google My Business listing
The key, says Gurd, is putting together an effective description of your business. Just like a website, a Google My Business listing is crawled by Google's own search engine spiders, so it's important to create a relevant, SEO-friendly profile of your company using appropriate keywords and tags.
"It's all about knowing how your customers will search for you," he says. "For instance, if you're a high-end London jewellery retailer, you might want to include the words "designer", or "boutique", to make your profile more specific.
"There are no rules - you simply need to think about how your potential customers would try to find you."
Boosting your Google My Business ranking
Rankings in local listings will depend largely on two factors. Firstly, how close your firm is to the area specified in the search, and how close it is to the person searching, will impact the results. But crucially, user interaction with your profile will also help make your listing more prominent.
"The aim is to get as many customers as possible clicking on your link, as Google sees this as an indication of relevance and will organise results accordingly. In other words, your position on the results page should improve," he explains.
Getting customer reviews on Google My Business
Customer reviews also have a big impact on your local rankings. "The more reviews, the better - good ones of course - so always encourage buyers to leave comments about your service or product," says Gurd.
Another way to influence rankings is to register with other reliable local online directories such as Yelp or Yahoo! Small Business Local. "Google will look at other trusted sites for mentions of your business name and its details, to assess the quality and relevance of your firm to a search," Gurd says.
Lastly, updating your business profile is important, in order to make sure that content stays relevant. "Over time, tastes and trends change, so you need to make sure that your keywords remain accurate and relevant," he advises. "Check your profile at least every quarter, and preferably once a month, to keep on top of things."