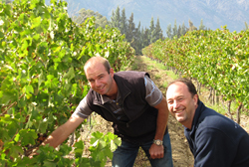 After a successful career with Virgin, Rowan Gormley decided to start his own venture. With some like-minded friends, he set up Naked Wines - an online wine business that allows the customers to call the shots
A long association with Richard Branson has given Rowan Gormley a taste for entrepreneurship. Rowan set up Virgin Direct (now Virgin Money) in 1995 and was the brains behind the launch of the One Account. He went on to set up Virgin Wines.
Eventually, Virgin Wines was sold, and Rowan - and 17 colleagues - moved on. The plan was to set up a new type of online wine retailer.
"We started work at the beginning of October and launched Naked Wines on December 1," he reveals. "I had the luxury of working with a group of people I knew extremely well. We sat down under a tree in my garden on a beautiful sunny day. We started with a clean sheet of paper, and straight away we had a clear picture of what we wanted to do differently."
Championing small wine makers
First of all, Rowan wanted to offer wines that were priced like supermarket wines, but of a far superior quality. "To do this, we wanted to champion small wine makers who are fantastic at producing wine, but not so good at marketing themselves. So we were dealing with guys that were passionate about what they do, but quite frankly needed help to sell their products."
In order to do this, small producers are funded by Naked Wine customers - known as Angels. Each Angel puts £20 per month into the fund, which is used by Naked Wines to support small, independent growers and producers.
The Angels can then use the money they have saved into the scheme to purchase wine from those producers at any time, and at heavily discounted rates.
The second point of difference was to target normal people who don't necessarily know about wine. "We wanted our customers to be able to choose wines with confidence, based on what other people like them think. And it's absolutely transparent, good and bad, it's all there. That's why we're called Naked Wines."
Finally, Rowan wanted to beat his rivals on service, by offering delivery that was both cheaper and faster. Naked Wines offers next-day delivery for £4.99, and free for orders over £100.
Identifying the customer base
Partnerships have been at the heart of the company's marketing strategy. "We've tried to find partners that can deliver the audience we are aiming at."
So who is the typical Naked Wines customer? There are two main types, says Rowan. "One is people that are interested in food, but don't have a clue about wine - this is mainly a female-dominated group, but not exclusively. The second audience is male-dominated and wants to buy wine that is a bit interesting and different. They tend to be early adopters.
"We are very close to our customers," says Rowan. "We get customers to choose the wines. A group of 50 will go to a tasting and come up with a final list of ten, and then they tell us what they think they should cost. What's good about the process is that it gives you a true market value."
Customer feedback drives the business, from reviews of wines to chat about recipes. "The fantastic thing is that we can come up with an idea and have it live so quickly," says Rowan. "If it feels right, we do it and then we look at customer reaction - if it is met with indifference then we stop, but if they like it we evolve it, based on their feedback."
Ecommerce content edited by Chloe Thomas of eCommerce MasterPlan.