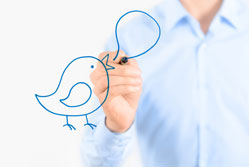 I meet a lot of small business owners who still aren't getting the most out of social media. Some say they don't know how; some say they haven't got time. Others say they simply don't know what to post.
But any activity, if important to your business, will get done. It just needs to become a priority.
Here are 18 easy ways that small businesses can connect with their audience on social media:
Promote new products. Take photographs and share them via Twitter, Facebook, Instagram and Pinterest. Make sure you focus the accompanying text on a benefit your customers will care about.
Tell people about a sale or promotion you're running. People love deals. Including a picture will get your customer's attention and help them visualise themselves with your product.
Announce a new member of staff. This doesn't have to be done in a boring way (the way most companies do it). Have some fun with the announcement and include a picture.
Get involved with your community. Not every tweet or post needs to be about your business. Focusing attention on others is a great way to build an audience online.
Share pictures and testimonials from happy customers. Make sure you have their permission first.
Give people something to think about. Publish an inspirational quote or share an interesting tweet.
Don't forget the basics. Tell people about a new telephone number or any upcoming changes to your hours of service.
Tell people if you're hiring. You never know, your next superstar may be a current customer, or a friend of one.
Ask your customers questions. Use social media as a tool to get customer input on how to improve your products or services.
And answer their questions too. Responding to queries and comments is the best way to build engagement.
Make people laugh. Tell a joke (keep it tasteful!) or share an amusing picture.
Tell people where they can buy your products and meet the team. This could be a new shop, an event or a trade show.
Create a product video. Showcase one of your products in a video and share it via YouTube, Instagram or Vine.
Run a competition. Social media is a great way to publicise a competition and get engagement with customers and prospects.
Announce key dates. This could include upcoming deadlines to place product orders, the end of a promotion or the arrival of a new product.
Share a how­-to video. Provide helpful information related to your area of expertise.
Remind people of your returns policy. Highlight how it differentiates from your competitors.
Provide local updates. This could be related to road closures or parking issues for instance.
Copyright © 2015 Eric Moeller, founder of Copy Dojo. You can find him on Twitter @CopyDojo