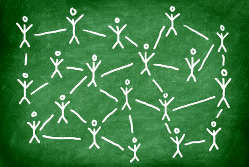 Increasing your contacts on LinkedIn or Twitter can help you find suppliers, get a quick answer to a business question or generate new sales leads. So how can you increase the contacts in your address book?
1. Start with a clear strategy. Why do you want to grow your contacts? Is it to find new customers or drive traffic to your site? Different channels require different approaches. For example, increasing your contacts on Facebook will have different benefits to growing your LinkedIn recommendations.
2. Keep a record of all contacts. Whether you meet online or at events, meetings and conferences, make sure you get all new contacts' social networking details such as their Twitter username, LinkedIn profile and Facebook page.
3. Simply business or simply pleasure? Never dismiss anybody just because you met them in a social forum or during an online chat. However, don't try the hard sell in a social environment - you could annoy more people than you think.
4. Know your audience. Tailor your contact gathering activities appropriately to the social media channel. While LinkedIn is very good for B2B contacts and relationships, this might be different for Twitter and your Facebook page. Make sure you interact with potential contacts in a tone that suits the platform.
5. Engage your existing followers. So you're already on Twitter, LinkedIn and Facebook, comment on forums and write your own blog. Now make sure you read articles in newspapers and trade magazines so that you can share and tweet relevant information and keep your followers up to date with the industry.
6. Target the main player. Do you know a particularly well-connected business partner? Invest in that relationship, as it could mean a whole new lot of contacts coming your way. Don't just communicate online but make an effort to meet them face-to-face, say at a trade fair.
7. Let them tweet. Many of your existing offline contacts will probably already be on Twitter, so start by sending them an email asking them to follow you and follow them back. But most importantly, ensure your tweets are relevant, interesting and friendly. Don't concentrate on sales messages or product pushes, but vary tweets with broader topics and updates from your sector.
8. Boost connections on LinkedIn. Increase the contacts in your network by browsing your contacts' connections. LinkedIn will calculate your 'degrees of separation' and you can use common connections as a starting point for making new contacts. New contacts expose you to an even wider range of people through their friends and business partners.
9. Build a community on Facebook. This is where your existing fans and customers meet, so you should engage differently. However, it is a good place to start word-of-mouth campaigns to attract more people, maybe their friends, to become fans. Your pages' main message should be that this is a place for social contacts, not just your brand or business.
10. Never let a chance go by. From time to time, ask visitors to your website, your Twitter followers or visitors to your Facebook page if they want to join your mailing list. Provide a link to a sign-up page on your website to make it easy for them.