Twitter offers its own self-service advertising platform called Twitter Ads, which allows you to amplify your tweets to a wider audience. Social media expert Alison Battisby of Avocado Social explains how to get started
Twitter Ads can allow you to drive awareness, encourage engagement and potentially drive action on your website. The ads sit within the same area as organic content, within the Twitter newsfeed. All adverts are clearly marked with a "promoted" icon.
Twitter Ads can be set up relatively quickly, allowing you to control your own budget, choose who you target your adverts to, and select what messages to promote. This dashboard is also where you can see the real-time results of your adverts, and make the decision to launch, pause or delete them at any time.
To run your own Twitter Ads, you need to access the Twitter Ads dashboard.
There are three different kinds of ads you can purchase on Twitter: Promoted Tweets, Promoted Accounts and Promoted Trends.
Promoted Tweets
Promoted Tweets are typically used to place your best content in front of an audience which you select through targeting. This means your audience will see your Promoted Tweet in their timeline, just once, near the top. Then it will scroll through the timeline like any other Tweet.
A Promoted Tweet will appear in a user's timeline only if the Tweet is likely to be interesting and relevant to that user.
When setting up a campaign, you are asked to decide whether your goal is to drive a particular action, such as increase website traffic, drive clicks to a coupon or to promote a sale or giveaway. Another option is to drive awareness of your business by expanding the reach of your content, like blog posts and white papers. You might run Promoted Tweets to connect with more influencers, or to promote awareness around events and product launches.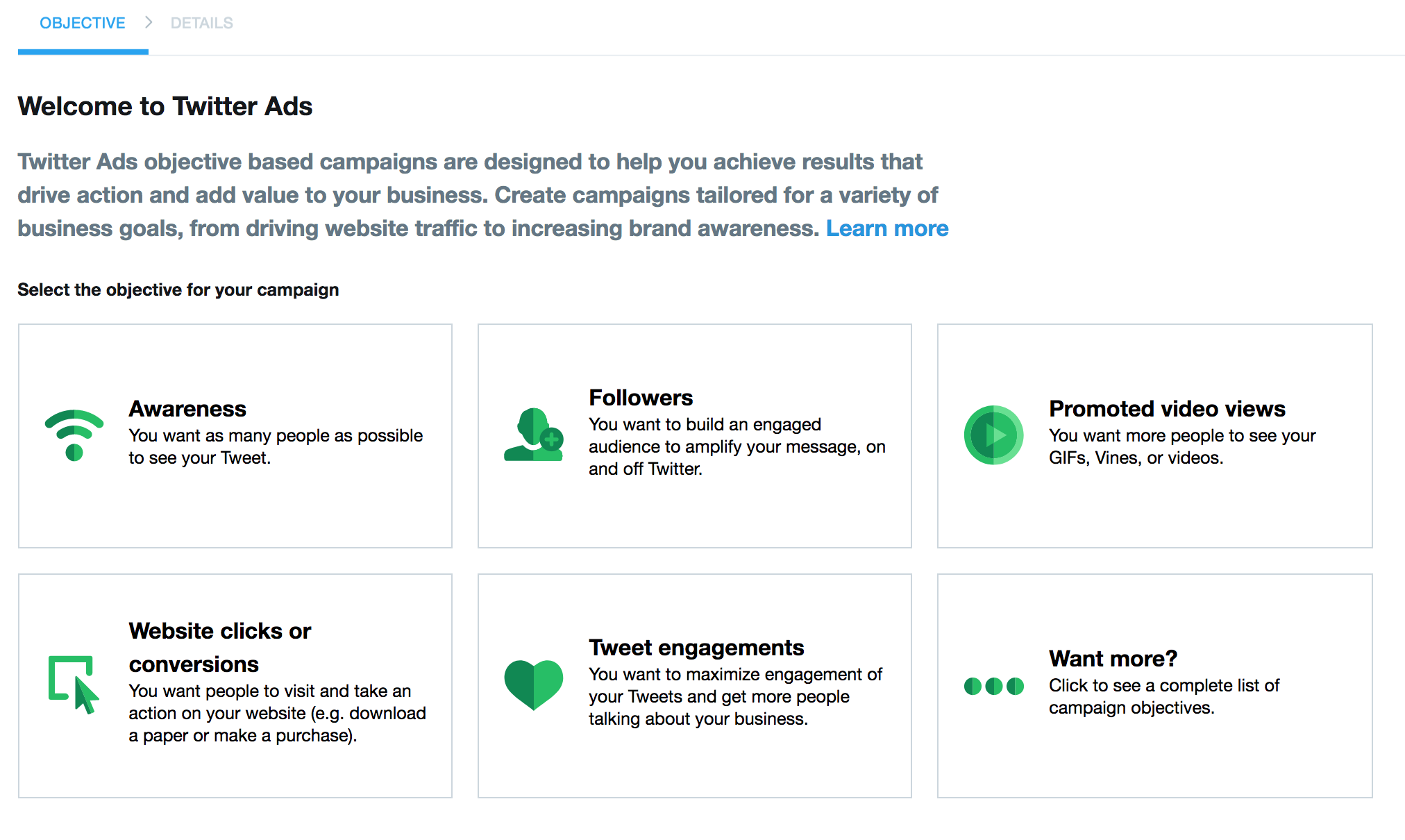 Promoted Tweets can also be used to increase retweets, which will also drive awareness of your business by building up an even broader audience for your messages.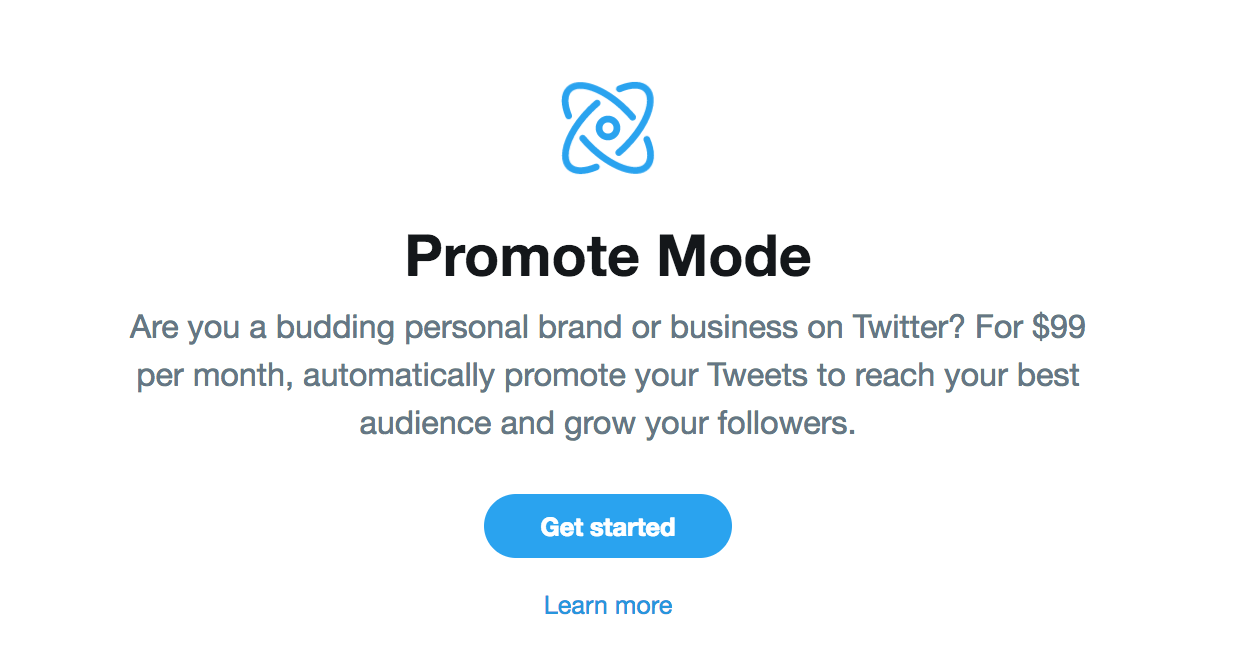 Twitter has recently launchedPromote Mode, which is an always-on subscription version of Promoted Tweets. Twitter Promote Mode grows your influence by automatically amplifying your messages to a larger, interested audience, for a flat monthly fee of $99 per month. This removes the manual process of setting up ads, and allows Twitter to make the decisions as to what to advertise on your behalf.
Promoted Accounts
Promoted Accounts (otherwise known as Follower Campaigns) suggests accounts that people don't currently follow, and may find interesting.
Promoted Accounts boost your follower growth, and are best used when you would like to be more discoverable to people who are likely to love your business. These adverts will promote your Twitter account to a range of users who are likely to enjoy your content.
Promoted accounts are displayed in in multiple locations across the Twitter platform, including Home Timelines, Who to Follow, and search results.
Promoted Trends
Promoted Trends offer the facility to become a sponsored Trending Topic on Twitter. They are not available to self-serve advertisers, and you must have a Twitter representative to be able to purchase these adverts. They are also reserved for advertisers with large budgets.
Selecting an audience
When selecting an audience on Twitter, you can use the following criteria:
gender;
age;
location;
device;
platform;
other audience features, eg interests, keywords used, or if they are similar to followers of a specific @username.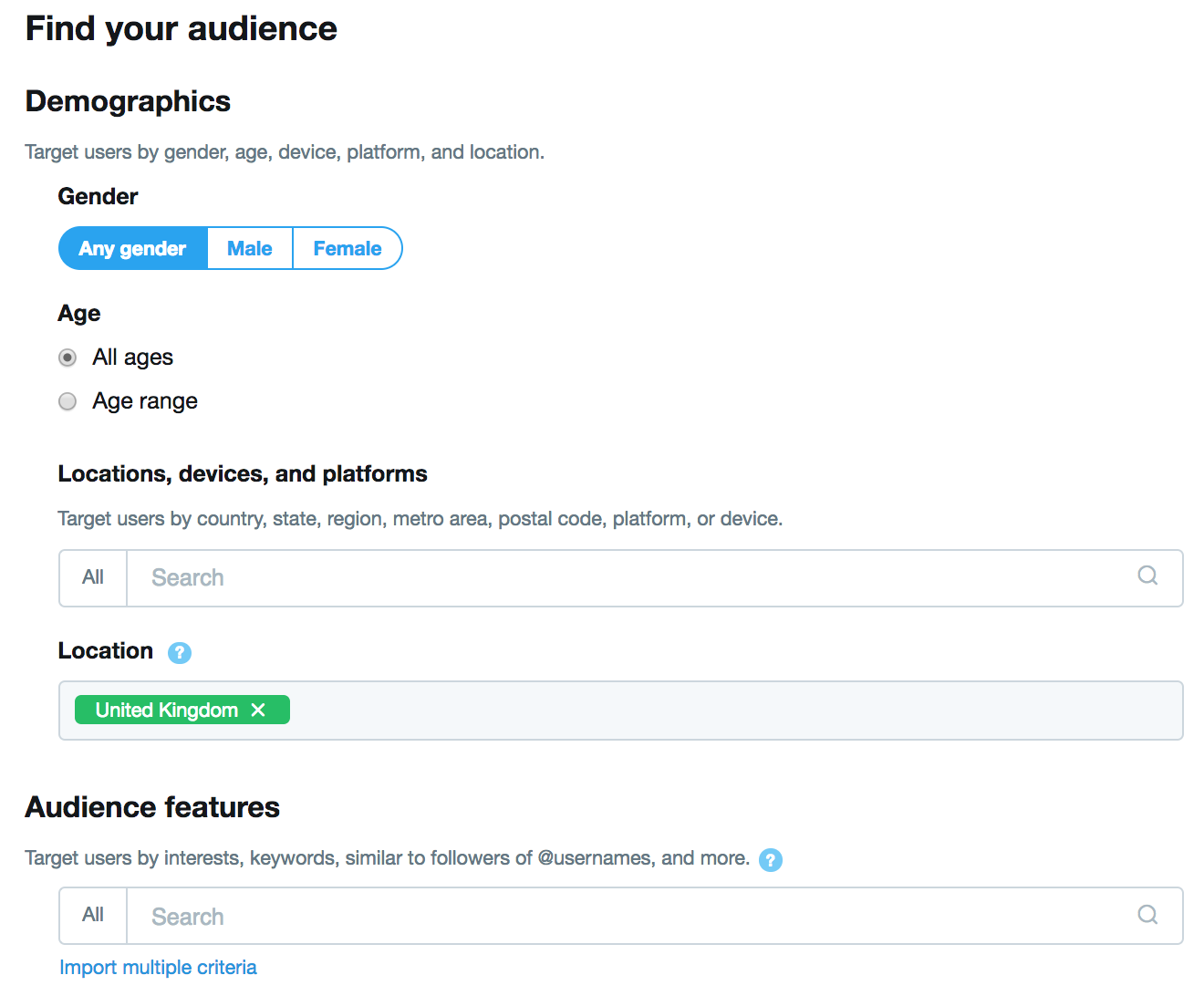 Twitter also offerTailored Audiences, which is the ability to advertise to a bespoke audience based on data you already have, such as cookie data or an email database. This enables you to create highly relevant campaigns for an audience that has already opted in.
Advertising costs
Twitter Ads is an auction-based system, so your budget and bid determine the price of your campaign. Twitter will only charge advertisers when you acquire an action (based on your campaign objective).
If you are running a website click or conversion campaign, you will be charged for the clicks to your website that are acquired. All other actions and engagements (impressions, replies, and Retweets, for example) are free.
If you are running a Followers campaign, you will only be charged for the new follows you acquire through the campaign. All other actions and engagements (impressions, replies, and Retweets, for example) are free.
If you are running a Promoted Tweets campaign, you will only be charged for engagements on your Promoted Tweets. Impressions are free.
The daily budget is the maximum amount you want to spend per day. Your campaign will stop showing for the day once it reaches its daily budget; it will start again the following day. The total budget is the maximum amount you want to spend for the duration of your campaign. Once your campaign hits the total budget it will stop.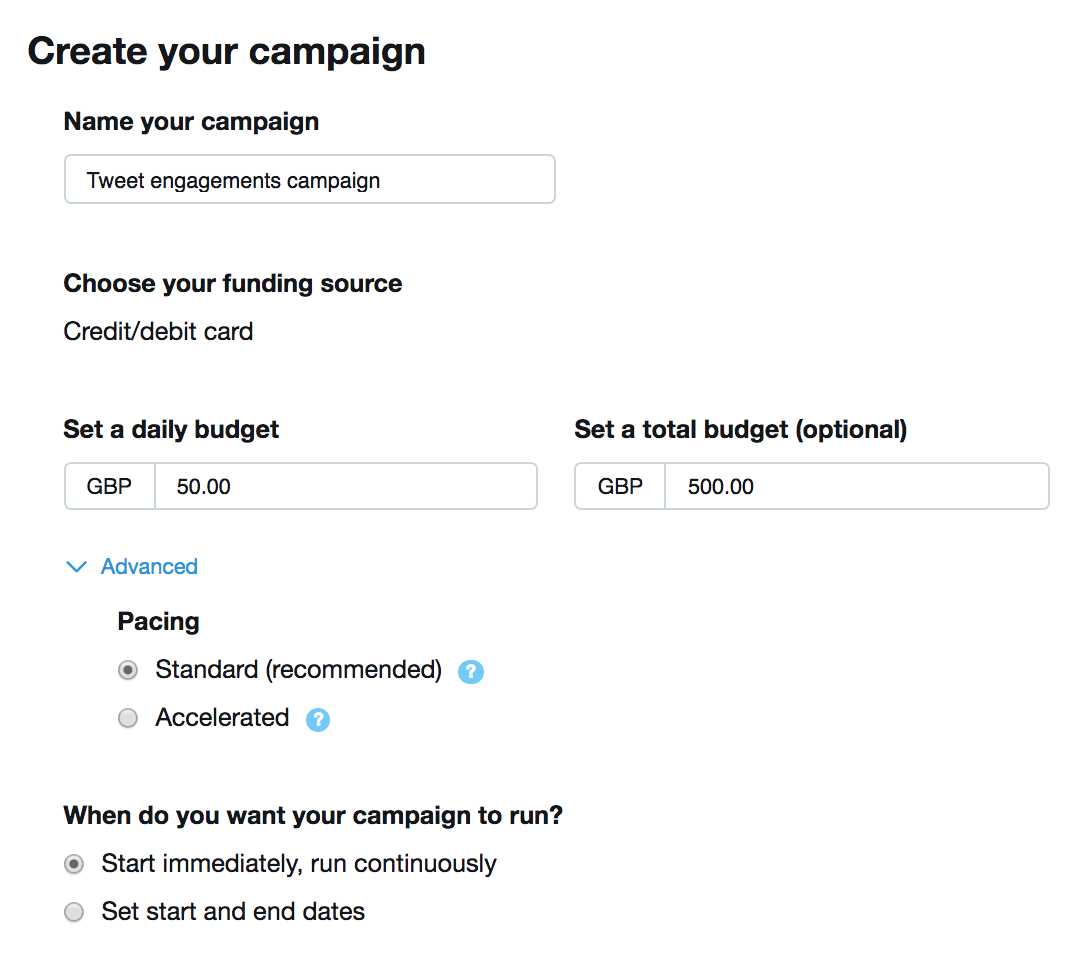 When setting up a campaign, advertisers have two options to choose from when determining how to set bids for their campaigns: automatic or maximum bidding. Automatic bidding enables Twitter to auto-optimise bids for a given campaign objective and budget on your behalf. Maximum bidding allows advertisers to manually select how much a lead, click, or engagement is worth to their business.
Remember that you can pause your campaign at any point, and review the results in your Twitter Ads dashboard.
contributor
Alison is fascinated with communication and did her degree in English Language, with specific modules on online conversation - before social media even existed!