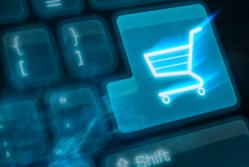 Amazon and eBay offer huge opportunities for small firms selling online, even if you're not an ecommerce expert. The process can be easy - for example, Amazon will set up a site for you, store your stock and ship your orders. Chris Dawson, the founder of ecommerce blog site TameBay, finds out what the future holds for small firms selling online
Amazon and eBay are the two biggest UK marketplaces for online sales, and, as established as they are, they are still growing fast. "Both sites are providing new opportunities for businesses all the time," stresses Chris.
"Initially, Amazon was very much a book, CD and DVD retailer and eBay was mainly a site for casual sellers selling goods on an auction basis," he explains.
"Now 80% of eBay sales come from fixed price sales and it has 168 million active buyers across 190 countries. And Amazon has expanded into new categories such as homewares, clothes, toys and electronics. eBay has greater reach in more countries than Amazon, but Amazon is growing much faster - the opportunities are huge.
"The UK is the most densely penetrated internet market in the world," emphasises Chris. In terms of spend per person per year, we buy more online than the USA and Germany, two of the other biggest online spenders.
"As a nation we spend £1,300 per person per year - and that average includes everyone from babies to pensioners," points out Chris. "So, the high spenders are spending considerably more."
The latest ONS statistics (July 2019) reveal that 18.6% of all retail shopping now takes place online.
Starting out on eBay
Like many online sellers, Chris started small. "You don't need many sales skills to start selling on eBay, you just need something to sell," he explains. Chris sells second-hand computer products such as printers, cables and scanners.
"I started selling on eBay when I was made redundant," he says. "I had a background in computer and IT sales, but I was made redundant just before I was about to buy a house. I was looking for a job, but I also wanted to make some money fast, so I started selling on eBay. Before I knew it, six months had gone by and I realised that I was making money and could stop pretending to look for a job."
Two years of "happy selling" followed. In that time, Chris started offering his services as an eBay consultant, working with his colleague Sue Bailey, a website designer. Then a friend - Dan Wilson - suggested that they start blogging about their experiences. "So Sue and I set up the TameBay website," Chris recalls.
Today, TameBay is a popular forum for online sellers to get advice and share experiences. Visitor numbers have grown to such an extent that the website has become self-funding thanks to advertising from the likes of Amazon and the Royal Mail.
Sadly, Sue died in 2011, leaving Chris to run the business with Dan. In 2015 Tamebay became a part of the InternetRetailing group and now has a much larger team behind them.
The changing face of online sales
What's interesting about eBay and Amazon is that their customer bases barely overlap. "Amazon and eBay buyers are very different. It's only a small percentage that buy regularly on both sites," says Chris. "So you are a bit silly if you don't sell on both Amazon and eBay."
Many online retailers are also expanding their horizons and selling via eBay.com or by opening an Amazon EU account. "Made in England and Made in Britain carry a lot of weight," points out Chris. "We're known as a trading nation and a lot of people speak English, so we're an easy country to buy from. We have a huge advantage over close rivals in Europe."
But while online sales continue to grow, it's clear that consumers are looking for choice when it comes to how they buy the products they want. "People talk about online and offline as if they are mutually exclusive," says Chris. "But the next stage is the merging of these. Big stores like Argos and PC World are already doing it. You can buy in-store and have it delivered, you can order online and get it at home or you can order from home and collect the goods yourself.
"Smaller retailers need to get smart and do the same things that a lot of big retailers do. You need a range of options so that consumers can buy what they want, when and how they want to."
Common mistakes
It's also crucial to make sure you have robust terms and conditions, advises Chris. Postage costs, delivery times, returns and refunds - you have to spell out your policy on all of these, he notes.
"Make sure people know you're a professional business and tell people that you will make it painless for them to return goods. They want to know it's as safe as buying on the high street."
Opportunities to expand
For retailers that sell a lot of goods, but don't necessarily want to pay for expensive storage space, Chris recommends Fulfilment by Amazon (FBA). "You can send all your stock to Amazon's warehouse and when an order comes in they will ship it," he says. "And they will deal with any returns - it can even fulfil eBay orders." Although this service costs money, it can save on warehouse and staffing costs.
Thanks to the reach of eBay and Amazon, small firms can compete with larger rivals. But Chris goes further. "A lot of small businesses and retailers have been saved by eBay and Amazon, they just wouldn't be here without them," he concludes.
Alternative online marketplaces to consider
There is a wealth of alternative online marketplaces you might consider. They offer access to different products, sectors and customer types that might be more effective platforms for your business.  
Rakuten (previously known as Play.com) is the fourth biggest online retailing site in the UK (ranked by visits). It is strongest in media categories (i.e. music, books, DVDs) but in total sells across 12 categories including clothing, electronics and tickets.
OnBuy one of the world's fastest growing marketplaces. Featuring millions of products from pet supplies and homeware to beauty and toys.
Gumtree can help you bring your services, property or vehicles to over  16.4 million users per month (33% of the UK population). You can also advertise your vacancies on Gumtree.
Etsy is a fixed price marketplace for handmade and vintage items and craft supplies. This is a niche which is not well served by eBay and not at all by Amazon. As might be expected from a craft and design-focused site the site's design and usability is great and there is a vibrant community of artisans.
Abebooks is an online marketplace specifically for books, both new and used. The service is open only to professional sellers and has a presence in several countries.
Alibris allows professional or individual sellers to sell books, music and films either in new or used condition. The service has US and UK sites but also allows international sales. Like Amazon, Alibris has its own stock alongside which it allows third party sales.
eBid (www.ebid.net).  An auction site with a presence in 18 countries.
Toymart is a specialist toy auctions site.
Ecommerce content edited by Chloe Thomas of eCommerce MasterPlan.