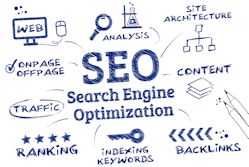 Search engine optimisation (SEO) is the process of achieving good rankings for your website on Google. But because Google continually refines the algorithm that determines rankings, optimising your site is like trying to hit a moving target. The trick is to keep moving yourself
Read on to learn how to do search engine optimisation.
The basics of SEO for Google
Google's job is to find the best content for an internet user in any given situation. So the first step to getting ranked on Google is to forget about Google and focus on the user.
"Ask yourself: would my customers find this interesting? Is it better than information elsewhere?" explains Denis Butler, web analytics manager at Atom Content Marketing which publishes the Donut websites.
That's not to say that if you write it, people will come. You also need to consider these SEO basics:
Write using words people search for. It's no good having a page about 'carbonated beverages' if everyone searches for 'fizzy drinks'. Keyword research using online services such as Keyword Spy and SEMrush helps you zero in on the best terms to use on your pages.
Work those words into your page. Don't go overboard, but make sure your target search terms appear in the page heading and some subheadings. Try and use them when you link between pages, too.
Write a good title and description. These elements usually appear in Google's search results, so they need to entice people to click. Google also shows the user's search term in bold, so be sure to incorporate your target terms: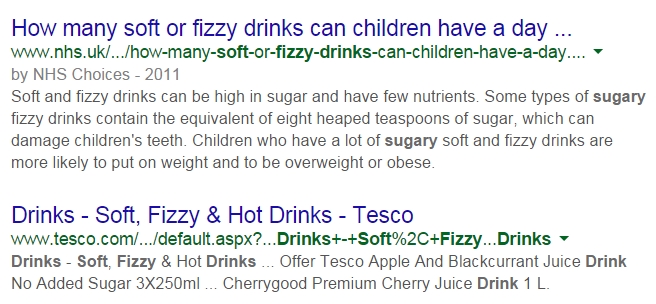 Don't let anything put you off putting your users first. "It's all about delivering the information that users are searching for," reaffirms Denis. "Google is good at spotting which sites do that best."
Avoid Google penalties with this free website health check
It's not always obvious how to optimise site performance. This free tool from Yell can tell you what changes you should be making.
Go for quality
Like most people, Google prioritises the quality of content over the quantity. The Google Panda algorithm is able to filter out poor or low quality information as well as sites that contain duplicate content. Content that is designed purely for the sake of keyword stuffing and affiliate links has also been penalised by the Panda updates.
This plays into the hands of smaller websites that may not have the resources to churn out hundreds of pages of content but who can deliver their own high quality, relevant and helpful information. Make sure your site contains information specific to what your business does. If you operate in a market niche, focus on authoritative content that demonstrates your expertise within that niche.
Build links gradually
When determining how to rank your website, Google examines which sites link to it. This 'link juice' is important.
"Link building needs to be a gradual, ongoing process," explains Danielle Haley, Director of Indy Consultancy. "Paying for hundreds of links from an unknown website won't get you where you need to be."
"You can find linking opportunities in every aspect of your PR and marketing," she continues. "Try hosting Q&A sessions on your blog, or let journalists know they can contact you for quotes. That can get you links from important sites."
A great way of doing this is by hiring marketing specialists from sites such as https://searcharoo.com. Finding people who can take care of your link building so you don't have to, and who know SEO strategies that work, can help your site achieve better rankings. Remember, your goal is to get relevant and quality links.
Go mobile and think local
The rise of smart phones has changed how we use Google. The majority of searches could soon come from mobile devices, and Google acknowledged this with an algorithm update back in April 2015. It prioritised sites that display properly on small screens. Many experts at the time predicted this would cause a 'Mobilegeddon'. The actual impact was much less dramatic than expected, but it serves to remind businesses that they should make sure their sites are optimised for this growing volume of search traffic.
"Google can detect what device you're searching from," explains Denis. "If your website causes errors on mobile devices, you might find you get penalised in results when people search from a smart phone."
"Find a way to make your website mobile friendly, perhaps by moving to a responsive website design or creating a dedicated mobile version of the site."
This increase in mobile devices is also fuelling growth in local searches, as people hunt for businesses while they're out and about. To help them, Google shows a map of results when it thinks you're looking for a local business: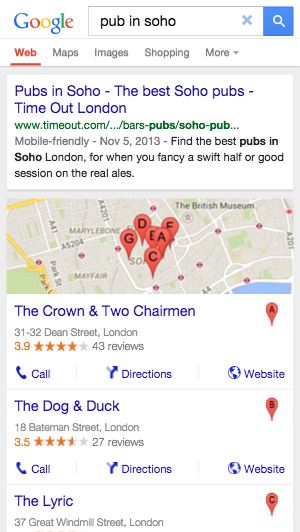 As this map appears near the top of the page, it's vital your business is listed in this important space.
Start by creating your listing on Google My Business.
Answer questions
Ever since its 'Hummingbird' update, Google has been getting better at interpreting questions.
"This is partly driven by the increase in voice searches made through services like Siri, Apple's virtual assistant," explains Denis. "People often type questions into Google too - like 'how do I wire a plug?' - so Google keeps looking for ways to provide better, more accurate answers."
Keep this in mind when creating web pages. Certain types of content - like help articles - can work well as a set of frequently asked questions (FAQs). Because these include the questions on the page, they help Google recognise what answers you're providing.
Use reviews and rich snippets
"Google sometimes shows extra information alongside results," continues Denis. "These 'rich snippets' include star ratings, which can really influence whether people click your listing."

You might need to make technical changes to your website to enable this. Before doing so, keep in mind that Google shows a score aggregated from a variety of sources. All reviews are taken into account - both good and bad.
Get there first and keep doing it
SEO is an ongoing job, although it needn't consume a vast amount of your time. "Set aside half an hour a week and plan how to use that time in advance," advises Danielle.
"You could spend 30 minutes scheduling posts on your social media accounts or writing a blog for your website. A little time spent seeking out new opportunities will have a positive impact on your search engine presence."
Finally, remember that emerging topics offer good opportunities to get one over the competition.
"It's easier to claim your spot on Google if you're in there first," confirms Denis. "Keeping your ears open and monitoring trends is something everyone can do - not just your SEO manager."