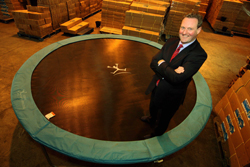 Atlantic Trampolines is a specialist trampoline supplier that uses Google Ads to bring in orders to its ecommerce website. Founder Andrew Jardine reveals how pay-per-click advertising works for his online business
If you go on Google Earth, you'll probably notice just how many trampolines there are in gardens all over the UK.
"This was a fairly new market back in 2005 but it really took off," says entrepreneur Andrew Jardine. "We saw an opportunity for a specialist business and already had the warehouse space to store bulky items."
Based in Pembrokeshire, Atlantic Trampolines quickly went from strength to strength importing trampolines and selling them direct via their ecommerce website.
Online marketing success
The success of Atlantic Trampolines is largely due to its wide range of products, including trampolines of all sizes as well as accessories and parts. Orders come in online and by phone, and the internet is at the heart of the firm's marketing strategy.
"We have tested a wide range of marketing methods," explains Andrew. "We advertise in the regional and national press, deliver leaflets, attend county and agricultural shows and have also tried radio advertising."
However, online advertising is the most important marketing method. "We are a big user of Google Ads," says Andrew. "It's a key part of our online marketing strategy and a very powerful tool. Most of our marketing efforts are focused online. We spend about £100 a day on Ads and we usually get to the number one or two spot in searches for trampolines. That will go up to £300-400 a day during our busiest periods," he says.
Seasonal fluctuations in demand dictate how much pay-per-click advertising the company does. Sales tend to spike in spring and summer and there's also a pre-Christmas lift.
Choosing keywords for Ads
"Our main keywords are 'trampoline' and 'trampolines', but we also have many other phrases we bid on such as 'trampoline accessories'", says Andrew. Indeed, the accessories and parts that Atlantic Trampolines offers are an important part of the ecommerce business. "A customer may have bought a cheap trampoline from a high street retailer and it doesn't come with a ladder or a winter cover, so we can supply those. Or they may find that the padding has worn out and we can replace that too."
The firm's pay-per-click adverts highlight that range, and also the fact that they offer free next day delivery to anywhere in the UK. "We have played around with our ads a bit," he says. "Google allows you to rotate different wordings so you can see which works best."
Website landing pages
Andrew stresses the importance of getting the landing pages right to encourage people to buy. "You have to make the buying process easy and quick with as few steps as possible," he says. "Our links take them to relevant web pages, so if they search for a 14-foot trampoline then they go to our 14-foot trampoline page."
The nature of trampolines, however - their cost and size - means that people often take a few days to decide whether to buy. "So customers often find our website via our advert and then, when they decide to buy, they come straight back to our website. In fact, if we switch Ads off, which we do from time to time, there's usually a tail of sales which carries on for about ten days."
Ecommerce content edited by Chloe Thomas of eCommerce MasterPlan.