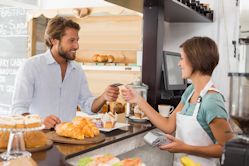 Creating a loyal band of customers through good service is a great achievement. But it's no time to be complacent. You've got to keep working at your customer relationships
Creating a happy, harmonious and ongoing relationship with customers is an admirable accomplishment for any business. You know their needs better than anyone and they know they can rely on you to give them what they want. But you mustn't allow yourself to become complacent about the relationship.
Listening to what customers need and accurately responding is the key to success - the better you serve your existing customers, the more you will welcome through your doors.
Building relationships with customers
Businesses often focus all their attention on trying to attract new customers or win back lapsed ones and neglect to develop existing customer relationships. How annoying is it for customers to find out that their current mobile phone provider is offering new customers a better deal, for instance? At the first opportunity those customers will show them who's boss and head off in search of a better offer.
It happens time and time again, and no-one can blame the customer. Businesses lose out because they're just not giving their existing customers the attention they deserve.
So how do you make sure that you're keeping everyone happy?
In a nutshell, you need data on who your customers are and what they want. Successfully managing your customer relationships involves finding out about their purchasing habits, their opinions and their preferences. Record this data and create profiles of individual customers - armed with this valuable information, your marketing will become more effective and sales will increase.
Ask your customers for information and feedback to create a complete picture. Customers sometimes need to be asked more than once, so use multiple stages or complementary media. Dealing with complaints properly can also teach you a lot about the weaknesses in your business. You may also need to rethink your operations to improve customer service and marketing.
It's all about enhancing the customer experience. While customer development can take time and money, it will help you strengthen your business in the long run.
Capturing customer information
How do you go about it?
Collect as much data as possible from existing clients. This allows you to see exactly who your customers are and understand their shopping habits and behaviour. Gather all the information on a centralised database so it can be easily accessed and updated. Ensure that you are compiling with data protection when filing and storing these details.
Analyse customer behaviour. This allows you to develop a deeper understanding of how to address customer needs. There are many data tools available to help you profile customers and develop appropriate sales strategies.
Make use of the data you gather. Many firms find most of their profit is generated from a small percentage of customers. Find out who these people are and target them by rewarding them as your most loyal customers.