Image by: The Logo Company
A few weeks ago, a friend of mine working in a large digital publishing company had a debate with a client about whether or not to use a black background in a forthcoming email campaign.
She asked me if I had any research to back her up. Unfortunately I didn't have anything concrete, but putting myself on the receiving end of that email, I knew I would hate getting an out-dated looking email from the 1990s.
This made me dig a little bit deeper into the psychology behind colour and how people react to colour in email.
There are seven main colours and they evoke very different feelings:
Red is for energy. Red boosts your energy levels and increases adrenaline. It is considered a high-energy colour, to be used in areas where we need to be more productive such as home offices. We also associate this colour with passion and romance.
Orange is for fun. It represents warmth and happiness, providing optimism and trust. With its associations to sunny days and bright light, orange brings a positive outlook on life and portrays good health.
Yellow is for optimism. Yellow is known to be uplifting, happy and cheerful. However, it is also the most illuminating colour so it can be straining on the eye, providing a feeling of anger and frustration.
Blue is for trust. Blue is considered the colour of honesty, loyalty and trust. It's also a calm colour with soothing effects, which may be why it is favoured by most people, but more particularly by men. This could be one of the reasons that doctors and nurses wear blue and green, especially when we consider they are opposite red on the colour wheel.
Green is for growth. Green is the colour for growth and peacefulness. And as it's in the middle of the colour spectrum, it's also seen as the colour of balance. Green tends to be reassuring; however be aware that it can also denote money.
White is neutral. White conveys sterility and cleanliness and it has also come to represent goodness. However, it provides little stimulation for the senses so too much of it can look cold and boring.
Black is hidden. Apart from its negative connotations with death and darkness, black can be seen as mysterious and hidden from the world. This is one of the reasons why, when I was 18, I didn't wear anything but black.
But how does colour affect email responses? The best way to find out is to test. We tested these two approaches: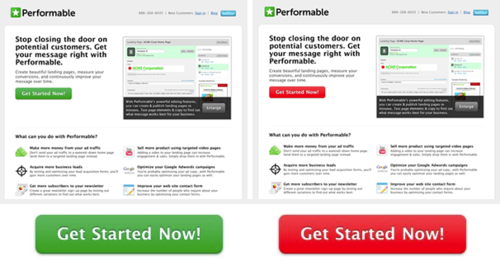 In a driving context, green means "go" and red means "stop". So which of these do you think had the higher conversion?
The red button outperformed green by 21%. It's probably not what you had in mind, right?
Which colours to use for calls to action is an age-old discussion. The lesson we must learn here is that even if we do our research, we should always be testing our campaigns.
Every customer is different and their response to each colour can vary depending on their mood, location, device used and many more. So remember: always A/B test.
Copyright © 2015 Amir Jirbandey is marketing lead UK at Mailjet.