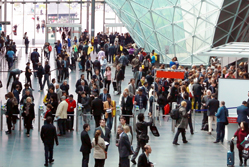 Exhibitions are hard work but done well, they can deliver substantial rewards. Here are seven ways to help you maximise your return on investment:
1. Brief your team
The people you choose to represent you on your stand are of paramount importance. Never let anyone turn up to your stand that doesn't know why they're there and what their specific role is. It doesn't have to be complicated — give them key points about your products and services and guidance on the best way to approach visitors.
2. Set targets
Your exhibition targets can be anything from the number of leads scanned to orders processed. It is only by setting objectives that you can measure the success of your strategy.
3. Choose the right space and make the most of it
Exhibit in a space that is relevant for your both your budget and audience, then maximise it. Use graphics to grab attention, lighting to enhance product displays and (perhaps most importantly) don't overcrowd the stand with your own employees.
Stands often blend into a sea of printed graphics, white vinyl and displays. Demonstrate that you value the environment — while standing out from the crowd — by using natural materials on your stand.
4. Engage your audience
When it comes to attracting visitors, it pays to think outside the box. Games, seating areas, food and drink and innovative spaces can offer visitors a welcome retreat from other exhibitors — giving you the chance to strike up a conversation in a relaxed setting.
However, visitors can be wary of stopping at exhibition stands for fear of being stuck with a salesperson who won't let them escape. Ask questions and listen before you speak.
5. Promotional items
Everyone loves a good give-away. But most end up in the bin or with the children of visitors. Give them something they'll want to keep and use time and time again.
6. Check your information
Always check your literature! You'd be surprised just how often old brochures are taken to shows full of out-of-date or even irrelevant information. If you can, produce something bespoke for the event.
7. Follow up
Follow up those who've been keen enough to hand over their details. If they ask for information, send it as soon as you possibly can. Don't give up, even if you don't hear back after the first, second, third or the fourth time of following up — 80% of prospects say "no" four times before they say "yes".
Copyright 2014 Chris Bardsley, marketing executive at Unibox.