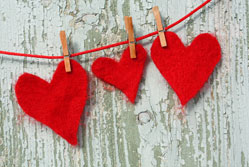 Emma Pauw shares eight tips for how you should, and shouldn't, use the Twitter like button in your social marketing efforts
At its simplest, the Twitter Like button is a way of giving someone a virtual pat on the back, to say "good work guys, I like what you're saying".
However, it's often overshadowed by the almighty Retweet, and is seen as a way to show your appreciation for something you like, but perhaps not enough to share on your own Twitter feed!
Any tweets you "Like" show up in the Discover tab and anyone can see your previous Likes on your profile. So, this button should be used much like everything on social media… only Like things that you wouldn't mind the whole world knowing that you endorse.
But what does it really mean when someone Likes your tweet, and when should you be applying it to others? The Like, when used correctly, can be a fantastic marketing tool for users and businesses.
Here are eight ways to use Likes on Twitter to boost your business:
1. To show approval and agreement
The Twitter Like button is used much like a Facebook or LinkedIn Like - to show you like or support what the tweeter is saying. This could be in response to a funny comment or a statement you agree with, but it's something you don't like enough to retweet and broadcast on your own Twitter feed.
2. To bookmark articles/statements
Trying to find something on Twitter is like searching for a needle in a haystack. The amount of traffic and noise on your homepage makes it almost impossible to find that great article you saw earlier. This is where the Like comes into its own; when you Like a tweet it is stored under the Likes tab on your profile page and can be quickly found later. You can also save these Likes to the Pocket app or send them directly to Google Drive, Buffer or Evernote.
3. Prompt people to follow you
Some users use the Like button to encourage you to follow them; this is increasingly being used by spammers and list builders in order to increase their following. There is a real desire to have mass followers on Twitter, but those who adopt these practices tend to broadcast a lot of marketing messages. Twitter is about quality over quantity, so be wary of those "gurus" who are followed by and are following thousands, unless of course you want to be inundated with self-promotion and spam messages.
4. Acknowledge you've read it
Many people use this as an acknowledgement to signal to someone that you have seen their tweet. This is usually to acknowledge receipt of an @mention and is one of Twitter's unwritten courtesy rules. This is useful for big businesses that receive hundreds of mentions every day, as the Like lets the tweeter know you've seen their message but mitigates the need to reply to every single person.
5. To mark the end of a conversation
Many people Like a tweet instead of replying. This is great if the conversation is coming to an end or you need to dash. A simple Like can be used to say "yep, I've seen this, but I won't be replying". This allows you a polite get out clause, putting the conversation to an end without looking rude.
6. To spread the word
As others are able to see your Likes, this is a fantastic way of amplifying a tweet; and as a Like is deemed a seal of approval, people are more likely to read these than sift through the noise of their own home feed.
7. To add personality
If you're using Twitter to tweet company news, or if you're using your company's Twitter account, the Like is great for showing your personality. Liking a variety of tweets - including some that are a little more light-hearted - allows users to see a different side to your company.
8. Spam
Some firms automate their Likes based on a specific word or hashtag - but this is easy to spot and doesn't always make your business look good. Make sure you set some time aside each day, or even each week, to Like those really great tweets. This shows a human side to your business and makes it more likely that other users will engage with you.
Written by Emma Pauw of We Talk Social.