Instagram has its own unique set of features and capabilities. Gemma Went suggests six key ways to get the most out of this fast-growing social media app
Instagram is a wonderful tool for connecting with people in a fun, visual way. Engagement levels are high compared to other social channels, so it has a lot of potential for small businesses.
Don't be put off by the idea that this is only a platform for artists, designers and photographers - with a little bit of know-how, you can get results too.
1. Be smart with your one link
Instagram is a little different from other platforms in that you are only able to add a single link to your bio, and it is not possible to add clickable links to your posts. For this reason you'll see people ending their captions with the phrase "link in bio".
Now, because you only have one link to play with, you need to be smart with it. I would recommend creating a bespoke landing page for your Instagram followers, so that you can move them onto your email list.
But this link does not always have to stay the same. If you create a piece of high-impact free content, add that link. If you're in the middle of a big product launch, link to the associated sales or sign-up page.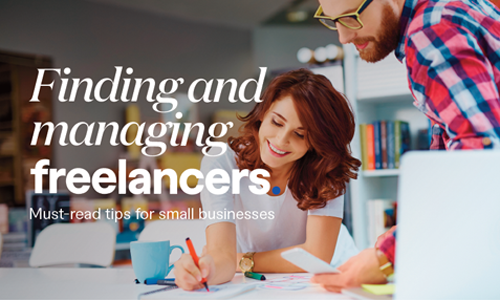 Did you know that 42% of SMEs believe freelancers are more productive than regular staff?
Discover how to find, manage, and deploy freelancers in your business so that you can get the job done.
2. Tell your story
Instagram Stories are a lovely way to share collections of dynamic content with your followers. You can collate images and short video clips and share them with your audience - all from your smartphone. It's worth noting, however, that these Stories are ephemeral and will expire after 24 hours.
Unlike your carefully-curated feed, Stories are the place for more raw and immediate content; they offer a wonderful opportunity to showcase your business in action. Stories can also help you reach new audiences because Instagram showcases them under the Explore tab.
To start creating your own Instagram Stories, open up the app and swipe right - this will take you to the Stories camera. Use that camera to create the content you'd like to include in your Story, and then tap the + button at the bottom left.
3. Plan ahead
For a long time, there was no way to schedule your Instagram content. In order to have a consistent Instagram presence, you actually had to be present. Now, you can schedule your Instagram content through apps like Buffer. While it still doesn't automatically post for you, you can now draft your posts ahead of time, and then receive a prompt to hit publish when your chosen time comes around.
4. Get organised with Hashtags
You can add up to 30 hashtags with each Instagram post. I'm sure I don't need to tell you how much this can help expand your reach … but if that sounds like a lot of extra effort, don't worry - it doesn't have to be.
My trick is to research hashtags ahead of time and keep a list of them in the Notes on my phone. That way, when I post on Instagram, I can just copy and paste them. I recommend pasting your hashtags in the comments rather than the main post, because then they won't show up in a big ugly block; so they'll be truncated (but without limiting your reach).
How do you find the best hashtags? Think about the core topics you post about and collect a separate set of hashtags for each one. Next, look at your keywords for each of those topics - and turn those into hashtags. I'd then type those hashtags into the Instagram search bar - you'll see similar suggestions in the drop down below. Another option is to scout the popular hashtags your competitors are using, or use a free search tool such as Hashtagify or All Hashtag.
5. Brand it up
You may not be able to customise your Instagram feed in the same way as you can your website but that doesn't mean you can't keep things on brand.
There are a number of ways to do this - it all depends on your niche and the type of content you share:
you could pick a simple colour palette, and aim to share content that sticks to those tones;
you could limit your font choice to those used on your website and other marketing;
you could stick to one or two signature filters;
you could share images largely showcasing the same physical items.
I'd also recommend building your brand by sharing more personal insights using the occasional selfie or by showing your business behind-the-scenes. This type of content tends to convert really well.
6. Think about user-generated content
Instagram really is a social platform. This means there's a lot of scope to engage with other people. One powerful way to do that is to share their stuff - especially if it links to your brand in some way.
For example, if a follower shares a photo of themselves using one of your products, share it - just make sure you give them credit.
Unlike other social platforms, you can't share other people's content from within the native app - you'll need to use another tool. Once again, Buffer has the answer, and it's really simple.
Start by making sure you have Buffer installed on your smartphone, then open up the Instagram app. Tap the dots above the image you'd like to repost, then hit Copy Share URL. You'll get a little pop-up asking if you'd like to repost with Buffer. Click on Let's do it, and then follow the steps on-screen. Buffer will automatically add the handle of the person who created that image, as well as their original caption. You can then edit this as you wish.
contributor
Gemma has more than 20 years' experience in the online world and worked for a variety of clients and agencies before setting up her own award-winning business.