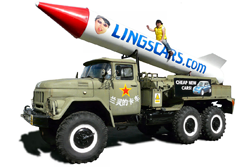 Meet the irrepressible Ling Valentine. Her online car leasing business, LingsCars.com, has become a multi-million pound success story thanks to her customer-focused approach, some unusual publicity stunts and a wonderfully wacky website that has gone viral. And she turned down the Dragons! Rachel Miller reports
Ling Valentine is an entrepreneur with a difference. She set up her car leasing business because she thought she could do a better job of it than her husband; she turned down the Dragons on Dragons' Den; she's the champion of her customers and stands up to the car manufacturers; and her publicity stunts are legendary.
Everything she says and does is featured on her incredible website which appears to break all the rules - with its clashing colours, fonts and flashing graphics - and yet attracts 100,000 unique visitors every month and has been praised by US Internet marketing guru Seth Godin for employing internet marketing best practice.
Creating a brand
Established in 2000, Lings Cars supplies new UK contract and lease hire cars and vans from its base in Gateshead. Ling's approach is to cut unnecessary overheads, offer fantastic customer service and undercut big leasing companies by as much as 35%.
That approach has certainly paid off. Ling now leases an average of £3.5 million worth of cars and vans every month.
"It's amazing that many companies in this business still work with illegible, handwritten, incomplete and incorrect information on paper forms and they pass this amongst themselves until they have generated no end of problems," says Ling. "My system is as perfect and as simple as I can make it, and I seem to reap the rewards. My customers get the savings I make passed on to them."
So how did she start? "After I married my husband Jon in Finland and came to the UK, I took an MSc and then I needed something to do. Jon sold cars. I looked at what he did and thought 'I can do better than him', so I did. I know there was a big opportunity to use an emotional bond to sell cars, because all the other car dealers and leasing companies are quite hated, they are very impersonal."
Over the past few years, Ling has created some fantastic publicity stunts to publicise her business. These include everything from appearing as a character in Viz comic to buying a Chinese military truck, complete with a giant rocket, to advertise Lings Cars to thousands of people passing by on the A1 every day.
Turning down the Dragons
Perhaps her smartest move, though, was to appear on Dragons' Den in 2007. Much to the amazement of the panel, Ling turned down the offer that was made by Duncan Bannatyne and Richard Farleigh.
"Going on Dragons' Den massively helped my business," says Ling. "Ten minutes on prime-time BBC, plus all the endless repeats on Dave, plus all the associated publicity was worth more than £250,000 in advertising. Two million ABC12 viewers on the night gave my business a massive immediate boost."
It's clear that Ling's approach to marketing is all about creating the biggest impression for the lowest outlay. "I have used publicity stunts because they are enjoyable, and also I had to do it," says Ling. "I could not afford conventional marketing budgets. Really, you have to look at things in a different way and maximise cash results. It's no good spending a million pounds because you have to earn it back and in a price sensitive market that is very hard. So, I look sideways and use entertainment to attract customers and visitors."
For Ling, attracting customers is all about viral marketing and word of mouth. "Always, my marketing is talking directly to people," says Ling. "I have tried TV advertising, but as a long-term strategy it is simply too expensive. And, it is an old-fashioned media now. I get lots of customer referrals out of loyalty and because customers enjoyed their experience getting a cheap, new car."
Not surprisingly, Ling also loves networking online. "I spend a lot of time on social media," she says. "Whether on blogs, Twitter, forums - just talking to people. I monitor Lingscars.com constantly and I jump in as soon as I see an interesting referrer. Occasionally I email my customer base, but not very often; just with stuff of value. My website is at critical mass; the interest it generates, generates enough volume."
And what a website! Lingscars.com has been described by Management Today, as "the most cluttered website we've ever seen". It has won awards for being the worst and ugliest website but it has also won plenty of best website awards too - acknowledging the huge following that Lings Cars has online.
That following of happy customers is what drives Ling. "Customers are number one. It's that simple," says Ling. "This has helped, and hurt, my business. It's massively good for my public reputation and customer confidence, but equally suppliers in the motor trade hate me because I am firmly on the side of the customer."