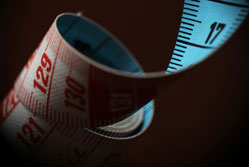 There was a time when we struggled to monitor the success of marketing; now we are swamped with more metrics than ever before - but how do they actually help us? Gina Hutchings of Receptional explains how to interpret key metrics and improve your results
Every business wants to know more about its customers; they hold the key to making more sales and, ultimately, more profit. Where many companies go wrong is by either neglecting to collect any data or feedback from their customers or focusing on irrelevant metrics.
But your business can achieve growth and serve your customers better by focusing on key performance indicators (KPIs).
It can be daunting looking at Google Analytics or your CRM (Customer Relationship Management) system and trying to work out what you should be monitoring. Some metrics are almost meaningless and will add no value to your marketing plan, while others are vital.
Key website metrics
Here I am highlighting 11 important metrics that you can use to measure how well you are doing against set goals. You can analyse how close you are to meeting your targets by monitoring metrics like traffic from search engines, or from pay-per-click advertising. Breaking down each of these metrics you can then track what is working, what is not and what you need to invest in.
You can have more than one metric for every goal you set and these could come from different sources including sales figures, your CRM system, Google or social media. Here I am focusing on website metrics.
1. Traffic to your website
For most companies their website is their most important marketing tool. It acts as a shop window and is the first port of call for many potential customers.
The first thing to do is monitor overall traffic regardless of source. Take a look at peaks and troughs and see if they correlate with campaigns, seasons or events. If you launch a new product, invest in online advertising, and see a peak in visits during campaign time it proves the success of that approach.
At the same time you may see dips in visits. Investigate correlations with seasons, events or rankings dips. But remember, it may be an issue with your server, host or perhaps weak internet connection in a certain location.
2. Sources of traffic
Visits to your website come from a number of sources including search engines, referral websites and the direct typing of the URLs. Tracking the success of each can be a good means of seeing what marketing is working. If you have a high rate of direct traffic over search engine traffic then the people coming to you are already aware of your business name or URL. But what about those that are unaware? Would it be worth investing in search engine advertising via AdWords, for instance?
A general rule of thumb is that if your search engine traffic is lower than 40% then your site does not rank well on sites like Google, Yahoo or Bing. Referral traffic should make up around 20-30% of the total number of visits and the remainder should be direct. Ultimately what you need is a balance of the three sources so that you are not relying on just one source for leads.
3. New and returning visitors
You can segment your visitors to your website into new and returning. Usually you expect to see a higher number of new visitors than returning. But too many new visitors and not enough returning visitors can be an indication that your website is not "sticky" enough. By this I mean it does not attract repeat visits.
The reasons for this will depend on the nature of your business and the sector you are in. However, if your returning visitor traffic is low you may want to check the content of your site – is it interesting enough and useful to the reader? Is it easy to read? Is the site easy to navigate? If you answered no to some of these questions, now's the time to revaluate your site.
4. Visitor conversion
By using Google and other analytics systems you can check the number of abandoned shopping carts, those who do not finish the purchase process or those who downloaded the information then did not return. Tracking this metric gives an insight into the usability of the website; it may be that the customer needs more information or that your prices or delivery charges turns the user off from buying.
A recent ecommerce case study published by Mediahawk showed how website visitors who called the retailer also affected purchase rates. It was found that customers who called were more likely to purchase and the longer they spent on the phone the more they were likely to spend. Those consumers who called spent longer looking at the website, and looked at on an average 30% more pages.
The lesson here is that interaction with consumers is vital and you need to provide more than one way to get in touch. The more you engage the user, the more likely they are to buy. Displaying a prominent phone number might help to keep a potential buyer in the sales funnel.
5. Top pages for new traffic and conversions
Usually your homepage gets the most traffic but what about other popular pages on your website? Are you directing readers to the right pages to convert?
Popular pages could include competitions, blog posts or customer case studies. Spend time perfecting these pages with clever SEO. You can use these pages as springboards to new pages as well or as a showcase for a product or offer.
Try and incorporate your keywords and phrases into these pages, especially the page titles and descriptions. You can also add links, ad banners or boxes to pages you want to draw attention to on your website.
6. Interactions per visit
Key interactions on a page could include email subscriptions, newsletter sign-ups as well as the number of likes, shares and comments a post gets. Offering ways to interact boosts customer conversation and can lead to a sale. You can leverage these interactions by starting a social media group, asking for product reviews or running competitions.
7. Cost per conversion
Deciding on the value of a customer can help you gauge spend on future campaigns. If you are running a pay-per-click campaign on Google AdWords, calculate how much each click is worth and how many of those leads convert to sales. If you are over-spending on pay-per-click campaigns and the consumer is spending very little you may need to choose an alternative marketing medium. Set your budget based on what each conversion is worth and how much you could be making.
8. Bounce rate
Bounce rates refer to the number of times a user visits the sites and immediately clicks away. Reasons for a bounce visit might be that they have the wrong site, your page does not show the information that they expected or just that it is slow to load. You want to minimise the bounce rate while making sure you do not attract too much un-convertible traffic.
High bounce rates can be a sign of poor design, low usability or long loading times. It may be that the process to complete the purchase is over-complicated. In addition, your site may be attracting the wrong type of traffic and your keywords may not be sufficiently targeted.
You can find out what is causing bounce rates using testing and optimisation. Split testing a variant of your home page with different calls to action, keywords or different content might reveal a better conversion and pages per session rate.
9. Exit pages
You may find that your users are looking at two to three pages of your site before exiting. Look for correlations in the exit pages; do most visitors exit on the same page? Perhaps they are struggling to find the page they need or perhaps there is a barrier to conversion. Knowing at what stage your prospects are exiting will help you decipher lost sales and gaps in your marketing and conversion funnel.
10. Traffic from inbound links
Inbound links are when your URL appears on websites other than search engines. The more links you have, the more visitors you are likely to be getting and at the same time you are likely to be ranking better in search engines. It is worth spending time building more links into your website from customers, brand advocates or brands you are associated with. The number of links you have demonstrates the number of people talking about your site and using it as a reference point.
Links are like a vote of confidence in your business. A vote or recommendation from an external source can be extremely powerful in influencing whether someone who sees the link and then clicks through to your site then goes on to buy from you.
If you're not getting a great deal of referral traffic from your links, it might be worth reassessing where you're getting links from.
11. Keyword performance
This metric needs constant measurement. You will need to change and adapt keywords to reflect what your target audience is searching for. You can then track how well you rank for each keyword using keyword tools online.
You can also use keyword tools to carry out research for more keyword opportunities to optimise your website. Google's keyword planner is an indispensable tool.
These are not the only metrics you should be monitoring. Others include the number of email complaints, the number of followers you have on social media sites, the number of social media followers who convert to customers, the number of inbound calls you receive and many more. Using two to three metrics for each goal should provide a clear picture of areas of success and those areas that need work.
Gina Hutchings is a digital marketing consultant at Receptional.